Horses as Healers in UK Health Sciences Course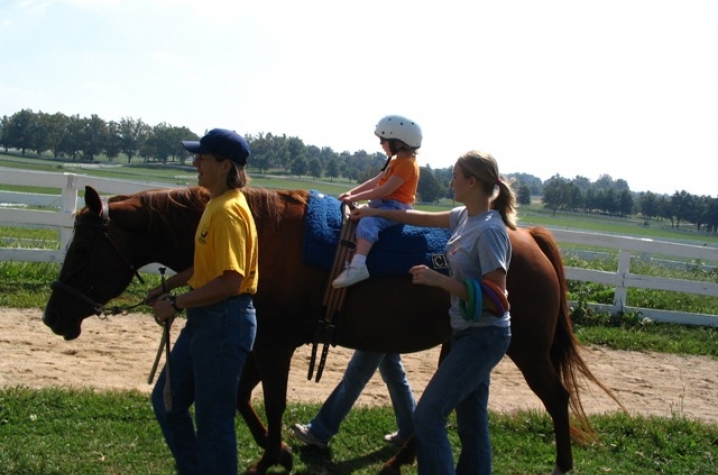 LEXINGTON, Ky. (Sept. 29, 2010) − Horses are an integral part of the culture that is uniquely Kentucky. Horses possess qualities of balance, coordination, speed, reflexes, strength, endurance and stamina. Outside the traditional setting of a race track or an open field, though, horses can be healers.
 
Faculty and students at the University of Kentucky College of Health Sciences, in partnership with Cardinal Hill Rehabilitation Hospital, harness the healing power of specially trained horses in a special type of therapy to help improve the quality of lives of people with physical challenges.
 
Hippotherapy, from the Greek "hippos"  meaning "horse," literally means treatment or therapy aided by a horse. Specially trained physical, occupational and speech therapists use this therapeutic intervention for clients who have movement dysfunction. Clients with a variety of diagnoses may benefit from hippotherapy, including those with cerebral palsy, multiple sclerosis, developmental delay, traumatic brain injury, stroke, autism, and learning or language disabilities.
 
The horse's walk provides sensory input through movement that is variable, rhythmic and repetitive. The resultant movement responses in the client are similar to human movement patterns of the pelvis while walking. The variability of the horse's gait enables the therapist to grade the degree of sensory input to the client and then use this movement in combination with other clinical treatments to achieve desired results.
 
Studies have shown that hippotherapy can improve balance, posture, mobility and function. Hippotherapy may also affect psychological, cognitive, and behavioral and communication functions for clients of all ages. It is also used to provide those with life-threatening illnesses a reprieve from traditional medical treatments. The riders develop a beneficial relationship with their horse through grooming, caring for and getting to know the horse.

Hippotherapy at the UK College of Health Sciences was developed as an elective course in 2000 by Janice Kuperstein, associate professor of physical therapy in the Department of Rehabilitation Sciences, along with graduates who became interested in the program. In the eight years that Kuperstein taught the class, she estimates that 120 patients received treatment.
 
Kuperstein says that there are several general things about a horse and riding that make it a good choice for human physical therapy, including the shape of the horse's body, the rhythmic motion of their gait, the changes in motion based on changes in gait, the neutral warmth of the horse's body, and the ability to change directions and speed of motion easily.
 
"Therapy in this environment encompasses multiple body systems, such as the sensory experience, cardiopulmonary challenges and balance," Kuperstein said. "An excellent hippotherapy horse can become almost a partner in your therapeutic intervention. I have seen horses adjust their own bodies when they sense a client is unsteady or even stop working when they sense that a client has had enough, and sometimes this is in response to extremely subtle cues that the therapist might not notice initially."
 
In 2008, Kuperstein handed over the reins to Joan Darbee, lecturer in physical therapy in the Department of Rehabilitation Sciences, who now teaches the hippotherapy course, located at the Central Kentucky Riding for Hope Barn, an indoor arena at the Kentucky Horse Park.
 
The frequency and duration that patients receive hippotherapy is determined following client evaluation and development of a plan of care. Some clients may have hippotherapy once per week and more traditional therapy once per week.
 
Physical therapy students who participate in the elective course meet traditional educational goals, but they also gain a unique perspective on the value of community engagement, volunteerism and advocacy, and, of course, they learn another role for horses in the "Horse Capital of the World."