How UK HealthCare helped a homegrown hero return to the basketball court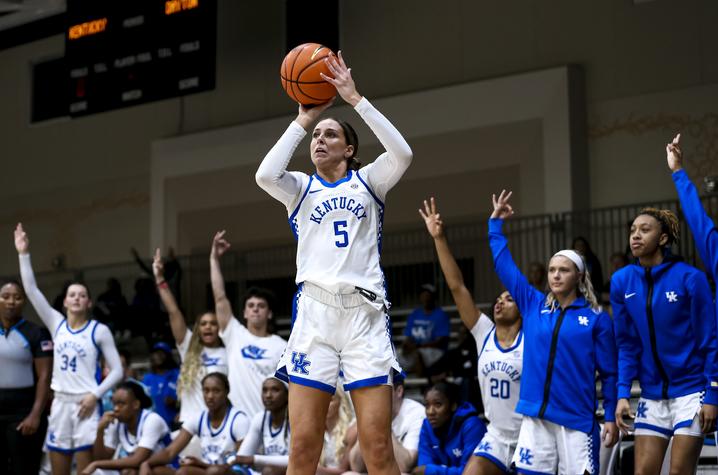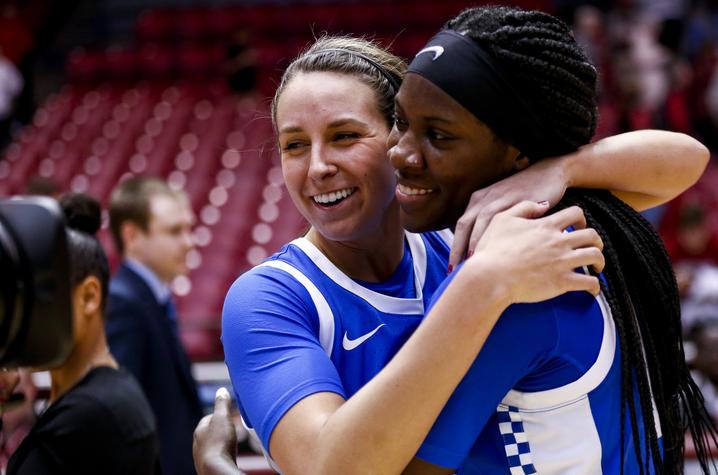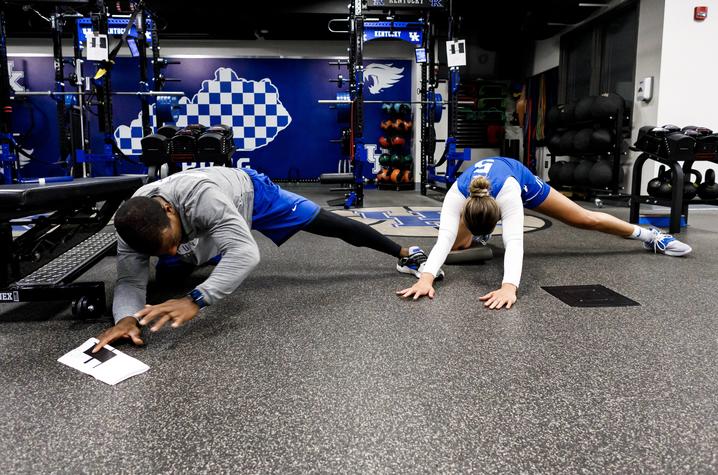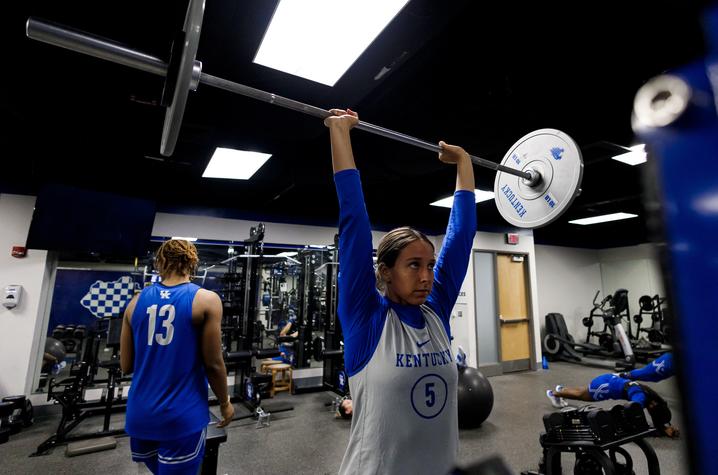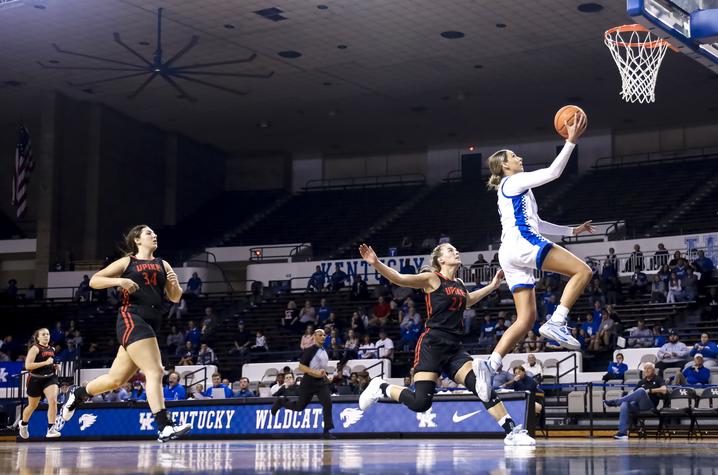 LEXINGTON, Ky. (Jan. 31, 2022) – After more than a decade of hard work on the basketball court, Blair Green was poised for the payoff.
The homegrown fan favorite from Harlan County was set for a key role heading into her senior year with the University of Kentucky women's basketball team. Then, a catastrophic injury derailed her season.
During an exhibition game against Eastern Kentucky University, Blair checked into the lineup late to help roommate and close friend Rhyne Howard complete a triple double. Blair knocked down a three-pointer to give her friend the needed assist, but when she landed, something happened in her lower leg.
"The referee said he heard a 'pop,'" Blair said.
She had ruptured her Achilles tendon.
'I immediately knew it was over'
A heavily recruited high school star who received scholarship offers from several of the country's top college programs, Blair committed to her home state Wildcats and quickly became a contributor, playing in all 33 of UK's games as a freshman in the 2018-19 season. Her stats steadily improved over the next two years, setting up a senior season in which she was expected to start in the backcourt and lead the team along with Rhyne Howard, a future No. 1 pick in the WNBA Draft.
Missing out on that opportunity because of her injury was devastating for Blair.
"We're best friends, more like sisters. I can't even explain it," Blair said of her relationship with Rhyne.
After her awkward landing, UK's athletic trainers examined Blair in the bench area.
"They grabbed my calf, and my ankle didn't pop up like it's supposed to. And I immediately knew it was over," Blair said. "Our manager carried me to the training room. The team came in afterward and we were all crying together, and I was just in disbelief. I had hopes of having a breakout year, and it all just started crashing down in that moment."
But with characteristic resolve, Blair quickly shifted her focus to the new tasks at hand: repair and recovery.
"The night that I tore my Achilles is the only night that I cried. I told myself I was not going to cry through this," Blair said. "I was only going to look at the positives and focus on my surgery and my rehab."
Two days after her injury, Blair was being prepped for surgery at the UK HealthCare Orthopaedic Surgery & Sports Medicine clinic under the care of Darren Johnson, M.D., a nationally recognized expert in sports medicine who's been treating UK athletes since the 1990s.
'I knew I was in good hands'
Johnson said repairing an Achilles rupture is not an especially complex surgical procedure, but it's essential to get the details right if an athlete is going to properly recover.
"It's an extremely tough injury to return from for an athlete that jumps and needs power from their legs," Johnson said. "While the surgery is not overly complex, you must get the muscle tendon unit length back to perfection for the muscle to return to optimal function."
Blair's experience with Johnson and his team quickly put her on the path that would lead to her eventual return to the court.
"I trust UK, and I know a lot of athletes who've had to go through this," Blair said. "They do these surgeries day in day out, and UK HealthCare has the best of the best, so I knew I was in good hands. I felt very comfortable with them."
Working with her team's athletic trainers and UK HealthCare physical therapists, Blair attacked her rehab regimen by hitting the weight room, sculpting her frame and becoming stronger than ever. She also embraced a new role with the basketball team.
"Despite Blair not being able to contribute on the court last season, she was as much a part of the team as anyone else," UK coach Kyra Elzy said. "She took all the same passion and energy that she played with and translated that into becoming the leader this program needed. Blair is both emotionally and physically stronger from this setback."
Ending with a bang
Fully recovered from her ruptured Achilles, Blair has been a spark plug for the Wildcats this season. She's a constant starter in the backcourt and is posting the highest per-game scoring average of her Kentucky career.
With the help of her UK HealthCare team and her own dedication to rehabilitating, Blair is writing a fairytale ending during her final run as a Wildcat, though it comes a year later than expected.
"I'm trying not to put too much pressure on myself, but I do want to have a really good year and end with a bang."
UK HealthCare is the hospitals and clinics of the University of Kentucky. But it is so much more. It is more than 10,000 dedicated health care professionals committed to providing advanced subspecialty care for the most critically injured and ill patients from the Commonwealth and beyond. It also is the home of the state's only National Cancer Institute (NCI)-designated cancer center, a Level IV Neonatal Intensive Care Unit that cares for the tiniest and sickest newborns, the region's only Level 1 trauma center and Kentucky's top hospital ranked by U.S. News & World Report.  
As an academic research institution, we are continuously pursuing the next generation of cures, treatments, protocols and policies. Our discoveries have the potential to change what's medically possible within our lifetimes. Our educators and thought leaders are transforming the health care landscape as our six health professions colleges teach the next generation of doctors, nurses, pharmacists and other health care professionals, spreading the highest standards of care. UK HealthCare is the power of advanced medicine committed to creating a healthier Kentucky, now and for generations to come.