'ICU Heroes' Help Patient Recover, Find His Purpose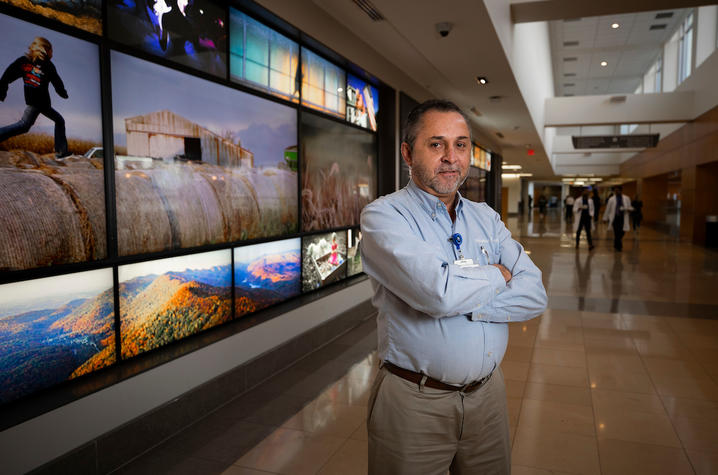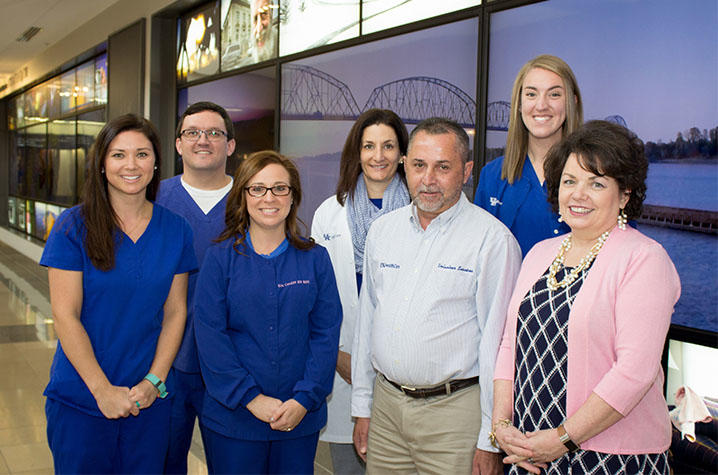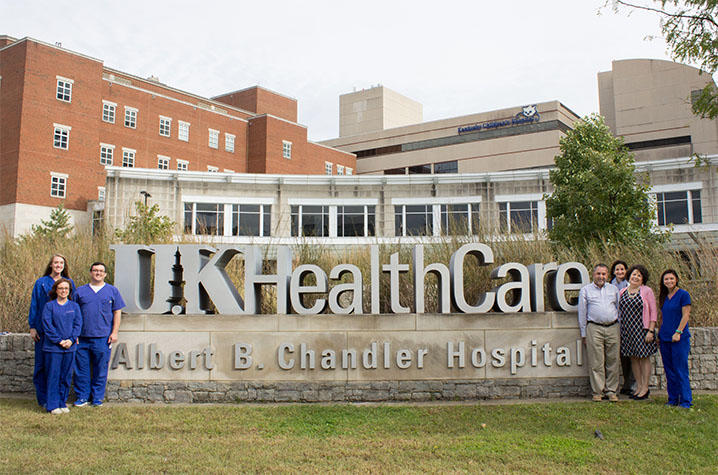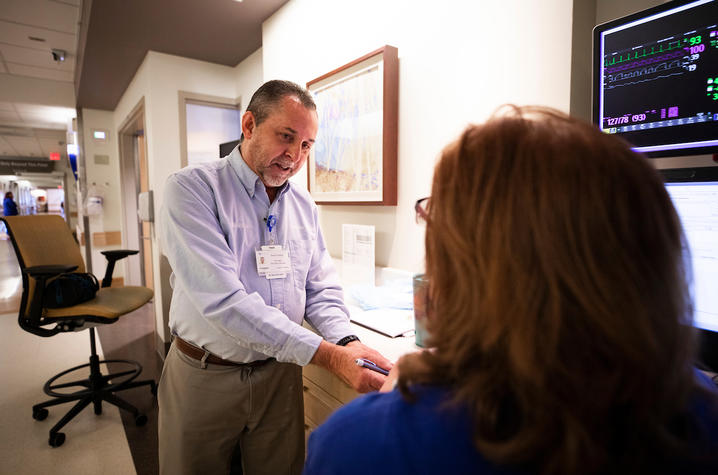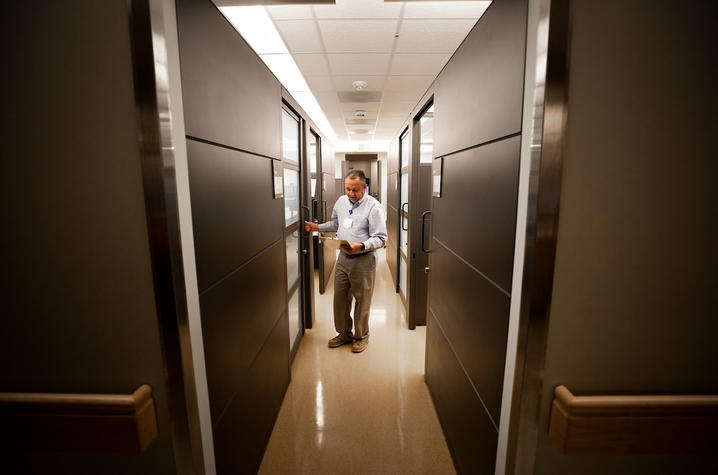 LEXINGTON, Ky. (Feb. 21, 2019) — A hospital's critical care unit is often where patients and their families find themselves most vulnerable, making compassionate, patient-centered care essential. For Dr. Ashley Montgomery and her team in UK HealthCare's Intensive Care Unit, to help the most critically ill patients work through their diagnosis, treatment and recovery is to walk with them through navigating the most trying times they have ever faced. This is particularly true in the case of Darrell Raikes, a Lebanon native who in 2015 found himself in a monthlong coma after going into septic shock during a routine knee replacement gone awry.
Today Darrell is back on his feet and using his story to give others hope for the future — and the care that Dr. Montgomery and her team provided has earned them international recognition as the Society of Critical Care Medicine's 2019 ICU Heroes.
On May 26, 2015, tooling engineer Darrell Raikes underwent his second knee replacement, thinking nothing of the procedure as he was otherwise in excellent health. He awoke in the Critical Care Unit on June 17.
On the night of his operation, Darrell's blood gasses had dropped to near 40 percent. He began bleeding into his lungs and as his organs began to shut down, he was transferred to the Medical Intensive Care Unit (MICU) at UK HealthCare.
Montgomery and staff nurses in the MICU worked around the clock to navigate the complexities that Darrell's condition required. The standard medications to prevent blood clots post-knee replacement would contribute to the bleeding in his lungs. The paralytics that would help keep his oxygen levels up weren't conducive to recovery following a knee replacement.
"We like to think that medicine is an exact science, but there often isn't a 'yes or no' answer to a patient's medical problems, particularly in an ICU situation where multiple organ systems are involved and the treatment for one problem is contraindicated for the patient's other problems," Montgomery said. "We talk to the patient, use the best data available and make an informed decision about how to best care for them."
The team's dedication, determination and individualized approach eventually resulted in them stabilizing Darrell without compromising his knee replacement. On June 29, he was transitioned to long-term acute-care hospital and subsequently a rehabilitation facility. Finally, he was able to return home 58 days after his initial surgery.
Months after his procedure, Darrell began attending Dr. Montgomery's ICU Recovery Clinic. The clinic, which began in 2013 as only the third of its kind in the nation, sees patients from around the region.
The ICU Recovery team consists of a physican, nurse practitioner, pharmacist, physical therapist and social worker. Together, the team helps patients work through physical and occupational therapy, medication management, coordination of care, communication with the primary care provider and returning to life outside the confines of a hospital.
Originally, the clinic met once a month but is now several times a week. Montgomery typically sees patients for up to a year post-discharge. Being able to see patients in a non-crisis situation often provides opportunity to ask important quality of life questions.
Three years after his initial treatment, Darrell Raikes is back in the ICU — this time as a volunteer. Since May 2018 he has made weekly trips to Lexington, spending up to four hours volunteering with ICU patients and sharing his testimony with their families.
"I understand what is expected from laying in the bed for a total of 58 days. I can help families understand what the patient is feeling and going through," Raikes said. "I can relate to them and tell them it takes time to heal and get back to normal —whatever that may be."
Darrell describes Dr. Montogomery and her ICU team as 'angels' who will always be a part of his life, and credits them for giving him a sense of purpose after a tragedy that impacted him just as much mentally as it did physically.
"They are my new family and I wouldn't trade my current condition and purpose and go back to being an engineer, even if it meant living a longer life."
From balloons on his wedding anniversary to cake on his wife Sarah's birthday, the ICU nursing team continually went above and beyond to add a personal touch to make Darrell's stay just a bit easier. And while his case was extraordinary, Montgomery says he didn't get special treatment. The team considers it a privilege to provide comfort and support to the ones they care for. Their attitude is reflected in both the quality of care they provide the patient and the quality of life they bring to the people who love that patient.
As for Darrell, three words have summed up all he's learned from his journey over the last four years: determination, patience and purpose.
"When you get out of the hospital after dealing with a critical illness, things may not return to 'normal.' You must set goals for yourself and be determined to fulfill those goals. Be patient and, if things don't return to normal, it's not all bad — you will find a new purpose in life."