Inaugural IBS Convocation Ceremony Marks Turning Point for Future Scientists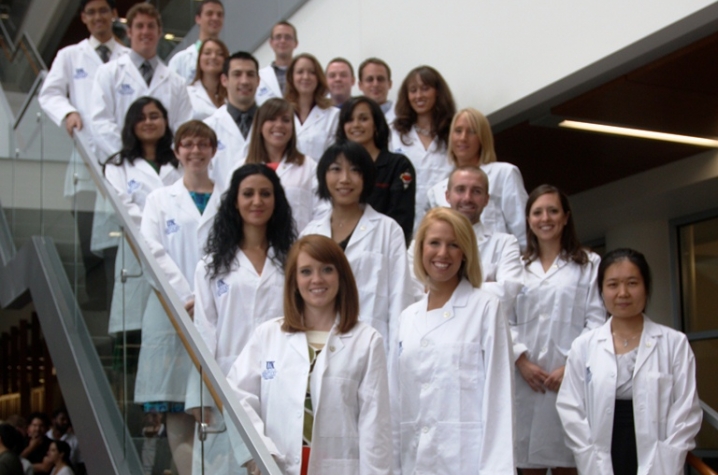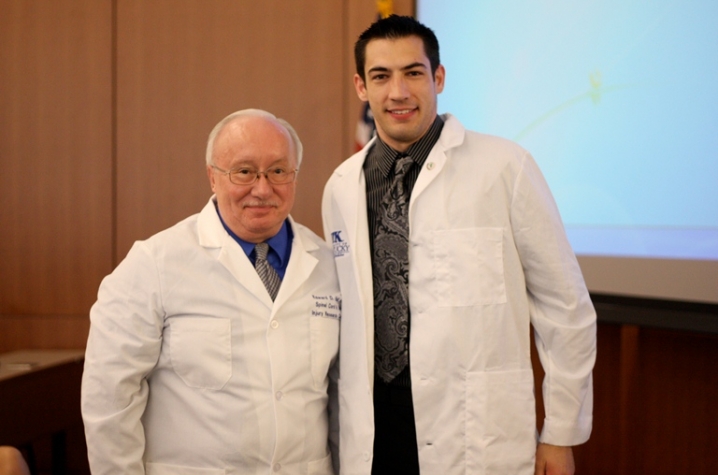 LEXINGTON, Ky. (June 27, 2011) — The University of Kentucky College of Medicine Integrated Biomedical Sciences (IBS) Program hosted its inaugural Convocation Ceremony on Friday, June 24, in the Biological Pharmaceutical Complex Building's first-floor auditorium.  
The IBS program is an undifferentiated first-year core curriculum that serves as the entry point for seven doctoral programs housed in UK College of Medicine. Students are admitted to IBS and, at the end of the IBS year, select their doctoral programs in one of the College's basic science departments.
The IBS Convocation Ceremony marked this transition from IBS coursework to the doctoral research portion of the students' education. The ceremony included a presentation of the mentee and mentorship matches for each student. Additionally, each student was coated with an ever-present symbol of the scientific profession—the white coat.
"By participating in the IBS program, these future scientists have already been exposed to an intensive, multidisciplinary course of study which has most definitely prepared them for their future doctoral course work and research," said Dr. Emery Wilson, interim dean and vice president for clinical academic affairs of UK College of Medicine. "These students are the future of scientific research and progress. We wish them the best of luck as they begin their doctoral studies."
"Our students are from among the top tier of students seeking doctoral degrees in biomedical research," said Jason T. Mitchell, MA, interim director of the IBS program. "We are pleased at their high level of academic achievement and their desire to make ground breaking discoveries in biomedical science. Coupled with that motivation, these students stand to represent the UK College of Medicine nationally and internationally. We are excited to celebrate with them and mark this day of transition in their scientific careers."
The IBS Program provides exposure to cellular and molecular concepts in the biomedical sciences, development of interdisciplinary approaches necessary for innovative research and flexibility in choosing a research emphasis among 186 faculty in seven departments including: Anatomy and Neurobiology; Graduate Center for Nutritional Sciences; Graduate Center for Toxicology; Microbiology, Immunology and Molecular Genetics; Molecular and Biomedical Pharmacology; Molecular and Cellular Biochemistry; and Physiology. As part of IBS, students complete coursework, engage in biomedical research through laboratory rotations that facilitate selection of a dissertation mentor, and participate in research seminars.
For more information on IBS, visit their website at http://www.mc.uky.edu/ibs/.
MEDIA CONTACT: Julie Meador, (859) 323-2395 or Julie.Meador@uky.edu