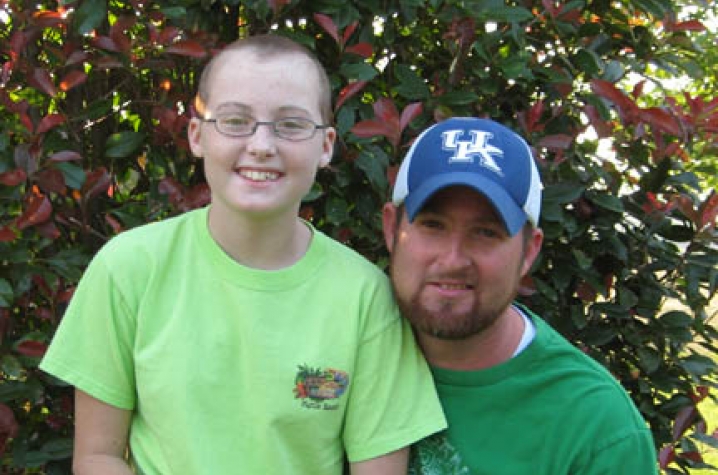 LEXINGTON, Ky. (Sept. 17, 2010) —  Eleven-year-old Chanissa Robinson, of Eubank, has more important things than leukemia on her mind. Things like softball. And basketball. And sixth grade. 
A talented multi-sport athlete, Chanissa has been playing on teams with middle school kids since she was a fourth-grader. Now she's ready to start middle school herself. That's why, if you ask her what the hardest thing about dealing with her illness is, she'll tell you that it's not the symptoms or the treatment. 
 
"The waiting," she says.
 
Waiting to be back in school with her friends. Waiting for the regimen of weekly treatments to be over.  Waiting until she is strong enough to play sports again.
 
When you're 11, one summer can seem like forever.
 
Chanissa's summer had begun like any other. School was three long months away, and Chanissa's mind was on her pitching. Her mother, Paula Robinson, says Chanissa is dedicated to her softball team and that she always insists on playing, even when she isn't feeling her best. One night in June, Chanissa was pulled out of a game with a high fever and was taken to the emergency room in Somerset. 
 
"They did some tests, and they said my blood wasn't right," Chanissa said. "That's when they sent me to UK."
 
Chanissa was referred to UK HealthCare's Division of Pediatric Hematology and Oncology at Kentucky Children's Hospital, where she was quickly diagnosed with acute lymphoblastic leukemia, or ALL, a cancer of the white blood cells. ALL is the most common type of cancer in children, affecting about one in every 29,000 children in the United States each year. It can progress very rapidly, so timely diagnosis and treatment are crucial. 
 
"Within just a couple of days of us taking her to the emergency room, Chanissa had been diagnosed and started in treatment here at UK," Paula Robinson said.
 
If Chanissa is frightened by her disease, she doesn't let it show. Perhaps that's because she has a good role model in the family, somebody very close to her who knows exactly what she's going through. Somebody who fought the same type of leukemia that she has, and survived.
 
Mike Robinson, Chanissa's father, was diagnosed with ALL in 1992 at age 14. Like Chanissa, he was treated at Kentucky Children's Hospital. But treatments have come a long way since then.
 
Because leukemia cells can invade the spinal cord, part of the treatment involves monitoring the spinal fluid with a lumbar puncture (or "spinal tap"), in which a needle is inserted between the vertebrae to collect a sample. Today, this procedure is routinely performed under sedation. However, when Mike Robinson was a patient, lumbar punctures were much more traumatic.
 
"I thank God that Chanissa doesn't have to go through everything that I did," he said. "They had to have four people to hold me down. There were two at my head and two at my feet. It's not that you're trying to struggle. Your body just reacts and tries to protect itself, and it ends up just making things worse. It took my back a full seven years to recover from all of that."
 
Today, treatment is not just less traumatic. It's also more effective, says Dr. Jeffrey Moscow, head of the Division of Pediatric Oncology and Hematology. 
 
"We have seen, over the past few decades, literally a revolution in the treatment of ALL," Moscow said. "In the 1960s, the survival rate was very low. By the time Chanissa's father was diagnosed, there were treatments available, but they were still relatively new, so there was not a lot of long-term data available. Since then, we have refined those treatments so that we are able to attack the disease more aggressively, with higher doses of therapy."
 
The result has been better outcomes for patients. ALL is now a survivable disease for most children. Families in Kentucky can rest assured knowing that the care they receive is exactly the same as what they could get at any top-rated children's hospital in the United States.
 
"We participate in the same national protocols, and we have access to the same clinical trials," Dr. Moscow says. "What that means is that families don't need to uproot their whole lives for a year or more and move out of state to get the best treatment for their children."
 
Chanissa says she wants to attend the University of Kentucky and play basketball on the women's team. Ultimately, she says, she wants to be a doctor herself.  That's part of why she's so eager to get back to school, to start earning those A's and B's she knows she'll need in order to follow her dreams.
 
By the end of the year, she should be finished with the consolidation phase of her treatment and will move into maintenance therapy, which requires visits only once a month. For now, though, Chanissa must make the trip to Lexington with her mother every week for testing and treatment. It makes for a long day, full of waiting.  But Chanissa keeps her eyes on the prize.
 
"When she found out about her diagnosis, the first thing she asked Dr. Moscow was if she would be able to play sports again," Paula Robinson said.
 
And the doctor's reply? 
 
"Absolutely."