Center Treats Children With Bleeding Disorders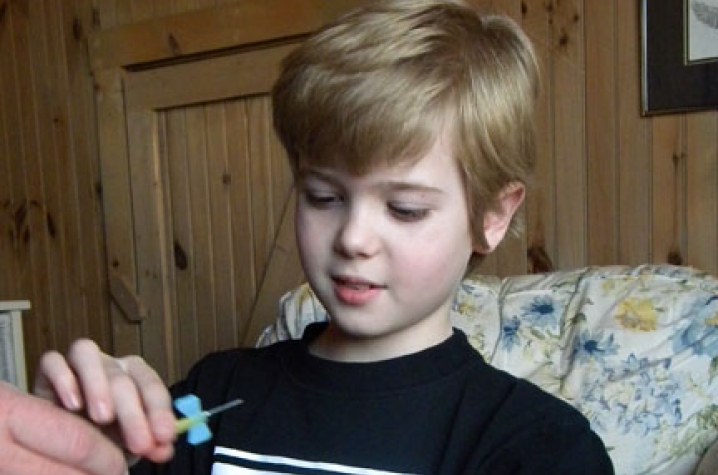 LEXINGTON, Ky. (March 19, 2010) – Nathan Hollon, age 9, does his own injections. Twice a week, he mixes up medications to treat hemophilia, puts on a tourniquet and finds a vein.
"Then I get out my needle and I kind of stick myself," Nathan says.
Nathan learned this independence with help from the Kentucky Children's Hospital Hemophilia Treatment Center, where medical professionals care for more than 80 children like Nathan from Central and Eastern Kentucky.
The center, which was established in 1989, is one of two federally recognized centers in Kentucky that treat patients with bleeding disorders. The Kentucky Children's Hospital Hemophilia Treatment Center is a comprehensive care center with a multidisciplinary medical team led by Dr. Vlad Radulescu, Dr. Edward Romond, hematologist/oncologist, and Susan Peterson, a nurse practitioner. The center's activities include everything from management of day-to-day problems, to clinical research of new blood clotting agents, to support for a summer camp program for children with bleeding disorders.
"Patients with hemophilia or other bleeding disorders lack clotting factors and, as a result, small injuries can mean big bleeds," said Radulescu, center director and assistant professor of pediatrics, University of Kentucky College of Medicine. "Some patients need regular injections of clotting factors while others need injections only after an injury or before a surgery." Radulescu also is a pediatric hematologist/oncologist at Kentucky Children's Hospital.
The center helps patients manage the disease and get the medications they need. Depending on the size of the child and the severity of the disease, medications can cost as much as $2,000 a week.
The center, which has off-site clinics in Barbourville and in Somerset, provides support to parents from the baby years, when it can be hard to recognize a bleed, to the precautions necessary when the child learns to ride a bike. Older children can attend a yearly week-long camp, where they meet other kids like themselves. Medical specialists at the clinic visit their patients' schools, consult with local doctors and are on call 24hours a day.
"Babies and very young children can't tell their parents or caregivers when they start to have pain in a muscle or joint which may be an early sign of bleeding," said Peterson. "This is especially stressful to new parents because they know that the longer the bleeding goes on without treatment, the more damage it can do. We help parents make important assessments, often over the phone and in the middle of the night; but it is all about teaching and instilling confidence in the parents so that the child is safe."
For Kathryn Morgan, Nathan's mother, the support has been crucial. When her son was a toddler, Morgan called at all hours for help. "They feel like our family," Morgan said. "We love them."
Children with hemophilia attend regular school and appropriate career counseling starts at an early age. It is important that the children stay active and participate in physical education and exercise classes. Proper diet and activity is stressed to avoid obesity since extra weight just places more stress on joints and can contribute to easier bleeding. Many children with hemophilia participate in organized sports such as track and swim team. Contact sports are risky and discouraged. 
Radulescu is enrolling patients in a research study examining the genes involved in Noonan Syndrome, a disease named after longtime UK pediatric cardiologist, Dr. Jacqueline Noonan. In approximately one-third of cases, patients have bleeding problems.
"I'm trying to understand if there's a correlation between the genetics of the disease and the bleeding abnormality," Radulescu said. "This may help us understand the mechanism of blood clotting in general."
The UK HealthCare Hemophilia Treatment Center also provides comprehensive and specialized services to adults with bleeding disorders. Besides Radulescu who cares for children and Romond who cares for adults and Peterson, who cares for children and adults, there is another nurse, a social worker and a physical therapist who are ready to assist persons living with hemophilia. 
For more information about bleeding disorders, go to the National Hemophilia Foundation at www.hemophilia.org.