Child Safety Program Teaches Life-Saving Measures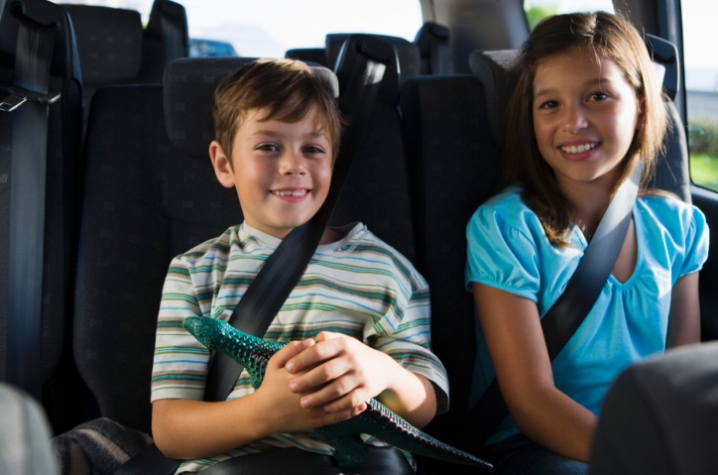 LEXINGTON, Ky. (Oct. 25, 2011) — Ford Motor Company Fund and Meharry Medical College are joining with the Injury Free Coalition for Kids of Lexington at Kentucky Children's Hospital to bring See Me Safe, a national child passenger safety program to Lexington.
Studies show most children are transitioned too soon out of a booster seat and into adult seat belts. This program is aimed at educating booster-age children and their families about the importance and proper use of booster seats.
Ford Fund will provide100 booster seats for distribution to families at Booker T. Washington elementary school on Oct. 25. In addition, second graders from Booker T. Washington Academy will participate in a drawing contest that promotes booster seat safety.
"This partnership excites me both as a principal and as a parent," said Wendy Brown, principal at Booker T. Washington Academy. "We all know that car seat safety is important for our kids.  Not only will this opportunity give our parents access to high quality car seats, but we'll also be learning about proper installation and that education is particularly valuable."
Motor vehicle crashes are the leading cause of death among children in the United States. According to the National Highway Traffic Safety Administration (NHTSA), only half of booster-age children were restrained correctly in booster seats. Using booster seats can reduce risk of injury by 59 percent compared to seat belts alone, according to the Centers for Disease Control and Prevention. New recommendations also reflect the fact that many children need to be substantially older than age 7 (usually between the ages of 8 to 12) before an adult seat belt will fit properly without a booster seat.
"Nothing is more important than our families safely reaching their destination," said Jim Vella, president, Ford Motor Company Fund and Community Services. "We are taking important steps to educate parents, health care providers, and the children themselves to understand what they can do to ensure auto safety for children."
See Me Safe encourages booster seat usage until children reach 4'9", so they can be safer while in the car. Second graders who participate in the safety-focused drawing contest will compete for a bicycle, helmet, and pizza party for their classmates. Families from Booker T. Washington Academy will learn to properly secure the seat in a vehicle and to match the correct age, weight and height requirements for each type of seat from CPS-trained technicians.
"Motor vehicle crashes are the leading cause of death for second graders in Kentucky. We know booster seats save lives and prevent injury for these children, yet many children skip this step," said Injury Free Coalition for Kids Director Dr. Susan Pollack from Kentucky Children's Hospital and the Kentucky Injury Prevention and Research Center. "This partnership offers an exciting opportunity to educate parents and second graders to buckle up safely in a booster seat and not to advance prematurely into a standard vehicle seat belt which does not yet fit them."
Representatives from Meharry and the Injury Free Coalition for Kids will participate in an educational workshop for physicians in training on child passenger safety basics and the benefits of the proper use of car seats in preventing injury and death among children.
"See Me Safe focuses on narrowing the gap between what is and what can be in child passenger safety by helping parents and caregivers, booster age children, and medical professionals learn about important life-saving measures," said Irwin Goldzweig, Director of the Injury Prevention Unit, Department of Family and Community Medicine, Meharry Medical College. 
All of the See Me Safe program materials are available in English and Spanish. For additional information on child passenger safety efforts in Lexington, contact the Injury Free Coalition for Kids office at (859) 323-6194.