Kidd-Gilchrist Returns to UK, Reunites with Speech Therapist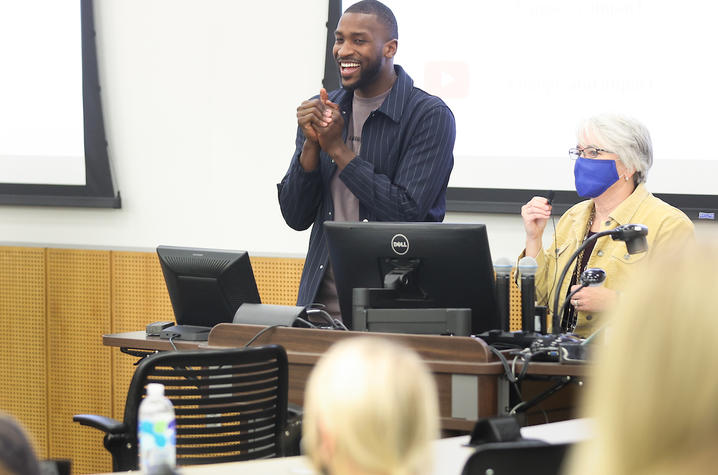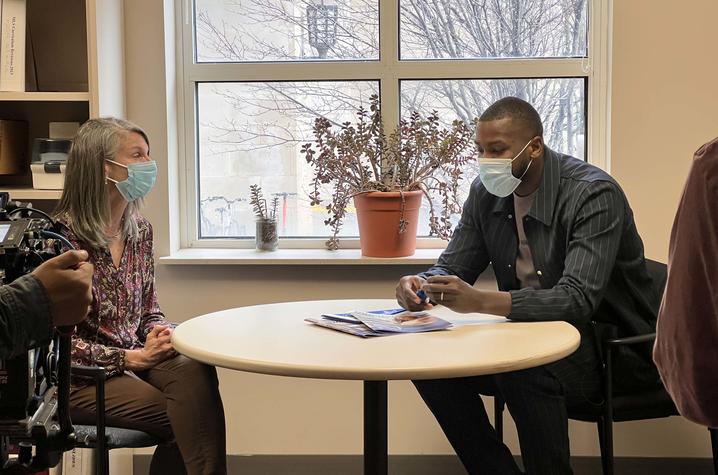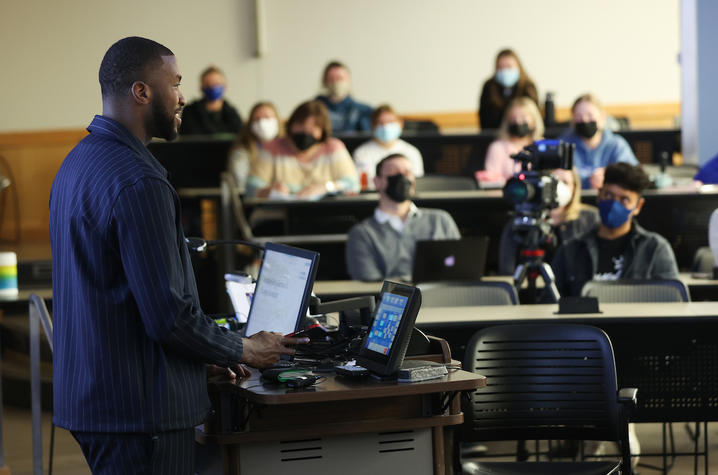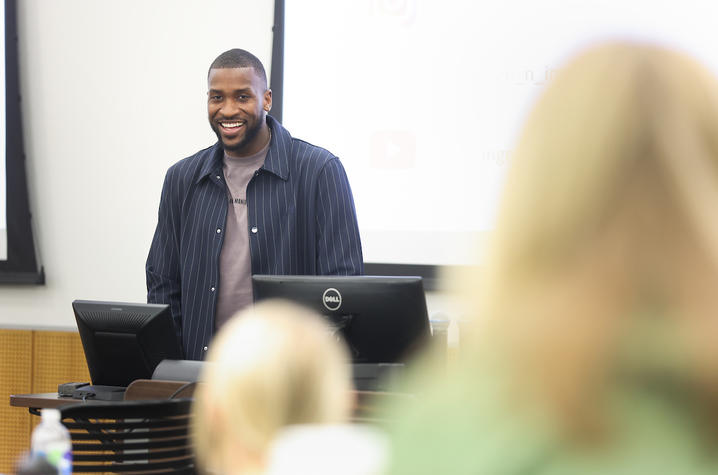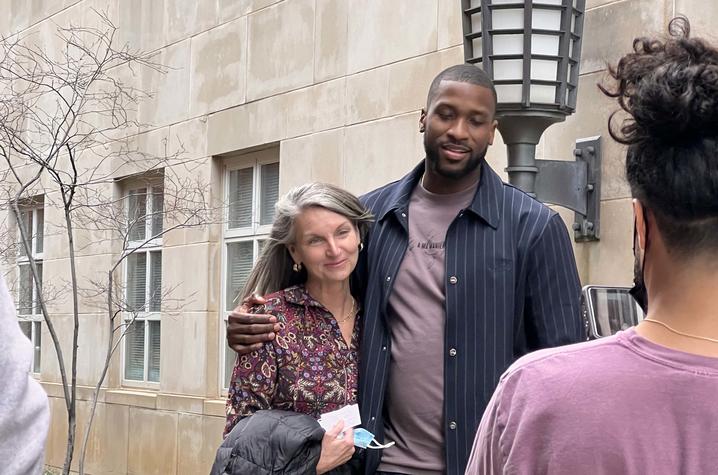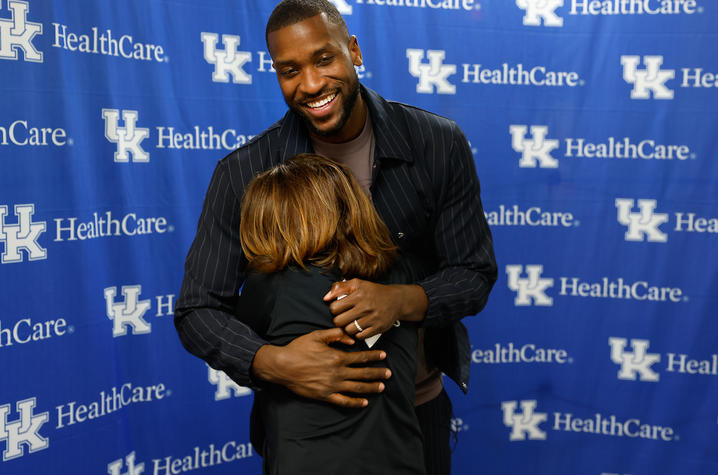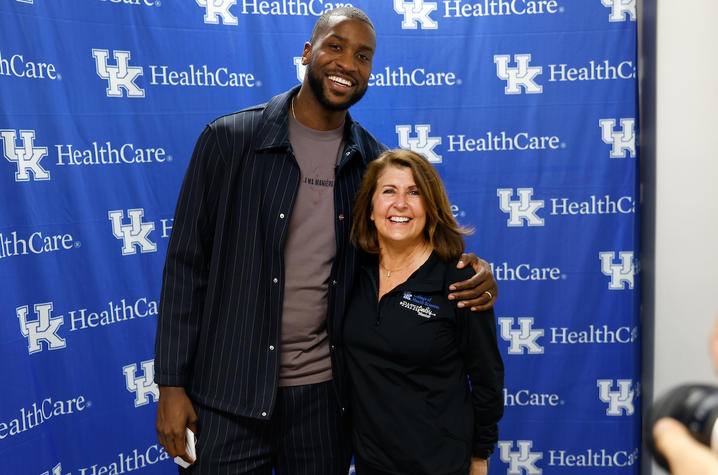 LEXINGTON, Ky. (March 15, 2022) — It's still amazing to see, even 10 years later, how people react to him.
It was like time had never passed — even though he'd played just one season at the University of Kentucky, winning a national championship and becoming the No. 2 pick in the NBA Draft.
Even after a decade, everything seemed the same. There were hugs and smiles and selfies. There were students wanting autographs and staff and faculty wanting to reminisce.
And, more than anything else, there was one amazing moment, where a man could offer thanks to a person who changed his entire life.
That, in a nutshell, is what's it's like when Michael Kidd-Gilchrist comes back home to the University of Kentucky. Just watch as he walks down a hallway.
"Can I get a picture?" asked Tammy Jo Edge, the student affairs coordinator and registrar/student compliance coordinator in the UK College of Health Sciences. She's also a self-described UK "superfan." She was so excited she wrapped her arms around the former UK player. "I am one of your biggest fans! You are amazing, you are awesome and thank you for everything you've done for our school — and everything you're doing now."
Kidd-Gilchrist just smiled that mega-watt electric smile of his and thanked her before posing.
This week, the former McDonald's All-American – who averaged 11.9 points and 7.4 rebounds for Kentucky's last national championship basketball team – came back to UK's College of Health Sciences to speak to a group of students and administrators, as well as to visit with the therapist who changed his life while he was a Wildcat.
It was an emotional day for everyone involved.
'I was just lost'
"I am an individual who stutters," he told the class. "I've been stuttering my whole life."
Kidd-Gilchrist was doing something that — as a younger man — he would've never thought possible: he was standing up and speaking to a class of college students, teaching them about his condition, and what he wanted to do about it.
Because as a young man, the stuttering made it to where he could never speak up in a group without the fear of ridicule. And, as you may expect, being a star basketball player placed him in the limelight quite often, forcing him to turn down requests for interviews. He just couldn't do it.
As part of his homecoming visit to UK, Kidd-Gilchrist was able to share his story with a group of about 50 students in the Communication Sciences and Disorders program — along with another class that tuned in virtually from Eastern Kentucky University.
"Nobody had this thing I had," he told the students. "I was just lost. Even still to this day, I go in and out of feeling isolated from the average person."
He didn't get help until he came to UK. That's when he met the therapist who would help him answer media questions and feel more comfortable speaking in public. But more importantly, she would prepare him to become a more confident communicator in everyday life, a person who can say whatever he wants to say when he wants to say it. His therapy had as much to do with speaking in daily life as it had to do with high-stress situations.
He says she helped changed his life for the better.
Meg Shake, a speech-language pathologist with UK HealthCare, had been working on staff for the College of Health Sciences at the time and got the call for Kidd-Gilchrist's therapy.
He said it was like another class at first. Then, as they bonded, they formed a relationship that led to him managing the condition.
Now, he told the class, he would like to "pause" his basketball career to continue to raise awareness by starting the Change & Impact Initiative for Stuttering. The nonprofit will continue to educate, support government legislation and expand resources and services for those who stutter.
"I am hellbent on making a real impact in real time," he said.
Mike and Meg
Of course, his visit would not be complete without seeing her.
Their story has been covered before, both internally and externally, but this week was the first time Kidd-Gilchrist was able to thank his therapist face-to-face.  
As he said, this was the person who made it easier for him to face the media at the Final Four, or in the NBA. This was the person who helped him to be able to speak in front of college classes.
And when Meg Shake, who has been a UK basketball fan her entire life, came back to the College of Health Sciences, Kidd-Gilchrist was there. This time, he was the one giving out the hugs.
"I just want to say thank you," he said, as the pair sat down at a table. "I don't need an article to say how much I care for you. I want every person who stutters to have this type of bond."
Shake wiped away a tear.
"I appreciate you thanking me," she said. "But like I told you before, you did all the work. I was just along for the ride."
And what a ride it's been. Kidd-Gilchrist told her of his plans to advocate for more knowledge and funding for those who stutter. He's already been to 60 colleges and universities across the country telling his story.
"You have a great message," she told him. "There aren't many (people) who can do this."
Kidd-Gilchrist nodded.
"The time," he said, "is right now."
For the students, faculty, and staff of the College, it was the perfect visit.
"We just want to thank Michael for coming back and sharing his story with us," said Scott Lephart, Ph.D., dean of the College of Health Sciences. "He's the perfect example of the kind of difference that can be made when a therapist forms a bond with a patient. And now, that patient just happens to be dedicating his life to advocacy — he's paying it forward, and we couldn't be more proud."
Follow the Change & Impact Initiative for Stuttering on Instagram: @change_and_impact