Longtime UK child neurologist receives Governor's Service Award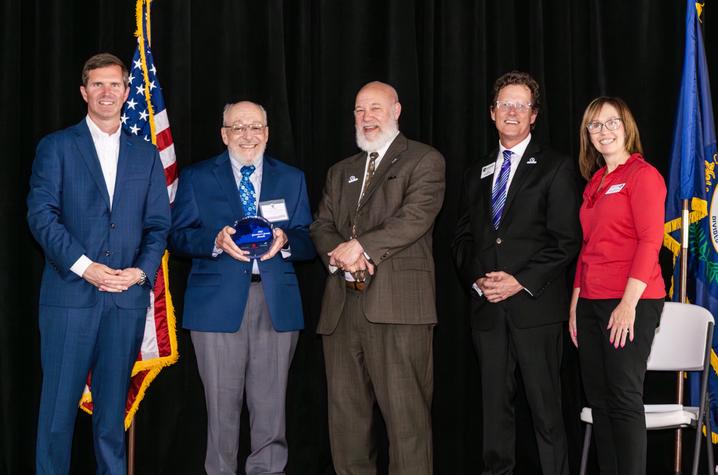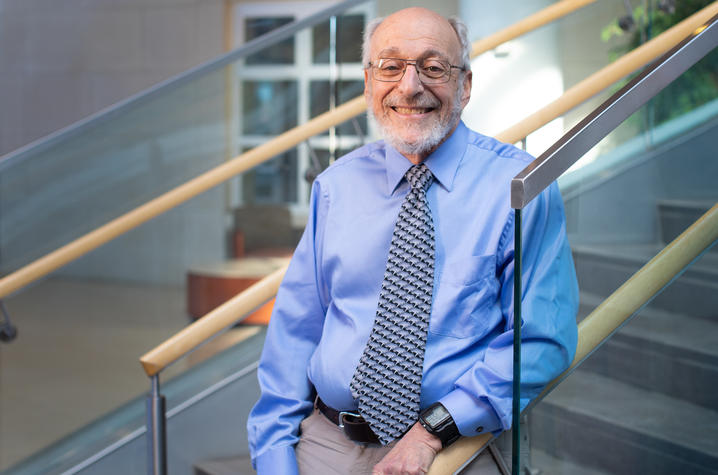 FRANKFORT, Ky. (May 19, 2023) — On Wednesday, Gov. Andy Beshear and Cabinet for Health and Family Services (CHFS) Secretary Eric Friedlander recognized UK HealthCare's Robert J. Baumann, M.D., with a Lifetime Achievement Award.
Baumann has worked in the field of child neurology in Kentucky for more than five decades. He was key in establishing the Office for Children with Special Health Care Needs (OCSHCN) network of regional medical clinics in Eastern Kentucky. Since the 1970s, Baumann has been providing top-notch care for children with neurological disorders in these clinics and was the first director of the Regional Neurology Clinics. As professor and section chief of child neurology at the University of Kentucky, Baumann continues to provide care to children at the OCSHCN neurology clinics.
"It is a wonderful honor and means a great deal to have our work recognized by the Commonwealth of Kentucky. It's work that we started over 50 years ago and a credit to the vision of Dr. David Clark, the first chair of neurology, and Mary Leonidaki whose goal was to make neurology services available to all of the children of Kentucky, wherever they live," said Baumann. "All of this, we have accomplished in partnership with the Kentucky Office for Children with Special Health Care Needs. Much of the recognition belongs to the wonderful nurses and staff of the OCSHCN in Eastern Kentucky. It's their devotion to children and families as well as the active participation and skills of the child neurologists and our coordinator, Kimberly Osborne, at the University of Kentucky department of neurology that's really being honored by the Commonwealth."
Team members of the OCSHCN nominated Baumann for this award. When asked why they chose to nominate him they summed it up simply by saying, "The children of the Commonwealth and all who have had the privilege of working with him are better because of him."
That includes OCSHCN Medical Director Bethanie Morgan, M.D.
"I doubt that I would be a child neurologist or medical director of OCSHCN if not for him. He has inspired so many to become child neurologists and to return to Kentucky to continue taking medical care to children who might not otherwise be able to access care," said Morgan. "He has been a great mentor as a child neurologist and an excellent example of a kind human being that is dedicated to making our small corner of the world a better place."
This recognition for Baumann was part of the 27th annual Governor's Service Awards which acknowledges outstanding volunteerism and service contributions across the Commonwealth. This year's award ceremony consisted of 10 individual awards and nine group awards.
"These prestigious awards honor Kentucky individuals, national service members, groups, nonprofits and businesses for extraordinary service to their communities and the positive impact they are having on our Commonwealth," said Gov. Beshear. "Congratulations to the class of 2022 Governor's Service Awards recipients and thank you for your selfless work and service to the people of Kentucky."
This isn't Baumann's first Lifetime Achievement Award. In 2021, he received the Brumback Lifetime Achievement Award from the Child Neurology Society. He has served on numerous national boards and committees, including the National Institutes of Health. In addition to these roles, he has authored 76 publications in medical literature, and laughingly notes that with his 50 years at an academic medical facility like UK, he has trained multiple new generations of doctors.
"Dr. Baumann's career as a child neurologist spans five decades, almost entirely at the University of Kentucky. He has trained many new child neurologists, contributed to the growth of the profession, and has been singularly dedicated to providing high-level neurological care to children with limited access to health care services residing in rural areas of our Commonwealth, prompting the Governor's Award in recognition of his service," said Larry Goldstein, M.D., chair of the UK Department of Neurology. "Dr. Baumann is held in high esteem by his fellow faculty here at the University of Kentucky and nationally. He has had a meaningful impact on the lives of countless Kentucky children, trainees and colleagues. We have been lucky to have him at UK."
Serve Kentucky, an agency within CHFS, coordinates the annual awards, in which the previous two ceremonies were held virtually due to the COVID-19 pandemic. Now that the event has made a return to in-person, Serve Kentucky extended an invitation to the class of 2020 and 2021 winners as well, making this year's celebration even more special.
UK HealthCare is the hospitals and clinics of the University of Kentucky. But it is so much more. It is more than 10,000 dedicated health care professionals committed to providing advanced subspecialty care for the most critically injured and ill patients from the Commonwealth and beyond. It also is the home of the state's only National Cancer Institute (NCI)-designated cancer center, a Level IV Neonatal Intensive Care Unit that cares for the tiniest and sickest newborns, the region's only Level 1 trauma center and Kentucky's top hospital ranked by U.S. News & World Report.  
As an academic research institution, we are continuously pursuing the next generation of cures, treatments, protocols and policies. Our discoveries have the potential to change what's medically possible within our lifetimes. Our educators and thought leaders are transforming the health care landscape as our six health professions colleges teach the next generation of doctors, nurses, pharmacists and other health care professionals, spreading the highest standards of care. UK HealthCare is the power of advanced medicine committed to creating a healthier Kentucky, now and for generations to come.