Markey Launches Precision Medicine Clinic, Expands Catalog of Early Phase Clinical Trials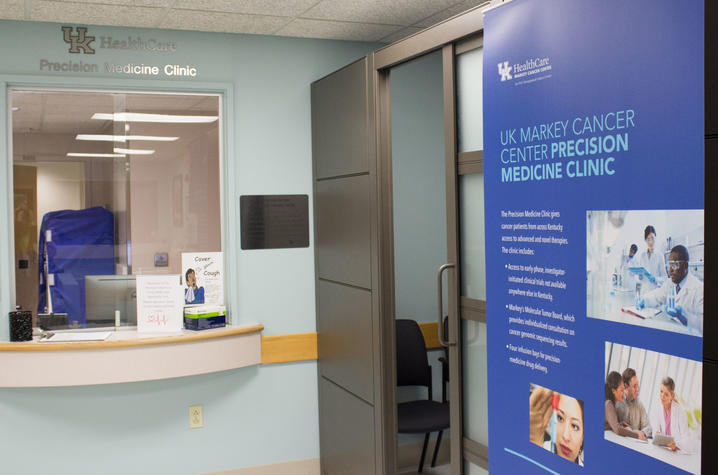 LEXINGTON, Ky. (Feb. 12, 2018) – In its ongoing efforts to offer Kentuckians the latest, most innovative cancer treatments available, the University of Kentucky Markey Cancer Center recently launched the Precision Medicine Clinic, a new space dedicated to providing patients with increased access to phase I and phase II clinical trials.
Before a new drug can be approved by the Food and Drug Administration (FDA) for widespread use, it must first be proven safe and effective in clinical trials. When patients are enrolled in phase I trials, they are often among the first people to receive a promising new drug or treatment. Phase II trials build on the information gathered in a phase I trial and often compare its efficacy with the current standard treatment for that specific cancer.
Many of the early phase clinical trials offered at the Precision Medicine Clinic will be investigator-initiated trials from Markey physician-scientists, as well as national clinical trials sponsored by the National Cancer Institute (NCI) and Early Therapeutic Clinical Trials Network. Cutting-edge trials like these are not usually available to patients treated outside an NCI-designated cancer center such as Markey. 
The launch of Markey's Molecular Tumor Board last year is providing ongoing guidance for the types of clinical trials the Precision Medicine Clinic should initiate or recruit. As the Tumor Board members learn more about the types of mutations causing cancer in our local patient population, new trials can be designed to target those specific mutations.
"Cancer treatment has traditionally been based on tumor types, but with more data obtained from genetic analyses, we are using that information to target specific mutations," said Dr. Mark Evers, director of the UK Markey Cancer Center. "The more data we gather through the Molecular Tumor Board, the more precise therapies we'll be able to offer through clinical trials at the Precision Medicine Clinic."
The Precision Medicine Clinic is directed by clinical pharmacologist Jill Kolesar, a professor in the UK College of Pharmacy and nationally known expert in oncology pharmacogenomics, alongside medical oncologist Dr. Susanne Arnold and surgical oncologist Dr. Rachel Miller. All have extensive experience in clinical trial implementation. 
Additionally, the clinic employs a staff of multidisciplinary experts who have a high level of experience with research, including chemotherapy nurses, pharmacists, and research nurses. Cancer patients who are enrolled in early phase clinical trials will receive much of their care in this new space.
The clinic will receive many internal referrals from UK HealthCare physicians, but community physicians from across the Commonwealth will also be able to refer patients to Markey for these unique trials and treatment options.
"The Precision Medicine Clinic provides trials that aren't available anywhere else in Kentucky," Kolesar said. "It truly benefits the entire state by providing access to the newest cancer treatments.  Referring community physicians will be able to keep their patients here in Kentucky instead of sending them to other facilities far from home."
Located on the second floor of UK Chandler Hospital Pavilion H, the Precision Medicine Clinic includes two exam rooms and four infusion chairs. Kolesar anticipates the clinic will see up to six patients a day and roughly 300 unique new patients annually.