Matheny Named Assistant Provost for Global Health Initiatives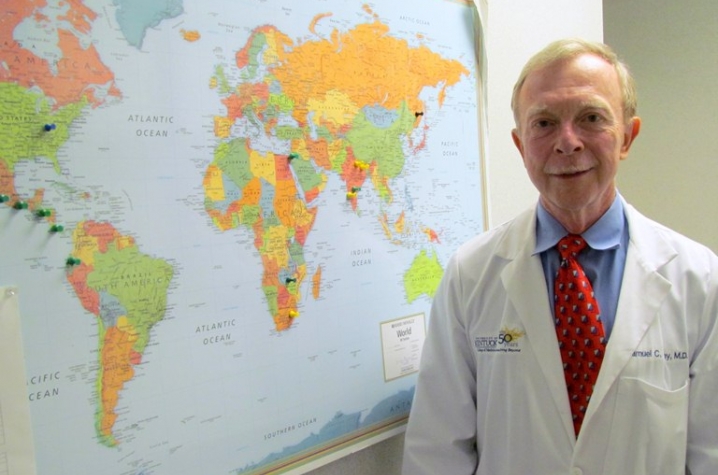 LEXINGTON, Ky. (Aug. 18, 2011) — Dr. Sam Matheny, professor and former chair of the UK College of Medicine Department of Family and Community Medicine, and UK College of Medicine alumnus, has accepted the position of Assistant Provost for Global Health Initiatives at the University of Kentucky.
In Matheny's new role he will work to coordinate potential affiliations with international partners for all of UK's health sciences colleges, and oversee global health programs in the College of Medicine, including the new Global Health Track. He will also focus on interprofessional learning, particularly service learning, and work with the health sciences colleges to develop programs in research, education and engagement.
"In today's competitive academic climate, health professionals increasingly require educational programming with global perspective," Matheny said. "Our students demand it, and we are rising to that challenge."
The initiative towards providing and teaching global health began more than 50 years ago with the formation of the UK College of Medicine. As a former UK medical student who participated in clinical research abroad, Matheny understands the need for providing students opportunities for international experience with relevant, current global health issues.
"Participating in global health initiatives is such a great experience for our students, and it benefits our communities as well," Matheny said. "There is evolving data that students interested in global health are more likely to work in underserved areas in the United States. As an academic medical center, we want to prepare our students to work in underserved areas in a multidisciplinary setting because that is going to be very important to the future of medicine."
Matheny hopes to further develop relationships abroad and look for research and community involvement opportunities and partnerships. "It is my goal to not only see what our students and faculty can learn abroad, but also what we can contribute," he said.
MEDIA CONTACT: Julie Meador (859) 323-2395 or Julie.Meador@uky.edu