A nap a day keeps the doctor away; how to know if you're napping healthily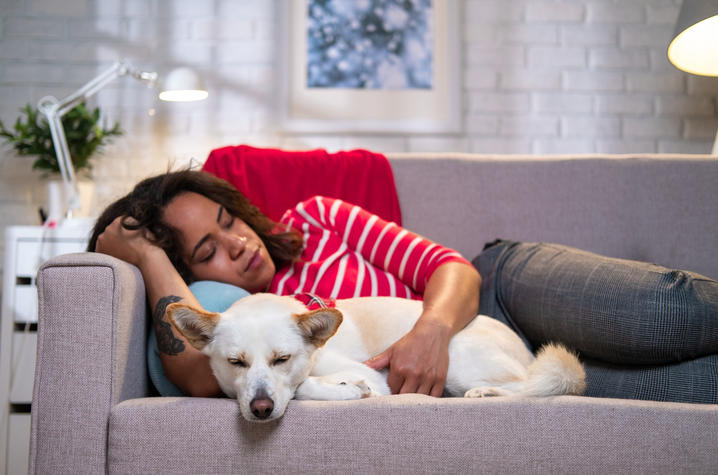 The University of Kentucky Public Relations & Strategic Communications Office provides a weekly health column available for use and reprint by news media. This week's column is by Robert J. Murray, D.O., physician at the UK HealthCare Pulmonary, Critical Care & Sleep Medicine Clinic.
LEXINGTON, Ky. (May 1, 2023) — It's no secret; life is exhausting. After a long day of class or work, it takes everything not to fall asleep as soon as you sit down. A good, healthy nap, when executed correctly, can really turn your day around.
The question I always hear is whether you should nap for a short amount of time, or long. Short sleep was more useful and less harmful than a prolonged sleep or a long nap. This is due to the dramatic increase in blood pressure and heart rate that exists when you wake up from a longer sleep. The increase is much less pronounced when sleeping for a short time.
REM sleep is a state of paralysis when we sleep. It first occurs about 90 minutes after falling asleep, and then moves through different cycles. The only things that are active are the eyes and your breathing. By taking a short nap, you will avoid entering REM sleep and that feeling of drowsiness you get when waking up from a long nap.
Many people tend to feel sleepy around three in the afternoon, what we call 'the 3 p.m. crash.' This can be caused by fluctuation with insulin and blood sugar that happens after you eat your lunch. If you eat a heavy lunch, you might feel the need to nap more often than not. If your lifestyle doesn't support resting in the afternoon, focus on incorporating healthy, energy boosting foods like fruits and vegetables into your lunch. This will give you the strength to power through that crash.
The most ideal way to remain fresh and energized throughout the day is by getting a full night of quality sleep every night. However, if for some reason you are not able to do that, short naps that last less than 30 minutes will be more beneficial than longer naps.
UK HealthCare is the hospitals and clinics of the University of Kentucky. But it is so much more. It is more than 10,000 dedicated health care professionals committed to providing advanced subspecialty care for the most critically injured and ill patients from the Commonwealth and beyond. It also is the home of the state's only National Cancer Institute (NCI)-designated cancer center, a Level IV Neonatal Intensive Care Unit that cares for the tiniest and sickest newborns, the region's only Level 1 trauma center and Kentucky's top hospital ranked by U.S. News & World Report.  
As an academic research institution, we are continuously pursuing the next generation of cures, treatments, protocols and policies. Our discoveries have the potential to change what's medically possible within our lifetimes. Our educators and thought leaders are transforming the health care landscape as our six health professions colleges teach the next generation of doctors, nurses, pharmacists and other health care professionals, spreading the highest standards of care. UK HealthCare is the power of advanced medicine committed to creating a healthier Kentucky, now and for generations to come.