New Mobile Patient Simulator Vans Used to Promote Health Care Careers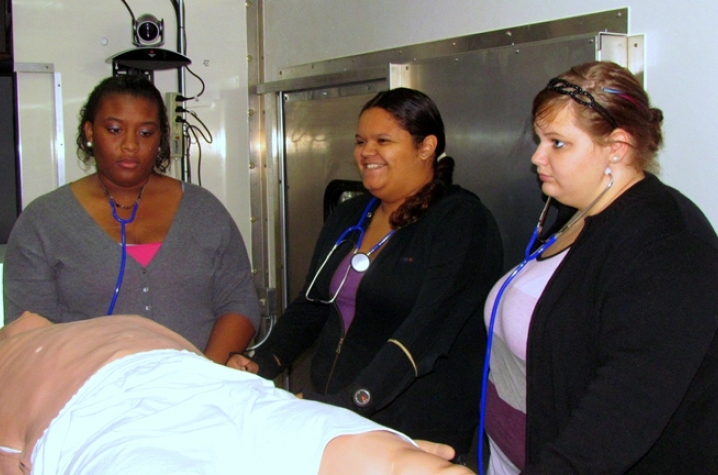 LEXINGTON, Ky. (Sept. 20, 2011) — Understanding the concept of lung failure may be difficult with only a textbook for guidance, but with a human simulator that can breathe, bleed and answer questions, Tates Creek High School students Cassie Mahoney, Alexus Self and Danyel Cornelius recently experienced a patient's lung failure firsthand at the University of Kentucky. 
"It's neat because you can actually hear the difference between a collapsed lung and then a working lung," said senior Alexus Self. All three Tates Creek students are interested in pursuing a career in the medical field.
The UK Area Health Education Center (AHEC) aims to assist in the education and promotion of health-related fields with three new Mobile Patient Simulator vans equipped with state-of-the-art patient simulator technology. As the only university and AHEC to provide this particular type of program, the vans will be dispersed in different areas of the state in collaboration with other AHECs. The vans not only include the simulator with extensive clinical features, but also interactive video conferencing capabilities that allow students and faculty to interact with physicians in other locations. 
This type of clinical experience and medical exploration for high school students is one of the goals of the UK Area Health Education (AHEC) program's new technology. Traveling throughout Kentucky, these vans increase the opportunity to create awareness in middle school and high school students of health careers and health care needs in Kentucky.
"The human simulators do everything a human can," said Chris Johnson, associate AHEC program director. "Everything the students see in class is structural, and this new technology allows them to actually see and understand in a contextualized way - the possibilities with this technology are endless."
The UK Area Health Education (AHEC) Program is a collaborative effort with UK, the University of Louisville Health Sciences Center, and eight regional centers to positively affect the distribution of health professionals throughout the Commonwealth. The centers, or AHECs, affiliated with UK are located in Morehead, Mount Vernon, Hazard and Park Hills.
MEDIA CONTACT:   Julie Meador, (859) 323-2395 or Julie.Meador@uky.edu