New tool to protect Kentuckians young and old against RSV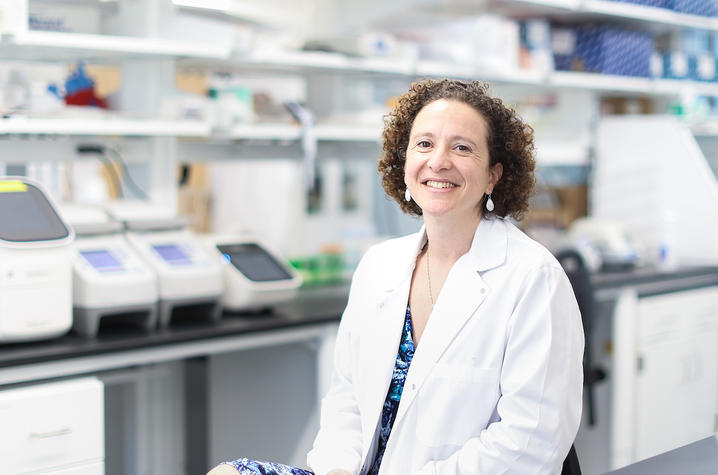 The University of Kentucky Public Relations and Strategic Communications Office provides a weekly health column available for use and reprint by news media. This week's column is by Ilhem Messaoudi, Ph.D., a professor and chair of the Department of Microbiology, Immunology and Molecular Genetics at the UK College of Medicine. 
LEXINGTON, Ky. (Sept. 20, 2023) — After an intense season of respiratory syncytial virus (RSV) in the Commonwealth, we have a new tool to protect children from sickness.  
In July 2023, the U.S. Food and Drug Administration (FDA) approved AstraZeneca's Beyfortus (nirsevimab-alip) for the prevention of RSV lower respiratory tract disease in neonates and infants born during or entering their first RSV season. It's also for children up to 24 months of age who remain vulnerable to severe RSV disease through their second RSV season. 
RSV is a common respiratory virus that usually causes mild, cold-like symptoms. Most people recover in a week or two, but the virus can be serious, especially for infants and older adults. 
This is not a vaccine for children, but a monoclonal antibody treatment, much like what we saw developed to fight COVID-19 in the early days of the pandemic. The treatment is giving these young immune systems a bunch of antibodies against RSV and helping them fight it off.  
The science behind this development is exciting. These types of viruses have been very challenging to make vaccines against, and now we have a great therapy.  
To me, as a parent, virologist and immunologist, I see very few downsides of giving Beyfortus to young infants at risk from severe RSV. Anything we can do to protect the smallest, most vulnerable Kentuckians is a step we should take. Because if a child is hospitalized with RSV the only thing we can offer them is supportive care.  
RSV protections for pregnant women, elderly adults 
Also exciting, are the protections we now have for other vulnerable populations: pregnant women and the elderly.  
Recently, federal health advisers' have shown support of Pfizer's first-of-its-kind RSV vaccine for pregnant women to protect infants in the first few months of life through the passive transfer of maternal antibodies. This strategy is already used to protect neonates and young infants against pertussis, flu and covid passed using antibodies passed from mom to baby during pregnancy through the placenta and after birth via breastfeeding. 
And, back in May, the FDA approved the first-ever vaccine against RSV for older adults from GSK called Arexvy. 
It's amazing that in one year we have a monoclonal antibody treatment for infants and not only one but two different vaccines for pregnant women and older adults. 
We now have more tools at our disposal to prevent people of all ages from ending up in the ICU and dying, and it all starts with getting your vaccines and staying up to date on them. 
Anyone with questions about treatments for themselves or their children should talk to their primary health care provider.  
UK HealthCare is the hospitals and clinics of the University of Kentucky. But it is so much more. It is more than 10,000 dedicated health care professionals committed to providing advanced subspecialty care for the most critically injured and ill patients from the Commonwealth and beyond. It also is the home of the state's only National Cancer Institute (NCI)-designated cancer center, a Level IV Neonatal Intensive Care Unit that cares for the tiniest and sickest newborns, the region's only Level 1 trauma center and Kentucky's top hospital ranked by U.S. News & World Report.  
As an academic research institution, we are continuously pursuing the next generation of cures, treatments, protocols and policies. Our discoveries have the potential to change what's medically possible within our lifetimes. Our educators and thought leaders are transforming the health care landscape as our six health professions colleges teach the next generation of doctors, nurses, pharmacists and other health care professionals, spreading the highest standards of care. UK HealthCare is the power of advanced medicine committed to creating a healthier Kentucky, now and for generations to come.