Pearse Lyons to Speak at Sanders-Brown Dinner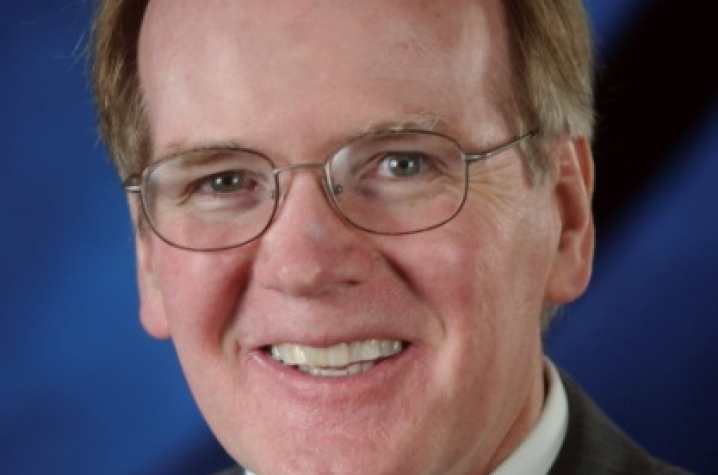 LEXINGTON, Ky. (Sept. 23, 2009) – Dr. Pearse Lyons, president and founder of Alltech, will be the guest speaker for the University of Kentucky Sanders-Brown Center on Aging Foundation 23rd annual dinner Oct. 6 at the Marriott Griffin Gate Resort in Lexington. Alltech is a global animal health company and proud sponsor of the Alltech FEI World Equestrian Games to be held in 2010.
Headquartered in Lexington and with a European Bioscience Centre in Ireland, Alltech has developed a strong regional presence in North America, Europe, Middle East, Latin America and Asia-Pacific. It also has 14 production facilities strategically located throughout the world, employs more than 1,900 people and has a presence in 113 countries around the world. Today, the company is a global leader in the animal health industry, boasting group sales approaching $500 million.
Alltech's mission is to improve animal health and performance by adding nutritional value to animal feed, enhancing the performance of the animal and increasing animal production.
Alltech has been doing this for over 28 years and from the outset envisaged that by using natural yeast fermentation it could provide natural alternatives to the increasing challenges facing the animal feed industry.
Lyons received his bachelor's degree from the National University of Ireland in Dublin and pursued his master's and doctoral degrees at the University of Birmingham, England. He later worked as a biochemist in Irish Distillers before founding Alltech in 1980.
"The UK Sanders-Brown Center on Aging is privileged to have Dr. Lyons as our featured guest for our 23rd annual dinner and fundraiser," said Jodie Bingham, director of the UK Sanders-Brown Center on Aging Foundation. "His contributions to science and industry and Alltech's sponsorship of the upcoming Alltech FEI World Equestrian Games make him an ideal speaker for our event."
"It is an honor and a privilege to speak at the Sanders-Brown dinner," said Lyons.  "The center is world renowned and a true asset to the Commonwealth. In addition to speaking at the dinner, I am equally pleased that Alltech is involved in some of the most cutting edge research on Alzheimer's disease being conducted at the center."
Lyons received the State Export Award for Kentucky and was acknowledged as the leader of one of the top 100 fastest-growing high-tech companies by World Trade Magazine. He was the Kentucky recipient of the Entrepreneur of the Year award in 1993, and Alltech was featured as one of eight "green" companies by Inc. magazine in August.   Lyons has been recognized for his contribution to science and industry and has been awarded honorary doctorates from the University of Plymouth, England, and Heriot-Watt University, Scotland. His alma mater, National University of Ireland, Dublin, selected Lyons as one of its honorary doctorates on the occasion of its 150th anniversary.  Recently, he was recognized as one of the top 15 Irish-American life scientists of the year by Biolink USA-Ireland. He has authored more than 20 books and numerous research papers in scientific journals.
In a recent article in the Lexington Herald-Leader, columnist Tom Eblen described Lyons after he spoke at the Lexington Forum by stating, "There's no zealot like a convert, and when it comes to believing in Kentucky's potential, there's none like Pearse Lyons."
During his talk at the Lexington Forum, Lyons said he gets dizzy thinking about how an Irish lad of modest means could grow up to earn a Ph.D. and create a company with such high annual revenues and a profit margin and to hobnob with such people as Muhammad Ali and Queen Elizabeth II. He also said it all came down to education, entrepreneurship and taking advantage of opportunities. Lyons said that Ireland reversed its fortunes by focusing on education and innovation and the same formula can work for Kentucky.
 "The possibilities for innovation are enormous," said Lyons. "Innovation requires education."
During the forum, Lyons said Kentucky needs leaders. "The leader's job is to bring uncertainty out and certainty in. That's what our state needs. Because in 20 years' time the whole world is going to change. Which way? I'm not sure. But it's going to change. And please God it will change, because therein lies our opportunity."  
Attended by about 500 people each year, the dinner features speakers who focus on, and are examples of, successful aging. Previous guest speakers have included such well-known figures as Dr. Norman Vincent Peale, John Wooden, Barbara Bush, Colin Powell, John Glenn, Bob Dole, Art Linkletter, Willard Scott, Lauren Bacall, Andy Rooney, Hugh Downs, Newt Gingrich, Ed McMahon, and William Safire.
During, the dinner, senior stars and centenarians from across Kentucky also will be recognized. The 2009 William R. Markesbery Senior Stars are: Alexander (Al) Feher, 85, of Lynch; Maurae Hunley Foster, of Glasgow, who passed away this year at age 86; Joseph (Joe) Elias Isaac, 83, of Lexington; and Effie Kemp, 82, of Murray. The 2009 Dr. David R. Wekstein Centenarian Awards are: Hazel Dillon, 100, of Maysville; Catherine Ledford Duff, 101, of Lexington; and Pearl Greer, 101, of Glasgow.
"The Senior Star and Centenarian awards are an excellent opportunity for the UK Sanders-Brown Center on Aging Foundation to recognize and honor those who exemplify graceful aging by remaining engaged in an active lifestyle," said Cheryl Blanton Feigel, a Sanders-Brown Foundation board member and chair of the outreach committee. "The purpose of the awards is to recognize Kentuckians who are making lasting contributions in professional and/or community life and who set high standards to inspire others."
The Center on Aging has been conducting research on Alzheimer's disease, stroke and other aging-related concerns for over 30 years. America's population is aging, resulting in significant economic, social, educational and health challenges to the well-being of our nation. The UK Sanders-Brown Center on Aging is at the forefront of this challenge. Through a gift from the Eleanor and John Y. Brown Jr. Foundation and a matching grant from the Commonwealth of Kentucky, the Sanders-Brown Center on Aging opened in 1979 and is one of 10 original National Institutes of Health-funded Alzheimer's Disease Research Centers. Today, the center is an internationally prestigious research center.
The center is dedicated to advancing the well-being of the elderly. Its majorgoal is to support healthy aging. It is at the forefront of research on prevention, early diagnosis of dementing diseases and studies on the causes of those diseases. The center also is one of five Commonwealth of Kentucky Centers of Excellence and is a recognized leading center.
Foundation board members from around Kentucky personally support the center and serve as ambassadors for it in key areas. Private contributions have helped raise the center to its current level. UK's Sanders-Brown Center on Aging Foundation helps secure private gifts for the center's important work. In its lifetime, this fundraising organization has made progress in obtaining support from corporations, foundations and individuals. Although every source of funding is important, private support through charitable gifts has become more significant than ever because of the increased costs of research and uncertain funding from state and federal sources. Private donations allow the center to sustain and develop new and innovative clinical research projects and to develop patient and caregiver programs that will lead to key advances in both the treatment and prevention of diseases that affect the elderly.
Dupree Financial Group is the presenting diamond sponsor for this year's dinner.
For more information about the UK Sanders-Brown Center on Aging and the foundation and its annual fundraising event, call Jodie Bingham at (859) 323-5374.