Pharmacy Professor Loves Diversity of Her Career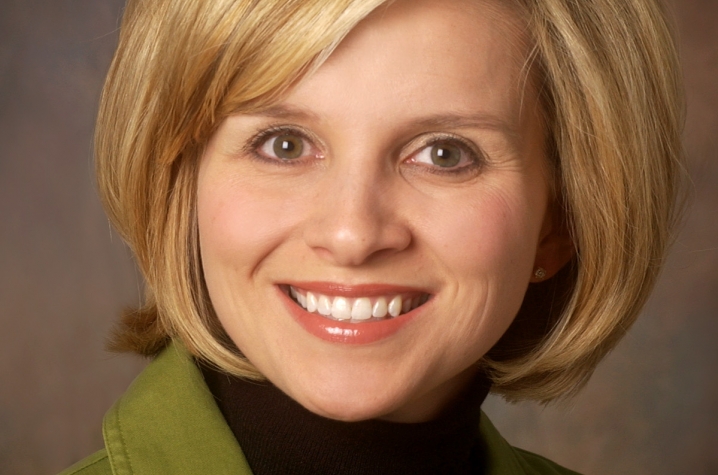 LEXINGTON, Ky. (Nov. 11, 2010) − As a young girl growing up in the small Western Kentucky community of Dawson Springs, Holly Divine loved being outdoors riding four wheelers, fishing and just about anything that was sports related that allowed her to get out and do different things.  It wasn't until she was in middle school that she began to think about choosing pharmacy as a career and perhaps even owning her own pharmacy someday.
 
Divine, clinical associate professor in the Department of Pharmacy Practice and Science at the University of Kentucky College of Pharmacy, comes from a long line of business owners in her family and one day during her middle school years, her grandfather suggested that she ought to think about going into pharmacy, perhaps due to her strong interest in science. That suggestion led Divine to UK and on to a career path that has fostered her love of diversity, both in her career and in her personal life.
In 1993 when Divine had just finished her first year of pre-pharmacy classes, , her grandfather unfortunately died of an adverse drug reaction. His death reinforced to her the valuable role of the pharmacist in identifying drug therapy problems and educating patients. 
"My first job was in a small pharmacy in Princeton," Divine said. "I loved community pharmacy and the relationships with the patients in my community. I also had an interest in teaching, and once I entered pharmacy school, I learned about opportunities to provide patient care and teach student pharmacists. I took that passion for teaching and pharmacy and ended up on an academic career path."
And the rest, as they say, is history. Not so for Divine.
Upon graduation from the UK College of Pharmacy in 1998, Divine's first position with the college was as adjunct assistant professor at Kentucky Clinic North, now known as the Polk-Dalton Clinic, where she administered patient assistance programs and provided patient education. However, as her time in the clinic progressed, she started to notice the large number of patients with diabetes and she naturally migrated to diabetes patient education. Her work with patients with diabetes and her own experience with diabetes in her family further piqued her interest in pursuing diabetes care leading to her certification as diabetes educator in 2001.
 
Soon thereafter, a new opportunity opened up that allowed Divine to return to her community pharmacy roots and further explore teaching opportunities in the newly developed UK College of Pharmacy Residency Program.
In 2001, Divine was hired to design and implement the Community Pharmacy Residency Program. Currently, there are sites at the Kroger Pharmacy Patient Care Center and American Pharmacy Services Corporation (a cooperative of independent pharmacies based in Frankfort) with Wheeler Pharmacy in Lexington and they have taken residents at the PharmacistCARE site as well. As director, Divine coordinates learning experiences and precepts residents at all sites as well as oversees the entire program. She remains director of the Residency Program but the responsibilities of the job have not stopped Divine from pursuing other interests offered through the College of Pharmacy.
Divine never lost her passion for working directly with patients and another opportunity to do just that opened up the next year.
In 2002, a workgroup was formed with several pharmacists from UK HealthCare and the College of Pharmacy. It birthed an innovative patient care service for UK Health Plan Members that eventually became known as PharmacistCARE. PharmacistCARE is a medication management and diabetes disease management service located in Kentucky Clinic. Divine helped launch this program along with her colleagues Dr. Amy Nicholas and Dr. Carrie Johnson. Although Divine is no longer the director, she still remains actively involved with the program providing patient care in the clinic several days each month.
"Dr. Divine is a nationally recognized leader in training outstanding community pharmacy practitioners through her innovative clinical practice and her residency program that partners with Kroger and the APSC," said Jimmi Hatton, professor and chairman in the Department of Pharmacy Practice and Science. "Her ideas and training skills are now also utilized in her faculty role in the Introduction to Pharmacy Practice Experience programs offered by our College. We are excited about the future growth of practice throughout our state as a result of her contributions to our educational programs."
Divine's path to where she is today may look like a carefully laid plan to some but in reality, opportunities have led to new interests and new opportunities. Her career with the UK College of Pharmacy has afforded her the variety and diversity she seems to crave.
"There are so many opportunities within the profession of pharmacy. If you choose pharmacy, you don't have to work in the same practice area all your life. It's fun to see the diversity that's there," she said.
Divine has described herself as wearing several hats in the college and the same could be said for her personal life.  Divine's faith plays a large part in her life and she says she has always been involved in her church and her Christian faith teaching Sunday School and working with kids. What many people may not know, is that like her mother, Divine is a credentialed minister and she serves at King's Way Assembly of God in Versailles, Kentucky, where she lives with her husband, Kevin, and 18-month-old daughter, Reese. 
Divine admits she may not fit the stereotypical image people may have of a pharmacy college professor. On her off time, she continues to enjoy a very active life that includes water skiing, playing piano and bass guitar, fishing, golfing and riding motorcycles, an interest she has had since she was 7 years-old and her dad purchased her first motorcycle. The only thing she has given up recently is motorcycle riding. "I decided when I put on the 'mommy hat' and had Reese that I'd sell my motorcycle!"
Divine has indeed worn many hats in her adult life. She says she loves doing something new every day whether it is teaching students in a classroom or developing new programs.
"The thing I love most about pharmacy is the difference we make in patient care," Divine said. "We are the drug therapy expert and I love teaching that in the classroom. It's very rewarding when that clicks for students and I see their love of the profession too."