Pregnancy Treated as a Moment for Recovery through UK HealthCare's PATHways Clinic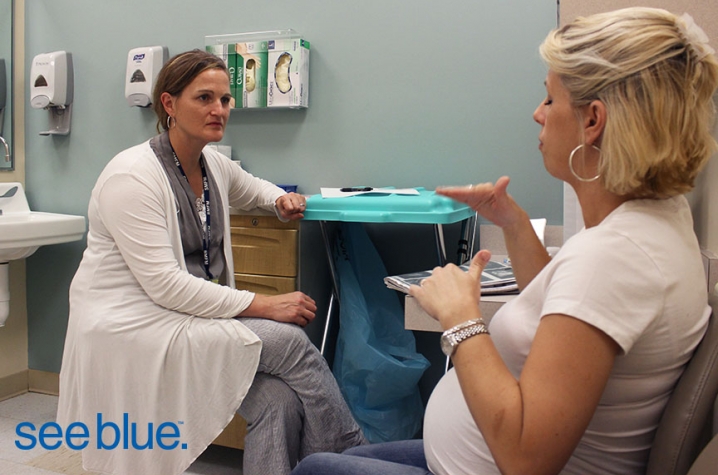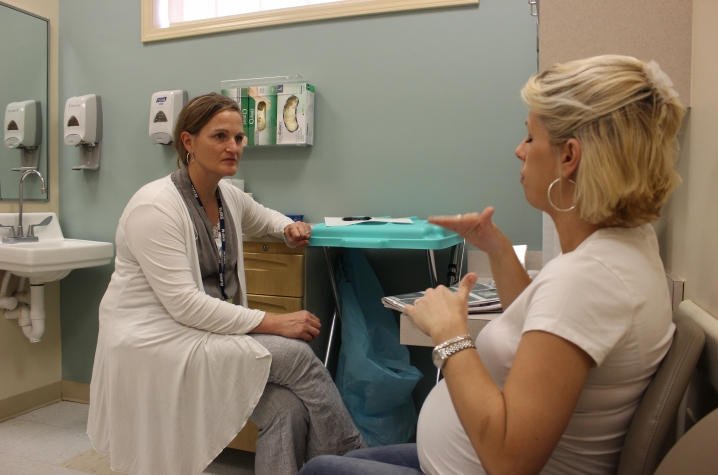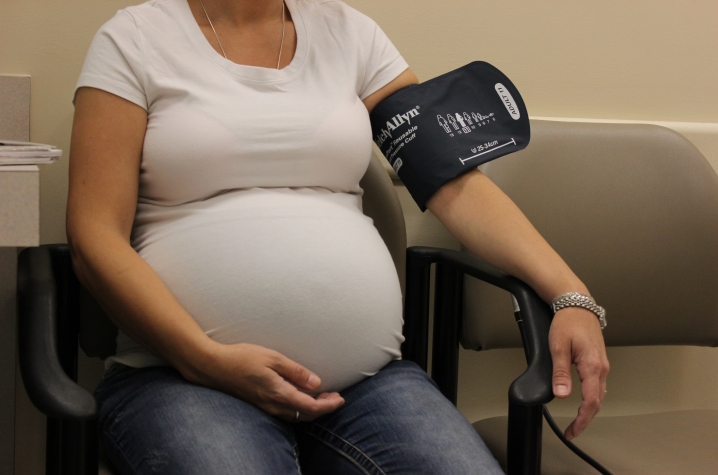 Opioid addiction is a complex medical disorder that impacts the entire nation, but much of the problem is condensed to disparate regions of Kentucky. This is the second installment of a series of articles exploring the work of University of Kentucky researchers and UK HealthCare medical providers who are making progress toward solutions to the epidemic in our state and at large.
LEXINGTON, Ky. (July 19, 2016) — As she scooted around a table at the UK HealthCare Polk-Dalton Clinic, Lenn's volleyball-size baby bump knocked over a soda can.
At 38 weeks pregnant, Lenn joked about the obtrusiveness of her bump as she stepped on a weight scale at the Polk-Dalton Clinic. She was one of 16 women to join a pregnancy support group part of the Perinatal Assessment and Treatment Home (PATHways) clinic in June.
All these women were coping with the idiosyncrasies of pregnancy — the swollen feet, emotional swings, restless nights and incessant appetites. They also shared the distinctive challenge of recovering from substance abuse during this transformative time in their lives.
For Lenn, 36, the baby in her womb represented a second chance at motherhood. During her 20s, Lenn's addiction to alcohol and pain pills disrupted her relationship with her first daughter. Unable to function or keep a job, Lenn lost custody of her daughter and connection with her family. Throughout her 15-year struggle with addiction, she attempted to get clean through rehabilitation programs twice but relapsed both times.
"I still couldn't kick them," she said of her addictions. "I would still get liquor and pain pills when I could. I had to have one or both — both was even better."
Lenn found out she was pregnant for a second time in the fall of 2015. Her initial reaction was, "now what?"  With another life at stake, she was motivated to seek out addiction treatment again. But she feared judgment from health care providers because of the widespread stigmatization of substance abuse. And few addiction recovery programs were customized to accommodate the special circumstances surrounding pregnancy.
Lenn's obstetrician referred her to PATHways, a comprehensive opioid maintenance treatment program for pregnant women recovering from addiction at the Polk-Dalton Clinic. Established about two years ago, PATHways integrates treatment for addiction with prenatal care, counseling and a supportive peer network. The program is based on the Centering Pregnancy model, which reduces negative outcomes and prepares women for labor, delivery and infant care through group counseling and peer support. PATHways achieves multiple objectives for women in recovery by treating the medical condition of opioid addiction, delivering specialized prenatal care, and giving women the skills and knowledge to fulfill their maternal roles once their babies arrive.
After coming to UK two years ago, Dr. Agatha Critchfield, the director of PATHways and an obstetrician-gynecologist at UK HealthCare Women's Health, was overwhelmed by the cases of prenatal opioid use she saw in her practice. The program was born out of necessity to serve a large population of prenatal patients coming to UK with substance abuse disorders. Critchfield said few evidence-based opioid treatment programs were designed for pregnant women.
"I was sad and frustrated there was no outlet for viable treatment for women," she said. "I think a lot of (pregnant) women avoid medical care, and don't even come to receive medical care because they are afraid."
To cover a broad range of patient needs, Critchfield and Kristin Ashford, a professor in the UK College of Nursing and an investigator on the PATHways study, assembled an interdisciplinary team comprising women's health specialists, nurses and nursing specialists, mental health providers, social workers and counselors. Critchfield and Dr. John O'Brien provide obstetrics care and clinical consultation during PATHways clinics, which are located at the Polk-Dalton Clinic every Wednesday. Psychiatrist Dr. Michelle Lofwall consults with the program as an addiction specialist. The program includes social services support from Toni Webb, a substance abuse counselor, and Sarah Bell, a perinatal peer support specialist.
Nancy Jennings, a registered nurse and the program's perinatal recovery facilitator, and Dianne Frankenburger, the childbirth education coordinator for UK HealthCare, counsel patients and lead Centering sessions. Dr. Lori Shook, a neonatologist at Kentucky Children's Hospital also provides clinical consultation and prenatal education for PATHways patients. Dr. Keisa Bennett, a physician with UK Family and Community Medicine, and Dr. Michael Kindred, an addiction medicine specialist, provide long-term comprehensive medical and substance abuse care for many PATHways patients after their deliveries.
"The goal of the PATHway program is to provide a holistic approach to medication assisted therapy to increase the likelihood these women will experience long-term success in life," Ashford said. "PATHways provides an opportunity for women to share their experiences, while building trusting relationships with an expert team using a non-judgmental approach."
Pregnant women with a history of addiction can start the program as soon as they find out they are pregnant. The interdisciplinary team follows the patients from the early stages of pregnancy through two years post-partum. During their half-day PATHways clinics, patients join a peer group in a circle for discussions addressing common pregnancy questions, such as nutrition, stress management, labor and delivery, and infant care. Two groups are designated for pre-natal and post-partum patients.
During these casual meetings, patients also learn about prenatal challenges and risks unique to their recovery situations. Candid discussions prepare women for potential challenges, such as receiving a diagnosis of neonatal abstinence syndrome (NAS) or having a baby sent to the neonatal intensive care unit. NAS is diagnosed in approximately 40 percent of babies whose mothers are using an opioid-maintenance therapeutic during pregnancy. Group discussions are helpful for reducing uncertainty and managing labor and delivery expectations of PATHways patients. These sessions also equip women with resources and knowledge to fulfill their maternal role, even if their addiction medication complicates their baby's health.
"The more we can try to prepare them, the more helpful it is," Jennings said of the group sessions. "They are so used to people not caring about them, and out of the blue getting stuff thrown at them — that's why we work hard to say the most important things to them."
Some of the information patients receive during group sessions is harsh and daunting, but necessary for preparing them for an optimal birthing experience. Babies born with NAS are fussy and require extended hospital stays. Babies born with NAS also require a formality of referral from Child Protective Services. Frankenburger, who works in labor and delivery at UK HealthCare, lays out expectations and realities surrounding the delivery experience for PATHways women and serves as their advocate in the unit.
Since the program's beginnings, 70 women have participated PATHways and 45 are currently enrolled and receiving treatment. Jennings said more programs like PATHways are necessary to reach the entire population of pregnant women dealing with addiction in Central and Eastern Kentucky. Some clinics prescribe opioid-maintenance prescriptions to pregnant women, but medication alone does not address the multitude of mental, physical, emotional and social needs of patients during the dual challenge of recovery and pregnancy. Jennings reiterated that the success of the PATHways model is dependent on a collaborative, interdisciplinary group of health experts.
"The key to our program is our team, and the people we put together to manage this population," Jennings said. "Anybody can hand out the prescription ­— and they do — but we have lots of pieces put together."
While some patients have fallen off the program, Critchfield knows many PATHways patients are serious about motherhood and recovery. She said pregnancy is a short window of time when women are open and wiling to change behaviors, but they needed resources and support to enact permanent change. 
"I think pregnancy is sort of a teachable moment," Critchfield said. "The goal honestly is to provide stability and treatment for patients during this critical life change and hope that actually has some long-standing impact."
Lenn, for instance, has remained sober for the past eight months. She's relied on her relationships with family and faith in God to beat her addictions. With a new baby on the horizon and support from her fiancé, she's optimistic about the future. She's reconnected with her mom and her 14-year-old daughter, who is thrilled to welcome a baby sister.
"I feel so much better — my brain is clear," Lenn said. "It feels good to be normal and live clean."
UK is the University for Kentucky. At UK, we are educating more students, treating more patients with complex illnesses and conducting more research and service than at any time in our 150-year history. To read more about the UK story and how you can support continued investment in your university and the Commonwealth, visit uky.edu/uk4ky. #uky4ky #seeblue
MEDIA CONTACT: Elizabeth Adams, elizabethadams@uky.edu