Spears $1 Million Gift Endows College of Pharmacy's First Chair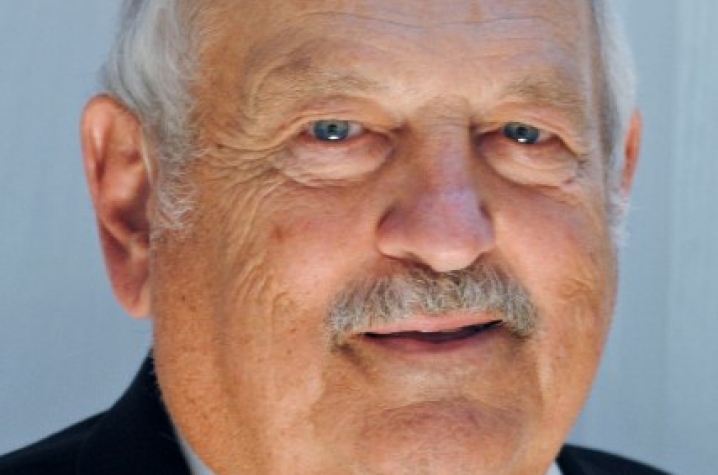 LEXINGTON, Ky. (Aug. 24, 2011) -- Larry H. Spears, a 1959 University of Kentucky College of Pharmacy alumnus from Crittenden, Ky., has donated $1 million to create the Larry H. Spears Endowed Chair in Pharmacogenetics – the first endowed chair in the history of the College. 
 
"This gift speaks volumes about the character of Larry Spears and the faith he has in the UK College of Pharmacy," said UK President Eli Capilouto. "The college would not be the fifth-ranked college it is today without graduates like Mr. Spears, nor the place we aspire to be tomorrow without his generosity."
 
Pharmacogentics, commonly referred to as personalized medicine, is an emerging field in pharmacy that allows pharmacists to know how a patient will react to a medication before they even take it. Based on an individual's genetic code, scientists can predict how a person will metabolize a particular medicine.
 
"This is a historic moment for the UK College of Pharmacy," said Dean Timothy Tracy. "Thanks to the substantial commitment of Larry Spears, the college is well-positioned to add to our academic and research strengths, while providing Kentucky pharmacy with the tools and resources they need to remain competitive in the health care marketplace."
 
Tracy said pharmacogenetics will play an increasingly important role in the practice of pharmacy in the years ahead. For generations, pharmacists have known that different patients require different doses of the same drug. The only tool they had to discover that correct dose was trial and error. Now, with the advent more accessible genetic testing related to drug therapy, scientists are learning some of the reasons for these differences among patients.
 
"This knowledge will help pharmacists provide the right medicine and the right dose to each individual patient," Tracy said. "When we do that, we improve the entire spectrum of patient care. We help solve the medical problem. We reduce the adverse medication-related effects. We do all this in a much more effective and efficient manner."
 
The donation, which will be matched by $200,000 from the Research Challenge Trust Fund (RCTF), will result in a total gift of $1.2 million.
 
Spears was born and raised in Taylorsville, Ky. before enrolling and excelling in the UK College of Pharmacy. After serving 18 months in the U.S. Army, Spears returned to the community to practice pharmacy. He co-owned Grant County Drugs, the top independent pharmacy in Grant County from 1964 to 2001. He owned Pharmcare Pharmacy in Falmouth, Crittenden and Dry Ridge from 1996 to 2008. Over the years, he expanded his business operations into other ventures, including convenience stores. He currently serves as owner of Grant County Realty, which operates commercial and residential rental property in Grant County.
 
Spears has been active in pharmacy organizations on the state and national level throughout his career. He is a member of the American Pharmacists Association, the Kentucky Pharmacists Association, and the Kentucky Society for Health-System Pharmacists.
 
Spears sees this gift as an opportunity to give back to a college and a profession that has given him so much. "I've always been passionate about pharmacy because of how pharmacists always place their patients first," said Spears. "The future of pharmacy is in this personalized approach. Pharmacists have always worked to provide the proper medication to our patients in safe and effective doses. Pharmacogenetics is a new tool that will allow us to provide that same care to our patients in a new and exciting manner."
Media Contact: Ann Blackford, (859) 323-6442 or ann.blackford@uky.edu