Toddler 'formulas' provide no nutritional benefit for the great majority of children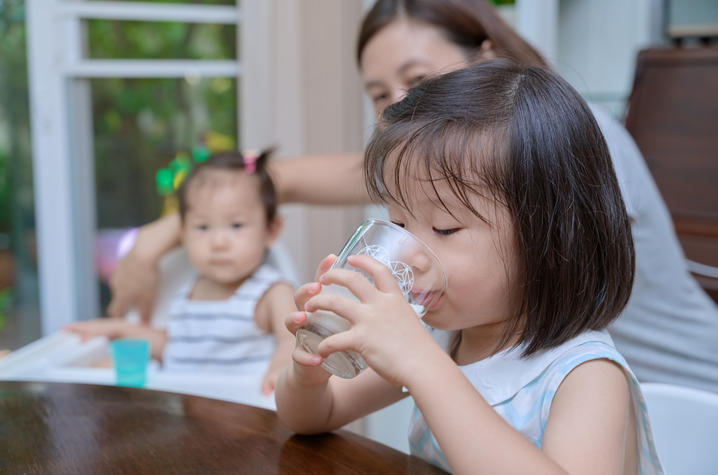 The University of Kentucky Public Relations and Strategic Communications Office provides a weekly health column available for use and reprint by news media. This week's column is by George J. Fuchs III, M.D., pediatric gastroenterologist at Kentucky Children's Hospital and a professor in the UK Colleges of Medicine and Public Health. 
LEXINGTON, Ky. (Nov. 6, 2023) — A recent report released by the American Academy of Pediatrics (AAP) as part of my work on the AAP Committee of Nutrition addresses the claims made by the manufacturers of so-called "toddler formulas," purporting to bolster the immune system and improve brain development. Simply put, a nutritionally complete super formula that gives your child a brain boost and protects them from diseases is too good to be true.
Nutrition is integral to a child's cognitive and physical development, especially in the first years of their life. Additionally, these years represent a narrow window of time during which nutritional status and the right nutrients at the right time are primary determinants of health and risk of obesity, diabetes and other diseases in childhood and through adulthood.
While the benefits of breastfeeding in the first six months of life are well-documented, there are numerous reasons why some infants must subsist on iron-fortified formulas. The composition of infant formulas is standardized and regulated by the Food and Drug Administration per the Infant Formula Act of 1980 and the manufacturing facilities are regularly inspected.
Recently, liquid nutritional products referred to as "formulas" have been developed for the older infant and toddler and increasingly promoted by manufacturers. Older infant-young child formulas (OIYCF) are marketed under identities such as "transition formulas," "toddler formulas" or "growing-up milks." These formulas are not to be confused with medical or therapeutic formulas for conditions such as chronic gastrointestinal diseases, metabolic disorders or food allergy, the use of which are prescribed and monitored by pediatric specialists.
Unlike infant formulas, there are no standard criteria for the composition of OIYCFs. Some of these formulas have been criticized as having elements considered to be unnecessary or potentially detrimental, including high or low protein, and higher sodium content relative to cow milk and added sweeteners. OIYCFs are considered by some to be "sugar-sweetened drinks" and have been associated with greater intakes of sweetened beverages as well as sweetened dairy products, such as fruit yogurts and cream cheese desserts.
Advertisement practices for OIYCFs often convey them as a necessary "next stage" or "next step" for optimal nutritional intake. Manufacturers of OIYCF make claims that are not required to be based on scientific evidence or be reviewed or approved by the FDA. Claims of improved brain development or immune function have incorrectly shown to influence parents' belief that OIYCFs are healthier than breast milk or cow milk. OIYCFs are not nutritionally complete and are marketed to parents of healthy children as a replacement or substitute for cow's milk.
The diets of young children are generally adequate for most micronutrients, although possible gaps exist, especially for vitamins D and E and fiber. Nearly all store-purchased cow milk in the United States is fortified with vitamin D, thus eliminating the need for a supplemental formula. Additionally, OIYCFs are considerably more expensive than cow milk and can represent a significant cost burden to families, especially when consumed daily. Parents and caregivers are advised to provide nutritionally balanced diets that include fortified foods; children consuming a diet of solid foods that provide sufficient iron and vitamin content have no need for supplemental formulas.
If you are concerned about your child's nutritional intake, ask their pediatrician for recommendations for a balanced, nutrient-rich diet to help ensure proper cognitive and physical development during formative early years.
UK HealthCare is the hospitals and clinics of the University of Kentucky. But it is so much more. It is more than 10,000 dedicated health care professionals committed to providing advanced subspecialty care for the most critically injured and ill patients from the Commonwealth and beyond. It also is the home of the state's only National Cancer Institute (NCI)-designated cancer center, a Level IV Neonatal Intensive Care Unit that cares for the tiniest and sickest newborns, the region's only Level 1 trauma center and Kentucky's top hospital ranked by U.S. News & World Report.  
As an academic research institution, we are continuously pursuing the next generation of cures, treatments, protocols and policies. Our discoveries have the potential to change what's medically possible within our lifetimes. Our educators and thought leaders are transforming the health care landscape as our six health professions colleges teach the next generation of doctors, nurses, pharmacists and other health care professionals, spreading the highest standards of care. UK HealthCare is the power of advanced medicine committed to creating a healthier Kentucky, now and for generations to come.