UK Center for Excellence in Rural Health Celebrates Two Decades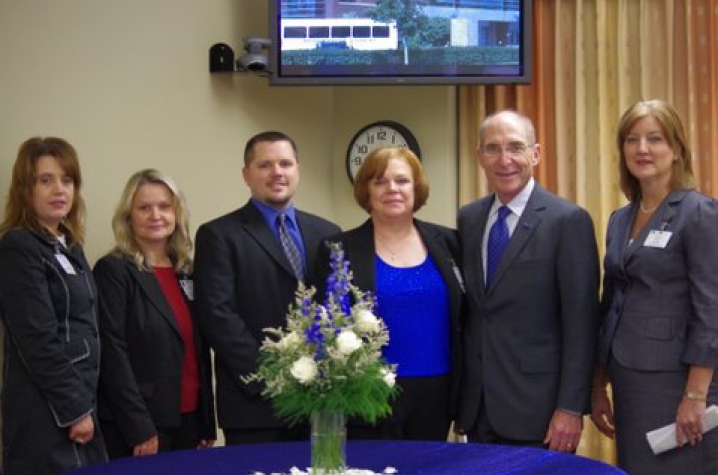 HAZARD, Ky. (Nov. 11, 2011) – The University of Kentucky's Center for Excellence in Rural Health (UK CERH) celebrated its 20th anniversary Thursday with a ceremony honoring current and former faculty, staff and students. Officials also announced the addition of a new baccalaureate program, Medical Laboratory Science, coming to the center in fall 2012.
The event was held in the UK CERH's Bailey-Stumbo Building, located at 750 Morton Blvd. in Hazard. The keynote speaker was U.S. Rep. Harold "Hal" Rogers, a long-time advocate for the improved health status of Kentucky's Fifth Congressional District.
"I've watched and learned of the tremendous progress that has been made here over the past 20 years," Rogers said. "The center lives up to its name – excellence in rural health care."
 Others who were in attendance included: UK President Eli Capilouto; Dr. Wayne Myers, the center's first director and a former director of the federal Office of Rural Health Policy; local elected officials; and numerous community partners.
"I'm happy to be here to celebrate what has been a tremendous success," Capilouto said. "With approximately 80 percent of the center's graduates working in Appalachia or other rural communities, it's a testimony to the fact that this idea worked."
The UK CERH was created in the early 1990s by mandate of the Kentucky General Assembly. Its mission is to improve rural health care systems – and the health of rural Kentuckians – through education, research, service and community engagement.
"That we came here and did something for the people we serve is what I would like our legacy to be," said Fran Feltner, director of the UK CERH. "The overall success of the center really stems from the fact that we have the University of Kentucky behind us and that we are part of the communities we serve, so we work as partners to bring the best possible health care to our rural areas."
More than 550 students have graduated from the UK CERH's academic programs. The UK CERH also includes Kentucky Homeplace, a nationally recognized community health worker initiative; the Kentucky Office of Rural Health; and the East Kentucky Family Medicine Residency Program.
Among other accolades, the UK CERH, its programs and its staff have won five National Rural Health Association awards, a Pew Award for Excellence in Primary Care, and a U.S. Department of Health & Human Services Innovations in Prevention Award.
The celebration ceremony concluded with the reading of a proclamation declaring Nov. 10 as Kentucky Rural Health Day. National Rural Health Day – which seeks to increase awareness of the unique health care issues facing rural communities – will be observed Nov. 17, but Gov. Steve Beshear proclaimed the Kentucky-specific day to coincide with the UK CERH's anniversary event.
"Living and working in rural Kentucky gives us a wonderful opportunity to take care of our friends and neighbors," Feltner said. "Kentucky Rural Health Day allows us to say 'thank you' to the many rural health care providers who offer comprehensive, compassionate, patient-centered and holistic care to their patients."
MEDIA CONTACT:  David A. Gross, (606) 439-3557 ext. 83525