UK Doctor Receives Medical Training at the Top of the World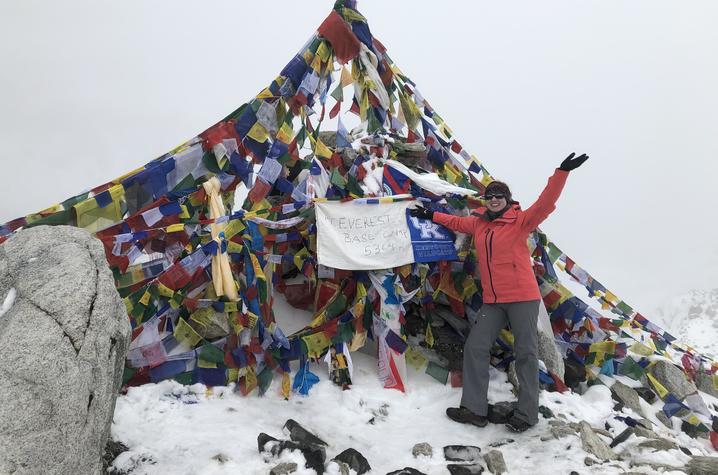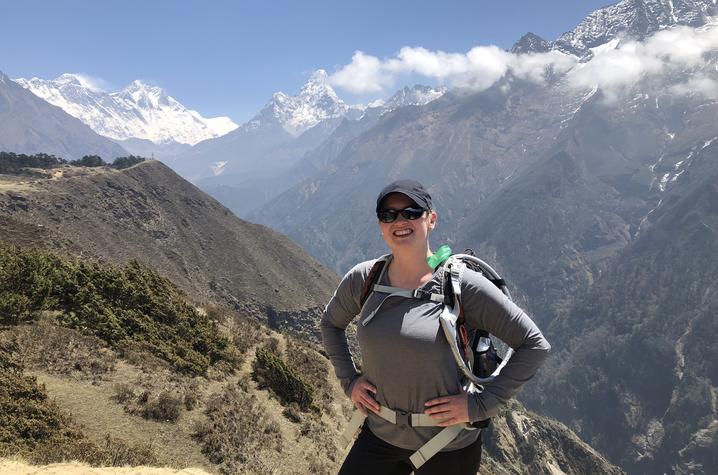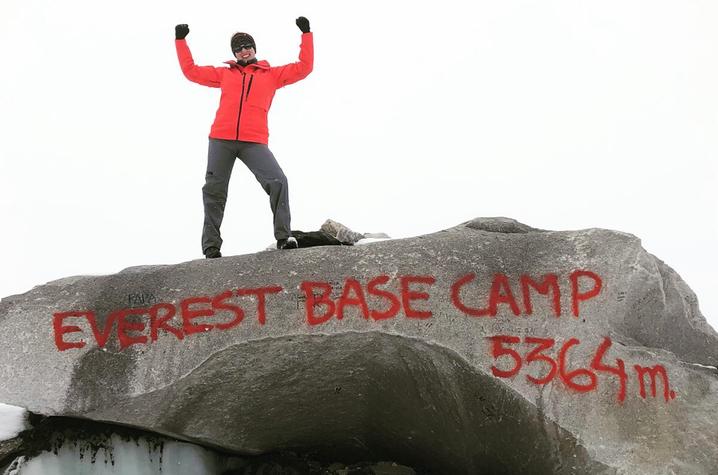 LEXINGTON, Ky. (May 20, 2019) – What kind of medical education requires intense athletic and endurance training? Hiking Mount Everest. From April 23 to May 5, Dr. Kim Kaiser, assistant professor of Orthopaedic Surgery and Sports Medicine and Family and Community Medicine in the University of Kentucky College of Medicine, received hands-on experience as part of the Mount Everest Base Camp Wilderness and Expedition Medicine Conference.
While researching opportunities to continue her medical education, Kaiser came across the chance to learn more about wilderness medicine and treating illness and injuries when resources are scarce or nonexistent and the team at UK HealthCare was supportive of her pursuing the chance to further her sports medicine education with hands-on training.
"A lot of this I heard about when I was tested on board exams, but I hadn't seen it in person," Kaiser said.
So, in addition to seeing patients five days a week at the Kentucky Clinic and UK HealthCare Turfland, traveling as a UK Athletics team doctor with women's basketball, gymnastics, swimming and diving, tennis, softball, dance and cheerleading, and doing her typical workout routine, she spent an extra two hours per day, six days a week training for an 18-day trek in Nepal.
Since Kentucky isn't as mountainous as southern Asia, Kaiser, simulated (some of) the conditions in the gym. She walked on the treadmill in her hiking boots with her pack at an incline and increased the time she spent cycling. She also utilized Kentucky's outdoor trails, spending her weekends doing 15-mile hikes at Red River Gorge.
Once in Nepal, it took 12 days to hike up to the base camp. Along the way, the team that Kaiser was a part of toured clinics, many of which also serve as health care providers for the population in Nepal. The clinics also treat those injured attempting to reach the summit at Mount Everest, Kaiser watched as providers in those clinics gave routine services like prenatal care and as they provided emergency medical services when someone was gored by a yak.
"They had more resources than I thought but it was very basic," she said.  Each night, after hours and miles of hiking, Kaiser listened to lectures which lasted about an hour.
Kaiser's education was earned in extreme weather conditions. While the first few days of her trip had nice weather, Cyclone Fani had other plans for the team. With six inches of snow on the ground, 60 mph winds and visibility down to 50 feet they hiked for six hours a day in order to complete the 90-mile roundtrip. Along the way, they were able to put their training to use, helping people they came across who were making attempts to hike the mountain.
Although the mountains of Kentucky are much smaller than Mount Everest, much of what Kaiser learned can be applied to injuries in any outdoor setting. She learned to treat injuries and how to safely extract individuals from trails and prepare a survival kit. She also learned how to use to medical training she'd received outside of a high-tech medical setting.