UK Football Player Shares Comeback Success Story to Teach Lifesaving Skill
LEXINGTON, Ky. (June 15, 2021) — The game of football is as much a mental game as it is physical. Remain calm under pressure, stay focused, adapt, be resilient. These are lessons athletes must learn along the way to remain sharp and competitive.
Looking at the University of Kentucky's football team roster, you'll find an example of resilience in No. 68. The 6'3", 300-pound junior offensive guard fights hard every day to stay in the game, after a near career-ending diagnosis the spring before his freshman year.
*****
April 1, 2018: Kenneth Horsey remembers like it was yesterday.
"I was at home in Florida, eating dinner with my family and suddenly, I just started having stomach pains," Horsey said.
At first, he thought that maybe he had eaten too fast. But it quickly became evident that this was something much worse.
"Next thing you know, I am in the bathroom throwing up, I am in and out of consciousness, and my dad is spraying me down with water," Horsey said. "The pain continued to grow, and I spiked a fever."
Horsey's parents called 911. After a myriad of tests and scans, doctors diagnosed him with endocarditis, a dangerous infection on a heart valve, caused by bacteria. The bacteria produce what is known as a vegetation. Pieces of vegetation can break off and travel elsewhere in the body, potentially causing major issues. In Horsey's case, a piece of this vegetation had broken off and traveled down to his kidney, causing it to malfunction and creating the sharp, shooting pains that Horsey was feeling.
Two days later, Horsey's parents, Shari and Ken, made the decision to move forward with open-heart surgery on the mitral valve. At stake was the possibility that the mitral valve would have to be replaced, probably ending Horsey's football career. However, at surgery, the physicians were able to remove the growth, causing no damage to the mitral valve. They then repaired the sternum with titanium plates.
To this day, Horsey said doctors have not been able to figure out what the growth was, where it came from and why.
"I was just trying to wrap up my senior year, you know?" he said. "I already signed with UK to play football, I had prom in a few weeks, and I was set to graduate the next month. I had to just rely on my faith in God to keep me going, to keep me strong."
Horsey remained in the hospital for two weeks after his surgery and knew he would need to dedicate himself to cardiac rehabilitation if he ever wanted to play football again. The process was slow and, at times, frustrating.
"I could not lift anything over five pounds for weeks," he said. "I incrementally worked my way back up, but only to about 25 pounds after eight weeks."
Before he knew it, the time came for Horsey to head to Lexington to pursue his dream of playing college football.
*****
Reintegrating a college athlete into full strength and conditioning training after injury or illness is a process. For Horsey, it was a long one.
"You can't just expect him to jump right back into what everyone else is doing," said Gabe Amponsah, the UK Athletics director of Sports Medicine and head athletic trainer for UK Football. "On top of his cardiovascular condition, you have to remember that he came in as a freshman and he is learning a whole different type of training. The transition from high school to collegiate football training is intense."
Horsey had to start slow, using the stationary bike to determine his cardiovascular base point. Then, he was able to progress to an elliptical and Stairmaster training before some running after several weeks.
Ensuring an athlete's safe return to the field after injury or illness is a team effort — not just by UK Football staff and coaches, but by a group of professionals across the UK community.
"Kenneth's comeback would not have been possible without physicians from UK HealthCare," Amponsah said. "Not only are they following up with his care, but they have a good understanding of the demands that are being placed on Kenneth as an athlete. They do their best to provide him an avenue to return to doing what he loves — that's huge."
Upon Horsey's arrival to UK, Dr. David Booth, a cardiologist with UK HealthCare's Gill Heart & Vascular Institute, performed a scan of Horsey's heart to determine the necessary steps for his follow-up care.
"Kenneth's mitral valve shows no evidence whatsoever that he went through this," Booth said. "His sternum has healed completely. We keep up with his echocardiogram to make sure that his valve continues to function normally."
Horsey has learned when to push through the pain and when to stop. Listening to his body is key, as his offensive line position requires great strain on his chest. Having a plate and screws on his breastbone can be challenging when your main job is to press and push people away, activating your chest muscles.
"He deserves a lot of kudos for his hard work," Amponsah said. "He had a long road that was not always easy, and he continues to impress us with his perseverance and determination to fight through adversity."
Horsey was named a Mayo Clinic Comeback Player of the Year in 2020. He says while the physical comeback was challenging, being in the right headspace and staying focused mentally helped his success.
"I know God does not put anything in my life that I can't handle," Horsey said. "Throughout this whole deal — from surgery to recovery — I had to remember that God had something bigger in store for my life than my current situation."
*****
After his health scare, Horsey now uses his platform through UK Athletics to educate others about the importance of heart health. Horsey is teaming up with UK HealthCare, the UK Gill Heart & Vascular Institute, UK Athletics and the American Heart Association to help Kentuckians learn hands-only CPR.
Heart disease is the leading cause of death in Kentucky, and the Commonwealth has one of the highest rates of heart disease in the country. For many people, heart disease leads to emergent, life-threatening situations, like cardiac arrest. According to the American Heart Association, more than 350,000 out-of-hospital cardiac arrests happen in the United States each year, with about 70% happening in homes. When someone has cardiac arrest, the chance of survival goes down by 10% for every minute without CPR, so every second counts. The chances of survival double or even triple if they receive CPR.
Hands-only CPR is easy to learn. Horsey and his teammates recently welcomed a visit from Jacob Stone, director of cardiac rehab at UK HealthCare Gill Heart & Vascular Institute, who taught them how to perform the lifesaving skill.
"It is very simple. We literally learned this in less than five minutes, and not only is it quick and easy, but it can save somebody's life," Horsey said. "We are in a time right now where people need to be able to rely on one another. Having that CPR training in your back pocket is an important skill that I am thankful to know."
It is important to note that performing hands-only CPR on someone who is in cardiac arrest does not increase your risk of transmission of coronavirus. While hands-only CPR is an appropriate technique for adults, breaths are still important for infants and children.
Hands-only CPR involves two simple steps, and anyone can learn it from a 90-second video.
Step 1: If a teen or adult in your home collapses, call 911 immediately.
Step 2: Place one hand on top of the other and push hard and fast on the center of the victim's chest.
You can join Horsey and the UK HealthCare, UK Athletics and American Heart Association team in their quest to train a community of heart-savers. Challenge your friends to join you in learning hands-only CPR through the social media challenge #AHACPRChallenge.
"I have never personally been in a situation where somebody around me has needed CPR, but it is so important that I know how to help, just in case," Horsey said. "Ninety seconds of my time to save a life? Worth it — absolutely."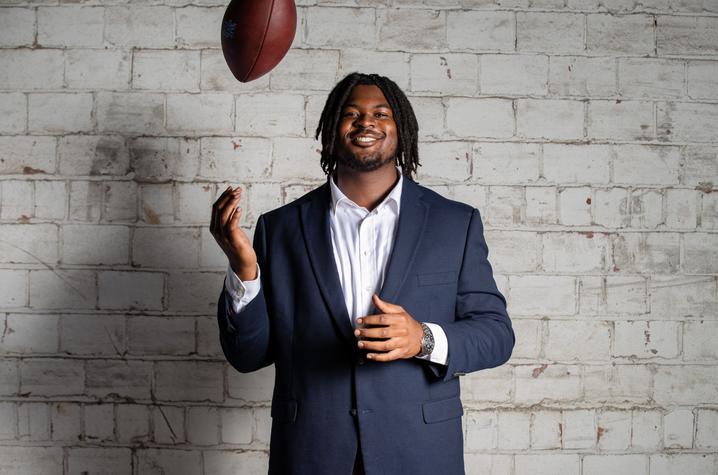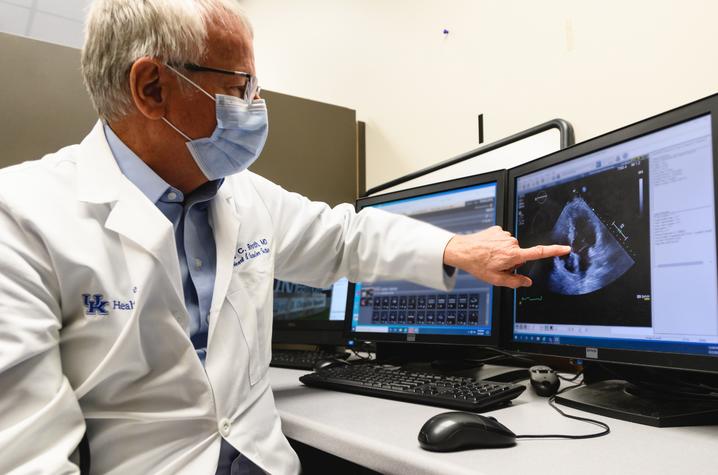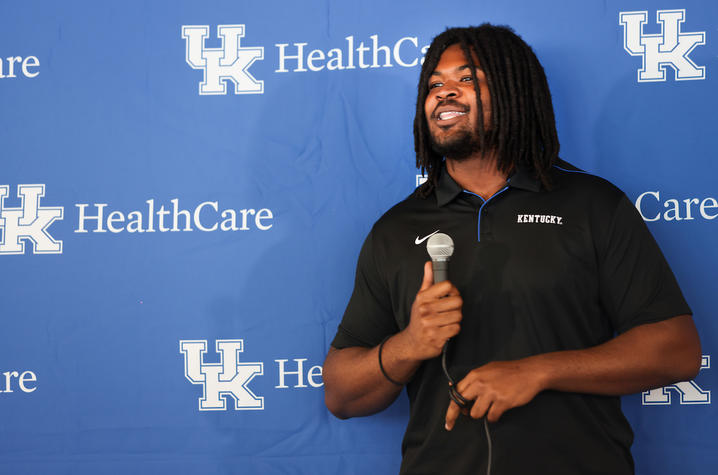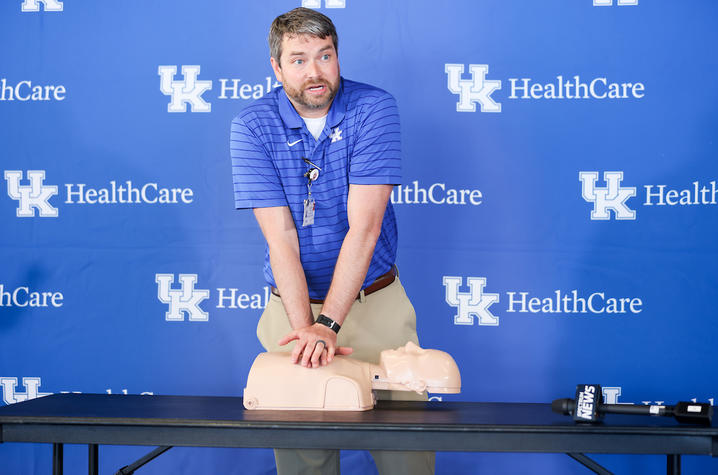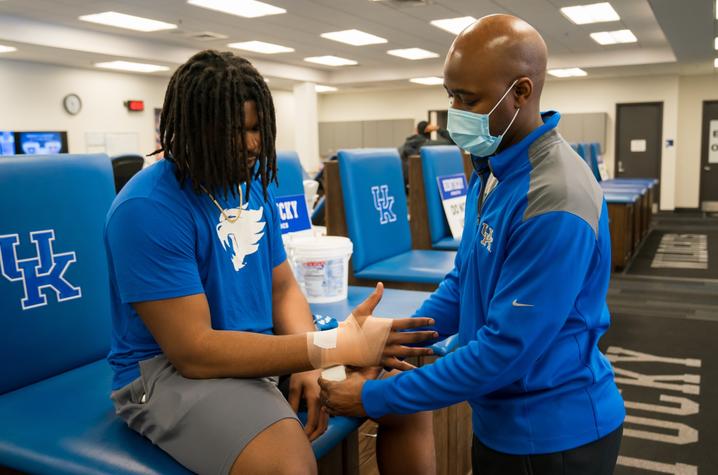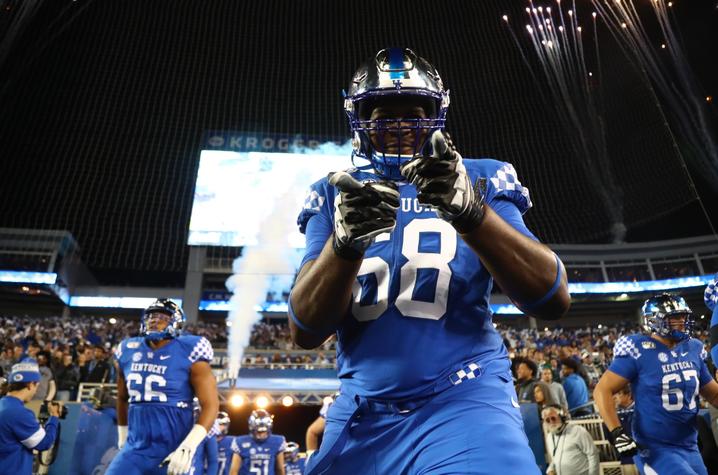 As the state's flagship, land-grant institution, the University of Kentucky exists to advance the Commonwealth. We do that by preparing the next generation of leaders — placing students at the heart of everything we do — and transforming the lives of Kentuckians through education, research and creative work, service and health care. We pride ourselves on being a catalyst for breakthroughs and a force for healing, a place where ingenuity unfolds. It's all made possible by our people — visionaries, disruptors and pioneers — who make up 200 academic programs, a $476.5 million research and development enterprise and a world-class medical center, all on one campus.   
In 2022, UK was ranked by Forbes as one of the "Best Employers for New Grads" and named a "Diversity Champion" by INSIGHT into Diversity, a testament to our commitment to advance Kentucky and create a community of belonging for everyone. While our mission looks different in many ways than it did in 1865, the vision of service to our Commonwealth and the world remains the same. We are the University for Kentucky.