UK HealthCare earns National Pancreas Foundation Center designation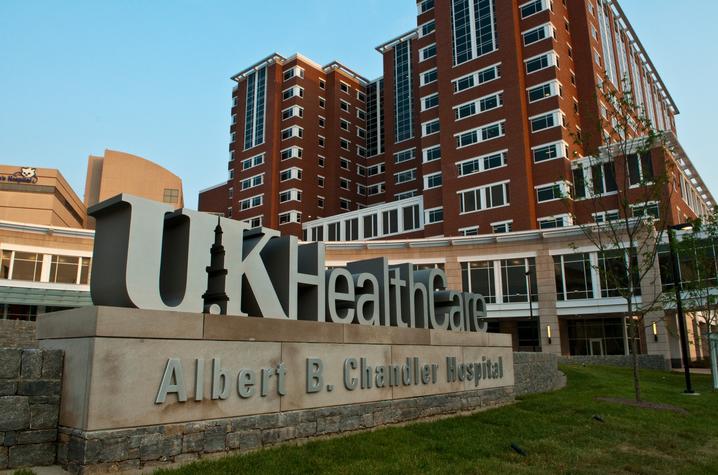 LEXINGTON, Ky. (Feb. 14, 2023) — UK HealthCare's Digestive Health Program has been recognized as a Center of Excellence by the National Pancreas Foundation (NPF), becoming one of 164 NPF Centers across the nation.
NPF Centers are awarded after a rigorous audit review to determine that an institution's focus is on multidisciplinary treatment of pancreatitis, treating the "whole patient" in hopes of achieving the best possible outcomes and an improved quality of life.
"We are thrilled to be recognized as a National Pancreas Foundation Center of Excellence," said Darwin Conwell, M.D., the Jack M. Gill Chairman of the Department of Internal Medicine at the University of Kentucky College of Medicine and a longtime medical pancreatologist. "Designated NPF Centers have the educational environment, research infrastructure, and clinical resources to provide state-of-the-art care for patients with various pancreatic disorders including acute pancreatitis, chronic pancreatitis, and adult cystic fibrosis.  This will serve as a valuable resource for patients and referring providers in Kentucky and beyond."
An approved NPF Center must meet the criteria that were developed by a task force made up of invited subject matter experts and patient advocates. The criteria includes having the required expert physician specialties such as gastroenterologists, pancreas surgeons, and interventional radiologists, along with more patient-focused programs such as a pain management service, psychosocial support, and more.
"We are thrilled to expand our NPF Centers of Excellence Program to better serve the needs of patients suffering from pancreas disease," said David Bakelman, CEO of the National Pancreas Foundation.  "The NPF Centers of Excellence Program is one of the pillars of NPF, and we are looking forward to working with our current and new Centers."
For more information about the National Pancreas Foundation, please visit www.pancreasfoundation.org.
About The National Pancreas Foundation
Founded in 1997, the National Pancreas Foundation provides hope for those suffering from pancreatitis and pancreatic cancer through funding cutting-edge research, advocating for new and better therapies and providing support and education for patients, caregivers and healthcare professionals. The NPF is the only foundation dedicated to patients suffering from all forms of pancreas disease. For more information visit: www.pancreasfoundation.org.
UK HealthCare is the hospitals and clinics of the University of Kentucky. But it is so much more. It is more than 10,000 dedicated health care professionals committed to providing advanced subspecialty care for the most critically injured and ill patients from the Commonwealth and beyond. It also is the home of the state's only National Cancer Institute (NCI)-designated cancer center, a Level IV Neonatal Intensive Care Unit that cares for the tiniest and sickest newborns, the region's only Level 1 trauma center and Kentucky's top hospital ranked by U.S. News & World Report.  
As an academic research institution, we are continuously pursuing the next generation of cures, treatments, protocols and policies. Our discoveries have the potential to change what's medically possible within our lifetimes. Our educators and thought leaders are transforming the health care landscape as our six health professions colleges teach the next generation of doctors, nurses, pharmacists and other health care professionals, spreading the highest standards of care. UK HealthCare is the power of advanced medicine committed to creating a healthier Kentucky, now and for generations to come.