UK HealthCare Language Services Team Helps Patients Behind the Scenes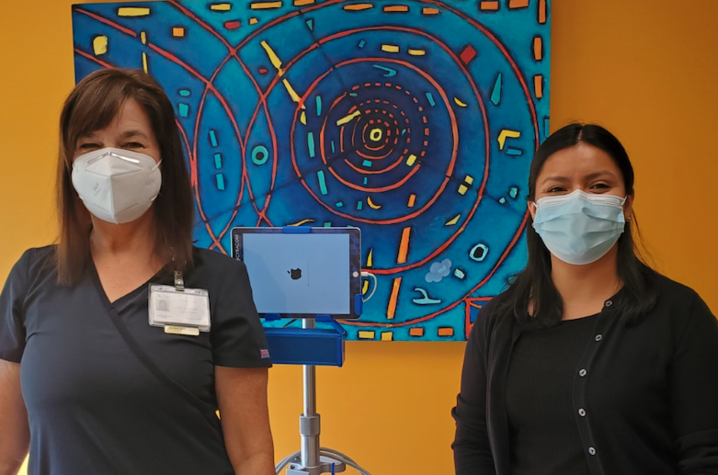 LEXINGTON, Ky. (Oct. 28, 2021) — While COVID-19 upended life throughout the world, one silver lining that emerged was a heightened level of respect for the incredible work performed by health care workers every day, at every level.
Among the many unsung heroes striving to ensure UK HealthCare remains a patient-focused enterprise is a team that performs invaluable service for a vulnerable population.
The UK HealthCare Language Services program provides interpreters who facilitate communication between patients who do not speak English and their health care providers.
If a patient who speaks Japanese arrives in the emergency department in the middle of the night, the Language Services team can dispatch an interpreter to help on-site or connect to patient and doctor remotely. If a Spanish-speaking patient and their loved ones need help understanding a cancer treatment plan, the team can assist in a clinical setting, over the phone or via video conference.
UK HealthCare's Language Services program has been serving the Kentucky community for more than 30 years, but wasn't officially established as a department until recently.
"Our department has really grown over the last eight years," UK HealthCare Language Services Manager Sarah Hesler said. "What we have built is a program that can offer more consistency and higher quality standards for the organization as a whole."
When Toyota Motor Manufacturing opened its Georgetown plant in 1988, UK hired full-time medical interpreters who spoke Japanese.
Now, with a staff of 22 full-time interpreters, the Language Services team can provide translators for patients who speak Japanese, Spanish or American Sign Language (ASL). That staff is supplemented by a network of off-site contractors.    
Combining the skills of on-site staff and satellite partners, the team can interpret about 250 languages — including Arabic, French, Nepali and Mandarin.
Between the full-time staff and two contracting agencies, about 110 interpreters provide on-site language services at UK HealthCare hospitals and clinics throughout the state.
"Every part of UK HealthCare has 24/7 access to language services," Hesler said. "I want every patient at UK to have the same access to services. Patients come because they want to see a doctor, because they are hurt."
The team uses a variety of resources to serve patients. One effective tool is portable video conference stations. Those units — with a video screen and external speakers mounted atop a sturdy pole and base —  can be wheeled around clinics as needed, allowing interpreters to translate between patients and providers remotely.
The team is also connected to the internal communication devices worn by emergency staff. If a patient who speaks French arrives in the emergency department, a nurse or doctor can press a button and say, "French interpreter," and connect to a live French interpreter in seconds.  
Language services are an essential tool to bridge outcome gaps between English speakers and non-English speakers.
"In health care, we use different metrics to measure patient outcomes and safety expectations," Hesler said. "Those are things like length of stay, adverse events, readmission. There's a ton of data on the disparities in health care for patients who need interpreter services. Some kinds of disparities are a normal dimension in health care. All kinds of factors influence our personal health and the outcomes of our health care."
Hesler said the disparities most alarming to her are factors not within people's control. "Language services give us the opportunity to impact some of those disparities and contribute to better health care for our patients," she said. "Academic health care is not just about the services we provide in a hospital room today. We have the opportunity to work with the medical teams who will advance health care for the future."
After working as a Spanish interpreter for a UK HealthCare partner agency for six years, Martha Gamez joined UK HealthCare's Language Services team full time in July 2019. She works in pediatrics at Kentucky Clinic South.
A first-generation American, Gamez was drawn to medical interpreting, in part, because of her experience helping family members navigate life in a new country. Gamez's parents emigrated from Mexico to Texas in the 1980s. They did not speak English, so they relied on Gamez and her siblings, who grew up bilingual, to interpret. Gamez also acted as an interpreter for friends and extended family.
"Whether it was at school or at the store or something medical, I was always happy to help when they needed me," Gamez said.    
Gamez's parents moved the family from Texas to Kentucky in the late 1990s. She eventually began working at Good Samaritan Hospital as a housekeeper and quickly developed a fascination with the medical field. "I just thought everything was very interesting," she said. "The cases the surgeons dealt with, the medical terms, everything."
She heard about Pure Language Services, one of the partner agencies that provides interpretation for UK HealthCare patients. Gamez trained and tested and became an interpreter for the company.
"I just wanted to help families understand what was happening with their loved ones and help make their lives easier," she said.
Gamez spends much of her time helping parents with sick children. On any given day, she might help a family schedule an appointment, translate lab results, coordinate referrals or call patients on behalf of nurses and doctors. Most of the time, Gamez is in the room with patients and providers interpreting.
"Sometimes they'll bring a sibling or family member to translate, and when I go into the room and introduce myself and explain what we do, you can see on their face that they're relieved someone can help them communicate with the doctors and any other staff they need to," Gamez said. "They're always very grateful."
She is rewarded when she can lessen a patient's stress.
"It makes me so happy. These people are already stressed, especially if their child is sick," she said. "I love building relationships with the families. It's great helping families with a newborn, then seeing their child grow over time."
Gamez could be blazing a path that her own children will walk one day. She and her husband have two daughters, 10 and 12, who are ever curious about her work. "They always ask me, 'Mom, are you the doctor?'" Gamez said with a laugh. "I tell them, 'No, I'm not the doctor,' and I explain what I do.
"Even my daughters, if they have a friend who's new to the country in elementary school, they have situations where they'll have to interpret for their friends and teachers. So even they understand the need for interpreters." 
This summer, Diane Cross will celebrate her four-year anniversary as a full-time member of UK HealthCare's Language Services team.
Cross interprets American Sign Language for patients. For more than 20 years, she provided freelance services across UK's academic enterprise, helping deaf students pursue their college degrees. During that time, she also occasionally worked for UK HealthCare. Then in 2017, Cross joined the newly expanded Language Services team.
"She is amazing," Hesler said. "Sign language is not based on English, so it doesn't follow English grammar and syntax. Not all of our sign-language patients read and write in English, so sign language services from our people like Diane are not just helpful, they are essential. The isolation a deaf patient faces without a sign-language interpreter is unbelievable."
Though the basics between translating in the academic and medical realms remain the same, there's often a heightened level of intensity that comes with Cross's work with UK HealthCare.    
"The seriousness of the situation is sometimes a lot different. Sometimes we're dealing with life-and-death issues," Cross said. "It can be very sensitive. In the emergency department, you never know what you're going to run into."
Cross became fluent in ASL through a fairly unique route. The discipline was never really on her radar until she enrolled at Maryville College in Tennessee, about an hour outside her home in Knoxville.
"A lot of interpreters may have a deaf parent or sibling, or a deaf friend they grew up with. My situation was really different. I didn't know anybody who was deaf growing up at all, and I don't think I ever really saw sign language," Cross said. "My college was the first in the world to have a four-year sign language interpreting degree. I was exposed to it there, meeting deaf students and seeing they all had interpreters in the classroom. I thought, 'this is so cool.' It was very new and interesting and, I thought, very beautiful."
Cross took an introductory sign language course and loved it. She'd found her calling, and went on to earn a degree in American Sign Language – English interpreting.
Fast forward to today, and Cross still relishes her role helping a vulnerable and underserved community.
"I love what I do, but I feel like there is no 'typical day' in health care. I might have to go in at 5 a.m. to interpret for a patient about to have surgery," Cross said. "…  A certain day I might have an appointment at Kentucky Clinic, then I'll get in my car and drive to Kentucky Clinic South, come back and go to Good Samaritan. It's different every day, so it's never boring. Any given day it could be nuts."
Along with plenty of excitement, Cross experiences tons of satisfaction.
"In health care, it's so crucial to get great communication for the patient's outcome, so my job is incredibly fulfilling," Cross said. "It makes us feel really good when a patient is being discharged and either the patient or the family member will let us know how pleased they are with UK in general, and all the services that were provided. 
"... It's just great when it all comes together with the providers, the patients and the staff," she said. "We all have the same goal, to care for this patient the best we can to produce the best possible outcome. I always look forward to that, when it all comes together and our patient has a great experience."
As the state's flagship, land-grant institution, the University of Kentucky exists to advance the Commonwealth. We do that by preparing the next generation of leaders — placing students at the heart of everything we do — and transforming the lives of Kentuckians through education, research and creative work, service and health care. We pride ourselves on being a catalyst for breakthroughs and a force for healing, a place where ingenuity unfolds. It's all made possible by our people — visionaries, disruptors and pioneers — who make up 200 academic programs, a $476.5 million research and development enterprise and a world-class medical center, all on one campus.   
In 2022, UK was ranked by Forbes as one of the "Best Employers for New Grads" and named a "Diversity Champion" by INSIGHT into Diversity, a testament to our commitment to advance Kentucky and create a community of belonging for everyone. While our mission looks different in many ways than it did in 1865, the vision of service to our Commonwealth and the world remains the same. We are the University for Kentucky.