UK HealthCare is No. 1 in Kentucky; Cancer Care Ranks 33rd Nationally in U.S. News & World Report Ratings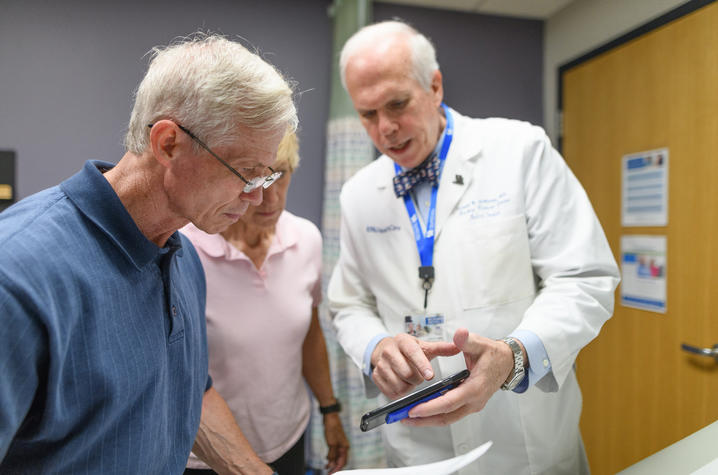 LEXINGTON, Ky. (July 30, 2019) — UK HealthCare's University of Kentucky Albert B. Chandler Hospital remains the No. 1 hospital in Kentucky and the Bluegrass Region for the fourth consecutive year, according to the 2019-20 Best Hospitals rankings and ratings released today by U.S. News & World Report.
In addition, University of Kentucky Markey Cancer Center has been named in the Top 50 national rankings for cancer care at No. 33.
UK HealthCare also has three adult specialties ranked as high-performing – Geriatrics, Nephrology and Orthopedics. Additionally, the health care system was designated high performing in eight common  adult procedures and conditions: Aortic Valve Surgery, Chronic Obstructive Pulmonary Disease (COPD), Colon Cancer Surgery, Heart Bypass Surgery, Heart Failure, Hip Replacement, Knee Replacement and Lung Cancer Surgery.
"As many patients in the Commonwealth struggle with complex health issues, this recognition acknowledges and reconfirms UK HealthCare's role as the academic medical center uniquely qualified to address our state's extensive health needs," said Dr. Mark F. Newman, University of Kentucky executive vice president for health affairs. "Being ranked as the Best Hospital in Kentucky is a testament to the dedication to patient care by everyone that works at UK HealthCare and their commitment to continuously improving quality and service provided to our patients." 
Cancer care was included in the Top 50 for the third year in a row — although it has consistently been designated as High Performing for many years. This year's ranking at 33rd is the highest to date and is indicative of the UK Markey Cancer Center's continued emphasis on providing exemplary care as Kentucky's only National Cancer Institute-designated center.
"The criteria for a hospital to be listed in the Top 50 for cancer care is rigorous and competitive," said Dr. Mark Evers, director of the UK Markey Cancer Center. "This ranking, along with our status as an NCI-designated cancer center, is evidence of how we are making an impact in cancer care across Kentucky and beyond."
The annual Best Hospitals rankings and ratings, now in their 30th year, are designed to assist patients and their doctors in making informed decisions about where to receive care for challenging health conditions or for common elective procedures.
"We are deeply committed to the responsibility we have assumed in Kentucky to be available to those with complex illness or injury," said Colleen H. Swartz, vice president for operations at UK HealthCare. "We take that responsibility very seriously and want Kentuckians to rest assured that we are here for them and will provide top-notch care for patients and their families."
For the 2019-20 rankings and ratings, U.S. News evaluated more than 4,500 medical centers nationwide in 25 specialties, procedures and conditions. In 16 specialty areas, 165 hospitals were ranked in at least one specialty. In rankings by state and metro area, U.S. News recognized hospitals as high performing across multiple areas of care.
The U.S. News Best Hospitals methodologies in most areas of care are based largely on objective measures such as risk-adjusted survival and discharge-to-home rates, volume, and quality of nursing, among other care-related indicators.