UK Physical Medicine and Rehabilitation Helps Young Athlete Regain Abilities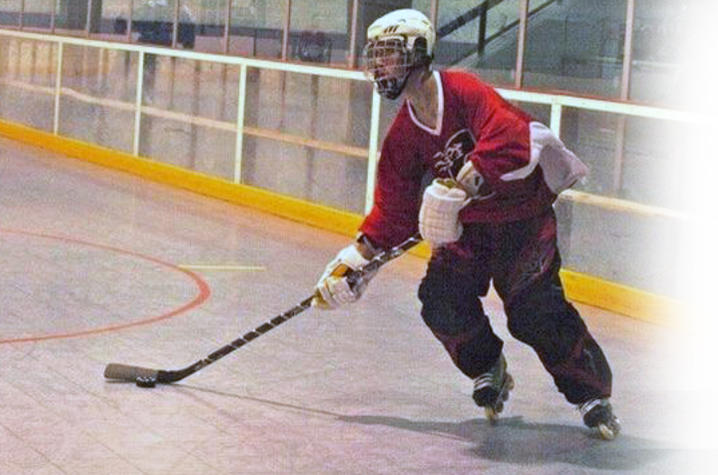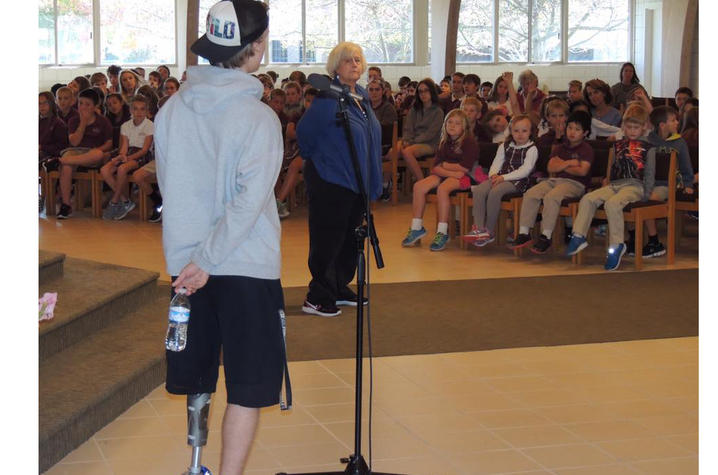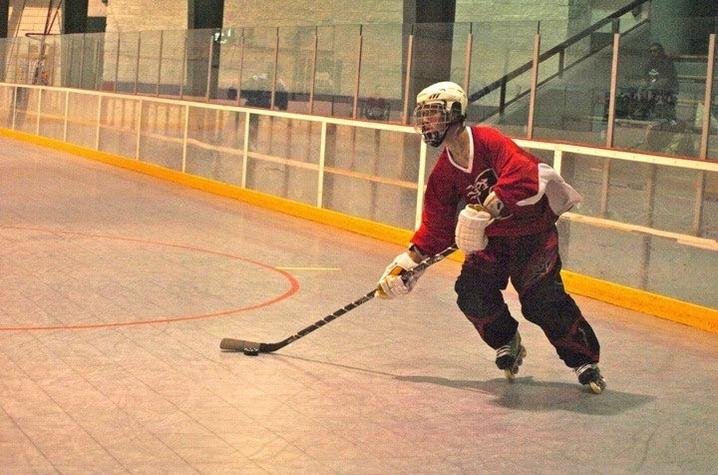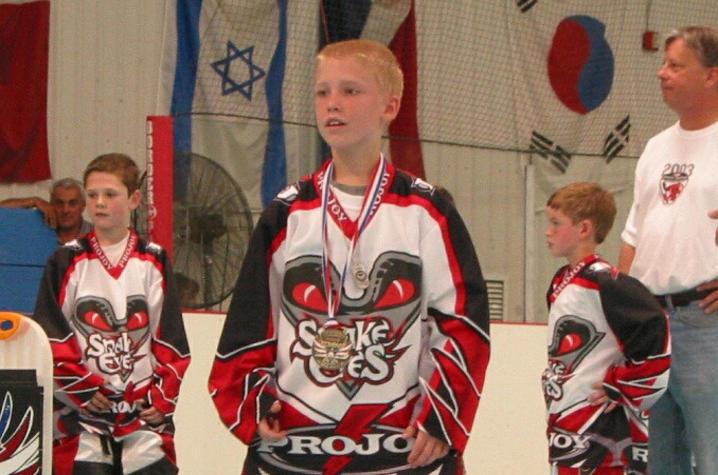 LEXINGTON, Ky. (Nov. 30, 2016) –  Adam Stickney has lived almost the entire 22 years of his life on the ice with a hockey stick in his hands. The self-described "adrenalin junkie" has always loved sports and says that anything that gets his heart racing is what makes him happy.  
Stickney's mother, Nieshia Stickney, says her son has always loved to skate. "Adam was the kind of kid who couldn't keep still. He has always been very advanced in his abilities to do things and he learned quickly," she said. "He got his first pair of skates at age 5 when I enrolled him in roller hockey. Growing up, he spent most of his days and nights playing hockey and he was really good at it."
He was so good, in fact, that NHL talent scouts started tracking Adam when he was just a seventh grader playing varsity hockey with the Kentucky High School Hockey League. His dream was to one day play professional hockey. However, a motorcycle accident while out stunt riding with friends in May 2015 changed Stickney's life dramatically.
Stickney doesn't remember anything about the day of his accident, only waking up at the University of Kentucky Chandler Hospital a couple of days later. His injuries were significant and he had to be airlifted from the accident site to UK, a Level 1 Trauma Center. His left leg was so severely damaged that it could not be saved. He also sustained a shattered pelvis, a collapsed lung, a frontal lobe brain bleed and other internal injuries.
In addition to the injuries, the accident accelerated the progression of Alport's Syndrome, a genetic kidney disease that Adam has had since birth.  He knew at some point later in his life, he might require dialysis and an eventual kidney transplant, but the need became more immediate due to the accident.
Nieshia Stickney said her son received outstanding care from the doctors, nurses and technicians for the nearly two months he spent in UK's ICU and Acute Care.
"When I first told Adam that his leg had to be amputated, he had no reaction, but when I told him again sometime later when he was more aware, his first words were, 'I'll never play professional hockey,'" she said. "He was devastated."
Despite seemingly insurmountable challenges, Adam has maintained an optimistic outlook. The physical and mental strengths that he possessed as an outstanding hockey player took over at a time in his life when the unthinkable happened.
"I can't change what happened so there's no point in getting angry. I'm staying positive and moving forward," he said.
Moving forward is exactly how Adam has spent his recovery time in the hospital and afterward. After his amputation, he worked hard for independence by walking the hospital halls on crutches, and learning how to transfer himself in and out of bed. By the time he was discharged to Cardinal Hill Rehabilitation Hospital, he had progressed so far in his rehabilitation, that he was there less than a week.
And, as for hockey?
"It's not if I get back out on the ice to play again, it's when," he said. 
Dr. Sara Shahid Salles, professor and vice chair in UK's Department of Physical Medicine and Rehabilitation, plays an integral role in Adam's ongoing rehabilitation and prosthesis care. Salles said that Adam has been back on the ice twice since the accident.
"Adam has always been a young man that has been resilient and taken risks in his life, and his approach to recovery after severe injury has been no different," Salles said.
"He accepted the challenge of living well again and has done everything he can to help himself reach those goals. This has included surrounding himself with family, friends, physical and occupational therapists, as well as physicians that want the best recovery and outcomes for him."
Salles says that as amputees advance in their abilities to walk and run, more athletic options can be considered.  
"Adam's current goal is to return to the ice, not only standing but skating on his two legs. This requires a more advanced prosthesis with hydraulic components at the knee and ankle at times to help give him the "natural" feel of his previous leg as much as possible and to be able to move his residual limb as he did in the past," Salles said. "I will continue to follow Adam for the remainder of my career for as long as he allows me to for his ongoing physical care and to help him navigate the health care system as he recovers."
Adam Stickney has wasted no time getting back into his life the past year and a half since the accident.  He still dreams big and thinks some day he may work with amputees making prosthetic limbs, and of course, coaching.
He is currently the head coach of Dunbar High School's ice hockey team. He was also invited to speak to the students at Seton Catholic School for 'Everybody Counts Day.'
"The kids were very interested in how the leg works. I wanted to show them that you can overcome anything if you want it bad enough."
Adam Stickney practices what he preaches.
"Never give up. Work as hard as you can. Losing a leg changes your world but it's not the end of the world."
UK is the University for Kentucky. At UK, we are educating more students, treating more patients with complex illnesses and conducting more research and service than at any time in our 150-year history. To read more about the UK story and how you can support continued investment in your university and the Commonwealth, go to: uky.edu/uk4ky. #uk4ky #seeblue