UK Transplant Patient Thankful for Chance to Meet His Donor's Family
LEXINGTON, Ky. (Nov. 21, 2017) — By early 2016, Conrad Webster was battling to stay alive.
Cardiomyopathy and polycystic kidney disease had destroyed his heart and kidneys, and his health had been deteriorating for nearly a decade. A combined heart-kidney transplant was his only option that remained.
After being turned away by multiple regional transplant centers, he came to UK Transplant Center, where he was admitted right away and listed for transplant.
In April 2016, West Virginian Tim Maris suffered from pneumonia and a brain hemorrhage which ultimately took his life. Before passing, Tim told his family that he wished to be an organ donor.   
Tim's request saved three lives: one patient received his liver, one received a kidney and Conrad received both his heart and a kidney.
Working through Kentucky Organ Donor Affiliates, Tim's mother, Evelyn, sent a card to Conrad expressing her desire to meet. They began corresponding via letters and phone calls, and made plans for their families to meet in person at KODA's Donor Family Recognition Ceremony in Lexington.
Conrad, his wife Leticia, and two of their children drove down from Ohio to meet members of Tim's family: Evelyn, his sister Penny and brother-in-law Howie, and his nephew, Caleb.
"I couldn't really get any sleep [the night before]," Conrad said. "My nerves were just built up so much."
The two families spent several hours chatting before the ceremony, sharing stories and pictures from their lives. Representatives from KODA provided a stethoscope to allow Evelyn, Penny and Howie the chance to hear Tim's heart beating in Conrad's chest.
Evelyn says that meeting Conrad and his family provided her with some much-needed closure.
"My heart was about to burst, we were so excited," she said. "It was a joy. I was just so happy to know Tim is still out there."
For Conrad, Tim's gift completely changed his life. After years of chronic illness, he's able to do things he never thought he'd have the chance to do again, like travel, prepare his youngest daughters for college and meet his grandchild.
And last October – just six months after receiving his transplant – Conrad and Leticia got married in Florida after 11 years together.
Because of their experiences, members of both families have decided to become organ donors themselves.
"Someone saved my husband, and kids' father," Leticia said. "Why not join Donate Life to help another family or multiple families in need?"
***
Although hospitals are obligated by law to identify potential donors and inform families of their right to donate, anyone can sign up to become an organ donor by joining the Kentucky Organ Donor Registry. The registry is a safe and secure electronic database where a person's wishes regarding donation will be carried out as requested.
To join the registry, visit www.donatelifeky.org or sign up when you renew your driver's license. The donor registry enables family members to know that you chose to save and enhance lives through donation. Kentucky's "First Person Consent" laws mean that the wishes of an individual on the registry will be carried out as requested.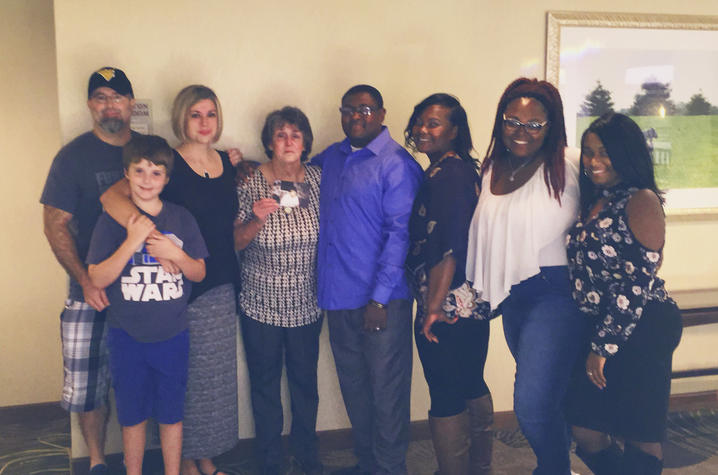 UK is the University for Kentucky. At UK, we are educating more students, treating more patients with complex illnesses and conducting more research and service than at any time in our 150-year history. To read more about the UK story and how you can support continued investment in your university and the Commonwealth, go to: uky.edu/uk4ky. #uk4ky #seeblue