UK vaccine expert answers some common questions about the new COVID booster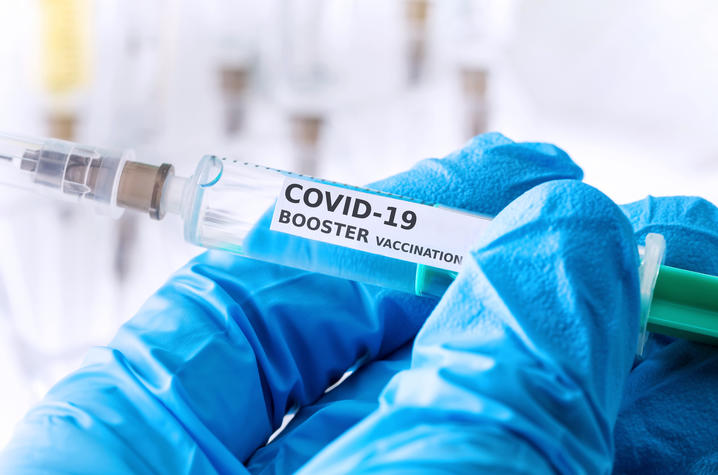 The University of Kentucky Public Relations and Strategic Communications Office provides a weekly health column available for use and reprint by news media. This week's column is by Vince Venditto, Ph.D., an assistant professor of pharmaceutical sciences in the UK College of Pharmacy.
LEXINGTON, Ky. (Sept. 25, 2023) — As the weather gets colder and gatherings move indoors, vaccines remain the safest and most effective way to protect ourselves from COVID-19. On Sept. 11, 2023, the U.S. Food and Drug Administration approved the updated mRNA COVID-19 booster vaccines to align with the currently circulating variants. The vaccines are recommended for everyone 6 months and older to protect against the serious outcomes of COVID-19. Vaccines are free to most people in the U.S. who have health insurance, and available for free to everyone through local health centers, or participating pharmacies. UK HealthCare provides COVID-19 vaccines free of charge regardless of insurance, and access to free vaccines outside of UK HealthCare can be found at Vaccines.gov.
Is COVID-19 still with us?
The virus that causes COVID-19 is still circulating with several counties in our region with increased rates of hospitalization. Nationally, there is about an 8% increase in hospitalizations and 5% increase in deaths over the past week. As the weather gets colder and more people gather indoors, it is likely that the infection rate and hospitalizations will continue to increase. It is important to remain mindful of yourself and others for the potential risk of infection with SARS-CoV-2, flu and RSV.
Isn't the virus getting weaker and not making us as sick?
It is true that there are lower rates of hospitalization and death from the virus as compared to the peak pandemic, but this is due mostly to the immune response after vaccination and infection. New variants of the virus continue to emerge with changes that sometimes lead to increased risk of infection, increased severity, or ability to avoid our immune system. Vaccination remains the safest method to protect ourselves from severe disease.
Do we still need vaccines?
Vaccination is the second most important public health intervention only behind clean drinking water. The vaccines are designed to improve our immune response to fight a potential infection, and the new vaccines are designed to provide improved immunity against the virus that is currently circulating, which aligns with how the flu vaccines are developed each year. As the virus continues to change, new vaccines become necessary to target the virus that we are most likely going to be exposed to.
What's different with the new vaccine?
The new mRNA vaccines are based on the XBB.1.5 variant and closely related to other currently circulating variants. While previous vaccines and boosters were effective at inducing robust immunity, the new vaccines align better with the variants that are currently circulating to provide an additional boost to our immune system. The other change to this vaccine is that it is monovalent — meaning there is only one variant included. The prior booster consisted of two variants and the new vaccines provide a more focused immune response on what is currently circulating. Currently, only the updated mRNA vaccines from Pfizer and Moderna have been approved and an alternative vaccine from Novavax is currently under review by the U.S. FDA.
When should I get the vaccine?
It is recommended that COVID-19, flu and RSV vaccines are obtained in the fall around late September and early October. All three vaccines can be given during the same visit or spaced out over three different visits. The biggest benefit of getting all three at the same time is convenience.
UK HealthCare is the hospitals and clinics of the University of Kentucky. But it is so much more. It is more than 10,000 dedicated health care professionals committed to providing advanced subspecialty care for the most critically injured and ill patients from the Commonwealth and beyond. It also is the home of the state's only National Cancer Institute (NCI)-designated cancer center, a Level IV Neonatal Intensive Care Unit that cares for the tiniest and sickest newborns, the region's only Level 1 trauma center and Kentucky's top hospital ranked by U.S. News & World Report.  
As an academic research institution, we are continuously pursuing the next generation of cures, treatments, protocols and policies. Our discoveries have the potential to change what's medically possible within our lifetimes. Our educators and thought leaders are transforming the health care landscape as our six health professions colleges teach the next generation of doctors, nurses, pharmacists and other health care professionals, spreading the highest standards of care. UK HealthCare is the power of advanced medicine committed to creating a healthier Kentucky, now and for generations to come.