Davis' Passion for Pathology Leads to Consultation in High-Profile Cases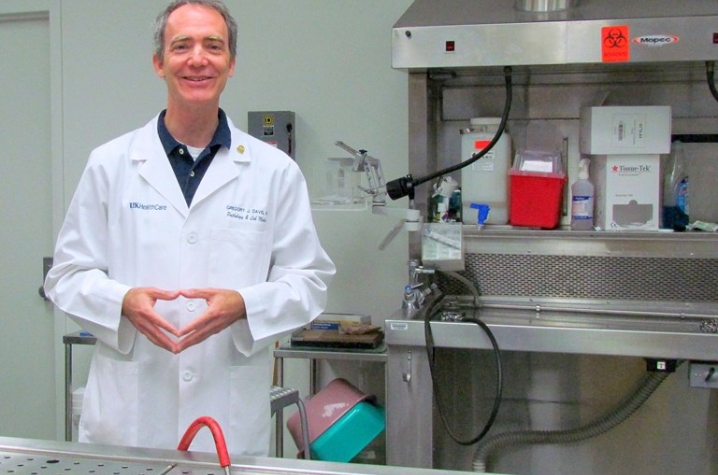 LEXINGTON, Ky. (Aug. 31, 2011) — On TV and in movies, pathologists often are thought of as sullen and morose individuals working in isolated, eerily lit basement laboratories. But if there is one pathologist who can silence the stereotypes surrounding his profession, it is Dr. Greg Davis, professor of pathology and laboratory medicine at the University of Kentucky College of Medicine. Davis, who also is the Kentucky State Medical Examiner, is full of charisma and passion for science and value of this specialty, and has proven pathologists aren't just clinicians, but healers.
"A major misconception of this field is that we are morbid or ghoulish people isolated in a basement laboratory all day," said Davis. "On the contrary, the majority in this profession are people-oriented, loving and full of humor. All of our 16 residents as well as our faculty members are very passionate about patient care and have excellent communication skills. My favorite part of this profession is interacting with a wide variety of people."
It is fitting that the word pathology is derived from the ancient Greek term 'pathos,' meaning suffering or feeling. Pathologists, such as Davis, heal those who are suffering and lend a voice to those who have none.
"Personally, as a forensic pathologist, it has never been about the biopsy or autopsy," he said. "The actual procedure is more a means to an end to help our constituency. Honoring the memories of those who have passed and giving peace to families who have lost a loved one is our first obligation."
Another obligation that comes along with forensic pathology for Davis is frequently being called on by the media to serve as an expert consultant in high-profile cases. Having already shared his expert opinion for several national media outlets over the years, Davis is no stranger to analyzing prominent cases.
Most recently, in June, Davis was contacted by a journalist at the online site for Sports Illustrated magazine, SI.com. Loretta Hunt was writing a piece on a new documentary chronicling the tumultuous life and death of former Ultimate Fighting Championship (UFC) fighter Evan Tanner and asked that Davis review the case.
The documentary titled, "Once I Was A Champion," was set to premiere at the Los Angeles Film Festival, but with an unsettling ending. Tanner had been found dead, with a blood alcohol level of .08, in the middle of a desert east of San Diego, after striking out on a solo hiking trip. Tanner's already tragic death was made all the more painful for his family, friends and fans by the fact that he was a recovering alcoholic. Had Tanner succumbed to alcohol in the last minutes of his life? Was his legacy tarnished?
Miles away in Lexington, Ky., Davis studied the autopsy and toxicology reports and came to the conclusion that it was "reasonably medically certain," that Tanner was not drinking alcohol before his untimely death.
"Evan Tanner's blood alcohol level of.08, in whole or in part, could have been due to decomposition," said Davis. "Bacteria in the intestine can ferment and produce a blood alcohol level post mortem. Also, science aside, it doesn't make sense that someone would drink alcohol in the desert since alcohol makes you feel warmer."
 
Davis' observations were enough for the documentary's producer to revise the ending of the film, just two days before its premiere.
"This is a great example of how forensic pathology can be used to honor the memories of those who have passed as well as to diagnose cause of death," said Davis. "One of the most gratifying things a forensic pathologist can do is to clear someone's name or preserve someone's reputation. It is one of the highest callings of a physician."
"Dr. Greg Davis is such an important part of the Department of Pathology and Laboratory Medicine," said Dr. Paul Bachner, chair of pathology and laboratory medicine. "Just a few of his accomplishments include serving as director of the Autopsy Service, and director of our Residency Training Program. Additionally, he has made many contributions to the professional literature in pathology and forensic sciences with more than 30 papers published in refereed journals within the past five years." 
In addition to frequent appearances before community groups, he is director of the Annual New England Seminar in Forensic Sciences, the leading national meeting in forensic sciences. As with the Evan Tanner case, he is frequently called upon to act as a speaker, consultant and expert witness in medical legal trials.
To read Loretta Hunt's article featured on Sports Illustrated's SI.com, click here.