VIDEO: UK Alum Works to "see blue." Every Day to Help Patients Heal
Video Produced by UK Public Relations & Marketing. To view captions for this video, push play and click on the CC icon in the bottom right hand corner of the screen.
LEXINGTON, Ky. (Jan. 31, 2017) — When University of Kentucky alum Lacey Buckler watches her beloved Kentucky Wildcats play on television, she pays attention even when the action stops and the commercials begin. 
There's one advertisement that she always notices - the "see blue." institutional spot.
"Every time I hear the 'see blue.' commercials, I get cold chills because I've been there, that was me," said Buckler.  "I came onto campus from a small town and didn't know anybody and was afforded lots of opportunities here to grow and now I 'see blue.' in everything I do everyday!" 
Buckler, who earned three degrees from UK's College of Nursing, currently serves as an assistant Chief Nursing Executive at UK HealthCare.  We recently chatted with the Morganfield, Ky. native about her educational experience and how her alma mater has directly impacted her career as she works to help those in need of healing. 
UK: What is your job title?
(Lacey Buckler):  I am one of the assistant chief nursing executives at UK HealthCare and I have oversight for cardiovascular nursing services, advanced practices and strategic outreach.
UK:  How did you go from being a UK graduate to your current position? 
(Buckler):  I started out as a critical care nurse in the Cardiovascular Intensive Care Unit (ICU) here at UK, spent a couple years working there and then moved into a case management position where I did discharge planning for cardiovascular services.  I graduated with a nurse practitioner degree here at UK.  Then I worked again with cardiology (at that point as an acute nurse practitioner) and continued my trajectory to earn my doctoral degree.  I moved into the director role for advance practice and also cardiovascular nursing and over the past couple years, moved into a chief assistant nurse role.
UK: What is a typical day like for you in your position?
(Buckler):  There is definitely never a dull moment!  UK Healthcare is a very busy academic medical center and we consistently have a large volume of patients moving through our system.  Ensuring my teams have what they need to care for the patients while balancing planning and preparing for what's coming next is how I spend many of my days.  I also enjoying mentoring emerging leaders within the team and supporting students as they rotate through my areas.
UK: What is the most challenging aspect of your work?
(Buckler):  I think health care is ever-changing, so right now with the political climate that we're in, it's hard to be in health care because you don't know what's coming down the road from bundled payments and changes in how we take care of patients, so I think just not knowing what the next steps will be makes health care challenging in general.
UK: Why did you choose a career in Nursing?
(Buckler):  I think it's a passion for taking care of others and seeing the happiness on a patient's face when they get to leave and they've been well taken care of …just being a part of that and being part of their family.
UK:  What is the most fulfilling part of your job?
(Buckler):  The most fulfilling part of my job is seeing patients get better. I'm involved with the UK Transplant Program here for heart transplantation, so that's a huge, neat part of UK HealthCare …seeing those patients get better and going on with their lives with a new chance on life is really an awesome experience.
UK:  How did UK prepare you for your career?
(Buckler):  The College of Nursing is really strong.  I had a great relationship with the faculty and they were all happy to share experiences with me and mentor me through the process.  Through that experience, I've been able to build connections here and move up in my career.
UK:  What is your favorite UK memory? 
(Buckler):  I have a lot of favorite UK memories. I'm a big basketball fan, so I had the pleasure of being an undergraduate student when Tayshaun Prince shot all the 3's at the North Carolina game and had really good seats right behind the bench that my friend and I got in the lottery at Memorial Coliseum.
UK: What is the best piece of advice you would give current UK students?
(Buckler):  Pursue your dreams!  UK opens up a wealth of opportunities and doors for people, so take advantage of the resources they have here so you can do what you want to do.  Anything is possible!
Watch the video above to learn why it's so important for this native Kentuckian to serve in a role that helps so many people from across the Commonwealth. 
This video is part of a new bi-monthly UKNow series.  We want to tell "see blue." stories about our alumni to show how the University of Kentucky prepares students to succeed after graduation.  If you know of any UK alumni who should be featured, please email us.  We might choose your suggestion for our next "see blue." alumni story on UKNow.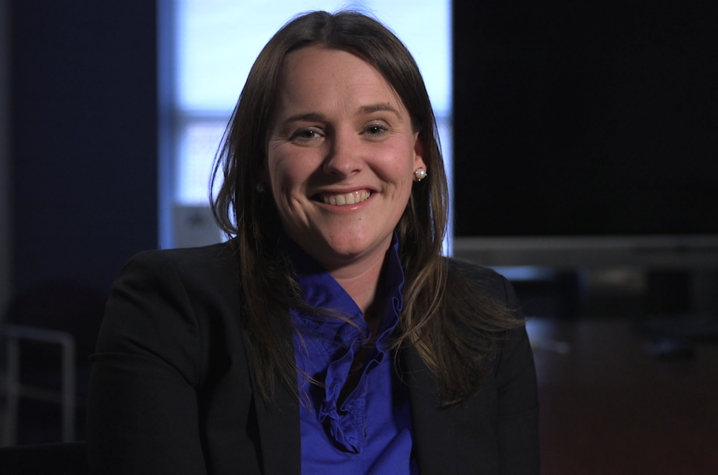 UK is the University for Kentucky. At UK, we are educating more students, treating more patients with complex illnesses and conducting more research and service than at any time in our 150-year history. To read more about the UK story and how you can support continued investment in your university and the Commonwealth, go to: uky.edu/uk4ky. #uk4ky #seeblue