Walsh Receives AMERSA Betty Ford Award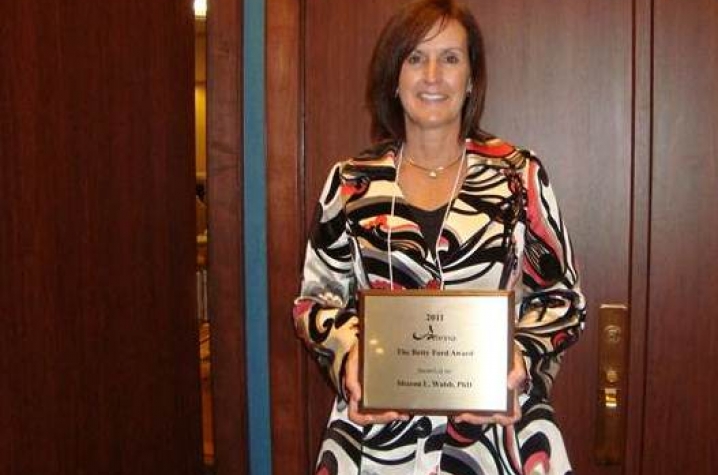 LEXINGTON, Ky. (Nov. 18, 2011) – Sharon Walsh, professor in the University of Kentucky College of Medicine's Department of Behavioral Science and director of the Center on Drug and Alcohol Research (CDAR), received the prestigious 2011 Betty Ford Award from the Association for Medical Education and Research in Substance Abuse (AMERSA). She was presented with this honor during the 35th Annual AMERSA National Conference held Nov. 3-5, 2011, in Arlington, Va.
This award is presented to an individual who has had a significant impact on the field of alcohol and drug abuse, particularly with regards to women's issues, substance abuse education and recovery. As part of the award she presented the Betty Ford Award plenary session on "Prescription Opioid Abuse: Translating Laboratory Findings to Clinical Practice," during the AMERSA national conference.
"Sharon Walsh is a worthy recipient of the Betty Ford Award from AMERSA," said Carl Leukefeld, chair of the Department of Behavioral Science and Bell Alcohol and Addictions Chair. "Her contributions to the substance abuse field are extensive and she is recognized nationally and internationally for her ongoing productive research and training program, which is in addition to her role as director of the CDAR. We are fortunate to have her as an integral member of the Department of Behavioral Science and CDAR."
Walsh has enjoyed continuous research support from the National Institute on Drug Abuse throughout her career and has served as an institute consultant on special projects, an NIH Study Section member for multiple terms, and has chaired various grant review groups. She has served on the executive committee, board of directors, and as president, for the College on Problems of Drug Dependence.
Currently, Walsh serves as an advisor to the Food and Drug Administration, and has worked for many years with the American Society of Addiction Medicine and the National Board of Medical Examiners as a test item writer for the physician board exam in addiction medicine. Walsh works with the American Pain Society to develop safety guidelines for methadone, and is recognized internationally for the translation of basic laboratory findings to clinical practice in drug abuse treatment. She serves on numerous international organizations, including the European Patient Care Network, a physician-to-physician training network.
Prior to coming to UK in 2005, Walsh earned her Master of Science and doctoral degrees in Behavioral Neuroscience from Rutgers University. Walsh then joined the Behavioral Pharmacology Research Unit at Johns Hopkins University School of Medicine in 1990 as a postdoctoral fellow where she eventually became a professor of Behavioral Science and Psychiatry. 
MEDIA CONTACT: Julie Meador (859) 323-2395 or Julie.Meador@uky.edu