Water Main Break Closes Front Loop at UK Chandler Hospital Pavilion A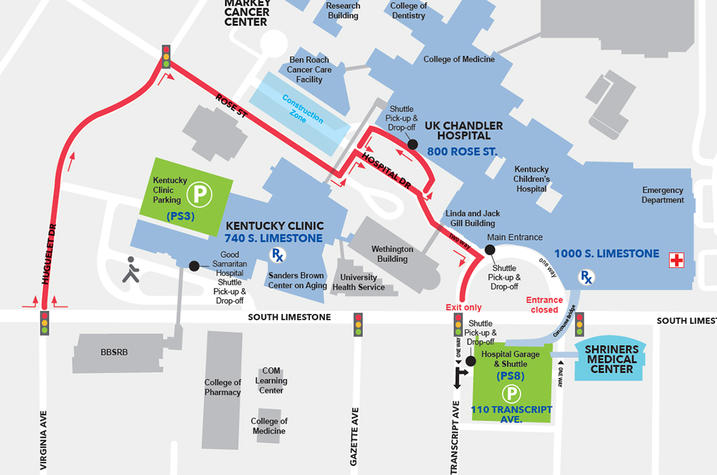 LEXINGTON, Ky. (Aug. 4, 2021) — A water main break underneath the road that curves in front of UK Chandler Hospital Pavilion A has temporarily caused rerouting of shuttles, patient drop-offs and pick-ups and pharmacy pick-ups.  The water main break is expected to be repaired and the road repaved during the next three to four days but during this time the Pavilion A front loop will remain closed to traffic.
Due to the closure:
The patient shuttle will continue from the Hospital Parking garage to Pavilion H and will have a drop-off point at the corner of Pavilion A and the Gill Heart Building.
The pick-up and drop-off location for the Good Samaritan shuttle that goes between Chandler and Good Samaritan hospitals for employees will be in front of the Kentucky Clinic only. 
Patient drop-offs and discharge pick-ups will be located at Pavilion H and Level C of the parking garage located across from the hospital on South Limestone.
Traffic will be directed to use Huguelet Avenue for hospital drop-off access. See map for Pavilion H pick-up and drop-off directional instructions.
If discharged patients are picked up on Level C of the parking garage, the minimum time limit for parking will be waived. The driver will need to tell the attendant that they picked up a patient on Level C.
For retail pharmacy pick-up at Chandler Hospital, the pharmacy will stamp parking tickets for free parking.