Young patient channels cancer care experience into 'pup art'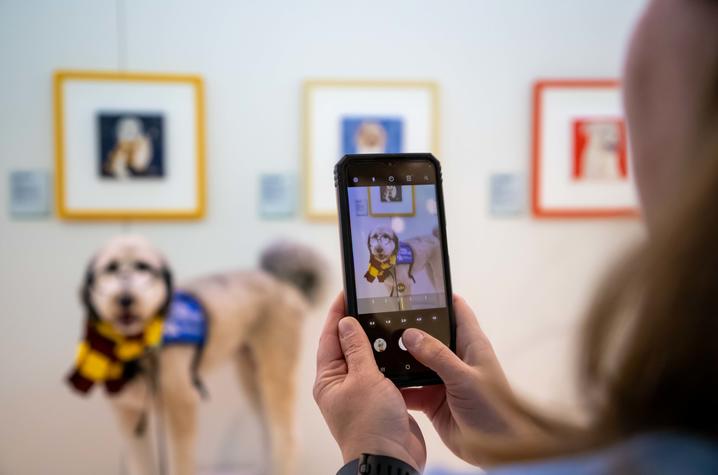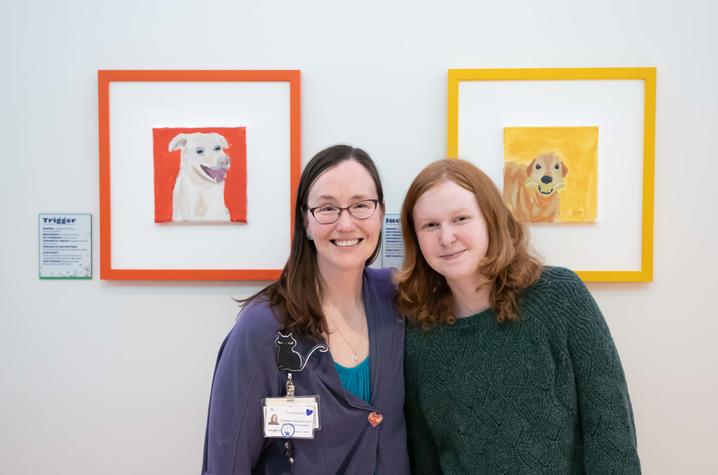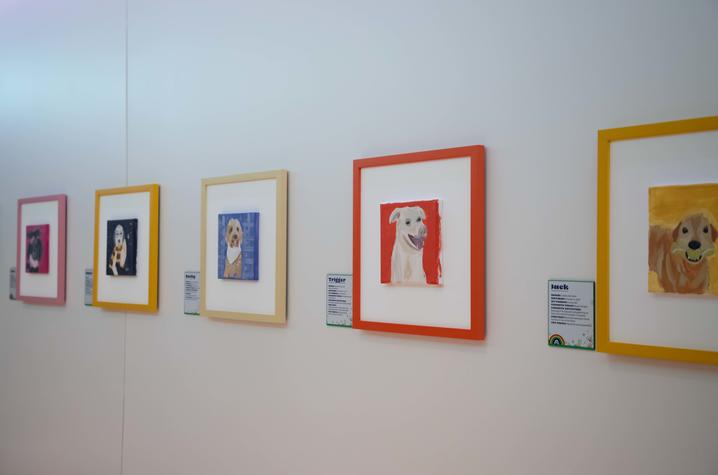 LEXINGTON, Ky. (Oct. 17, 2023) — On the ground floor of Kentucky Children's Hospital, a crowd of people excitedly pull out their cameras. With her tail wagging, Hazel, an Aussie doodle, is dressed as a Hogwarts student and ready to pose for pictures. As one of the featured subjects in the hospital's new "Pups of Color" art exhibit, she's here — along with several of her furry coworkers —  to celebrate the gallery opening.
A series of paintings featuring UK HealthCare's Animal Assisted Therapy dogs, "Pups of Color" is a vibrant exhibit by 12-year-old patient Katie Belle. During her time in the hospital, Katie turned to painting as a form of self-care. 
When she was 8 years old, Katie found her passion for art. She enjoyed spending time drawing, sculpting and painting with a variety of different mediums.
But just two years later, in the summer of 2021, Katie was diagnosed with osteosarcoma. It was the kind of news most kids never realize could be their reality.
Osteosarcoma is a type of bone cancer that makes up 2-3% of childhood cancers and most commonly occurs in teenagers. UK HealthCare's Kentucky Children's Hospital typically sees just two to four new diagnoses of osteosarcoma each year. The standard treatment for this type of cancer is chemotherapy and surgery to remove the tumor. For Katie, the best treatment option was chemotherapy and a surgery known as rotationplasty, performed by UK orthopaedic oncologist Patrick O'Donnell, M.D.
"Rotationplasty is an option, especially in children who are still growing," said Caryn Sorge, M.D., oncologist at the DanceBlue Pediatric Hematology and Oncology Clinic. "I let the surgeons discuss the surgical options that are best for their particular case. We are very fortunate to have a wonderfully skilled orthopedic oncology surgeon here at UK, Dr. O'Donnell."
During a rotationplasty, the middle part of the leg is amputated. The tumor is removed while the lower part of the leg is reattached near the thigh and rotated 180 degrees to face backward. With this surgery, the ankle joint now functions as a knee joint. After the surgery, patients wear a prosthetic to assist with mobility.
Through her rounds of chemotherapy and undergoing surgery, Katie continued creating artwork to help her through the toughest days. Erin McAnallen, an expressive arts resource specialist at Kentucky Children's Hospital, frequently visited Katie's hospital room. When her cancer treatment felt overwhelming, McAnallen helped Katie lean into her creativity for relief.  
"Meeting Erin started out as a fun thing, where she would bring art supplies to my room, and I would test them out," said Katie. "She recognized that I was a young artist and getting into those things. So she would bring me stuff into my room, and we would hang out and talk. And it was always really fun."
From there, Katie began focusing on a more specific inspiration for her art — pets.
"The first pet painting I did, when I was in the hospital on chemo, was when I went to hang out with Erin," said Katie. "I got one of these really small canvases and started painting my cat on it because I've always really loved my cat, Lucy. She's my soulmate cat."
What started as painting her cat — followed by McAnallen's cat — snowballed into Katie creating a full collection of mini animal portraits to gift to her family and friends. But during her stays at the hospital, the comfort of her cat, Lucy, was one of the things Katie missed the most.
"My time without Lucy had been just completely agonizing. She was just such a big part of my life that it felt really bad being away from her for so long," said Katie. 
With the help of the canine counselors in UK HealthCare's Animal Assisted Therapy program, some of that void was filled.
"When I first had been diagnosed with cancer and had my first round of chemo, Toby was the first therapy dog to come over to visit me," said Katie. "He climbed on my bed and started licking me and I thought it was really cute. I was also really sick at the time, and this was really heartfelt to me."
The therapy dogs helped brighten Katie's mood and ease her anxiety, and through art, she was able to feel hope that one day she would be back to moving and playing.
"Art is an amazing mindful and therapeutic practice for all patients," said McAnallen. "It keeps them creatively engaged during their hospital stays in hopes of easing the stress of treatment. Plus, it gives them a sense of accomplishment and something to look forward to, should they expect future admission. Art can be transformative and healing, letting kids express their emotions and connect more deeply with their creative side."
Some days, Katie felt so awful that the only creative things she could manage were doodles in her sketchbook or digital art. She decided to channel those feelings into making art that felt more uplifting.
"Art was one of the only things that I could really do, just considering I couldn't just get up and go for a walk because of my amputation," said Katie. "I felt like I wasn't very expressive of my feelings in my art at the time, but I wanted to reflect the things that I wish were happening, the things that I would enjoy happening during those times. During all the time that I had in the hospital, I really started honing my art skills."  
The familiar puppy faces around her, like Toby, helped inspire Katie to paint a collection of portraits specifically dedicated to all the therapy dogs. It started out with Katie thinking it would be funny to hang up all her paintings in the hospital for patients to see. But the idea quickly turned into a reality when McAnallen began making some phone calls.
"Erin thought that would be an excellent idea," said Katie. "So we went with it. And it worked, and it's happening. I have had ideas about doing things for the hospital, and I never really would have thought that any of them would be fulfilled."
"The idea to give Katie her own exhibit came through a collaboration with the Arts in HealthCare program," said McAnallen. "Before the pandemic shook things up, I talked to Jason Akhtarekhavari about having a patient create portraits of our KCH therapy dogs. The pandemic brought the project to a halt, but when Katie painted a portrait of her cat while she was inpatient, I was hooked! I called up Jason to check if the opportunity was still open because it was clear we had found the perfect match."
On Oct. 15, the Arts in HealthCare and Child Life programs hosted an opening night reception for Katie's art exhibit, "Pups of Color." She now has an entire display of her paintings on the ground floor of Kentucky Children's Hospital outside of the Blue Pediatric Sedation and Procedure Unit and in Jarret's Joy Cart waiting area. 
Katie now visits the children's hospital every three months for scans and a general check-up. She attends physical therapy regularly to gain strength and improve her range of motion with her prosthetic. Her next goal is to be able to run again. Katie plans to continue pursuing art as a hobby and is currently a student at a creative and performing arts school.
"Working with Katie is always a blast," said McAnallen. "What I love most is her unwavering passion for art. She has a knack for diving into different artistic mediums, and I always look forward to seeing her latest creations."
After going through treatment for osteosarcoma and learning how to conquer life with a prosthetic, Katie keeps a positive mindset. She has advice for others who might be facing a battle of their own: take it one step at a time.
"Try not to focus on the things that are bringing you down," said Katie. "Just focus on yourself and what you need. And if what you need is hard to achieve, don't think about immediately getting to the point where you have achieved something. Think about the steps that you have to perform along the way to achieve that thing and take it one step at a time."
UK HealthCare is the hospitals and clinics of the University of Kentucky. But it is so much more. It is more than 10,000 dedicated health care professionals committed to providing advanced subspecialty care for the most critically injured and ill patients from the Commonwealth and beyond. It also is the home of the state's only National Cancer Institute (NCI)-designated cancer center, a Level IV Neonatal Intensive Care Unit that cares for the tiniest and sickest newborns, the region's only Level 1 trauma center and Kentucky's top hospital ranked by U.S. News & World Report.  
As an academic research institution, we are continuously pursuing the next generation of cures, treatments, protocols and policies. Our discoveries have the potential to change what's medically possible within our lifetimes. Our educators and thought leaders are transforming the health care landscape as our six health professions colleges teach the next generation of doctors, nurses, pharmacists and other health care professionals, spreading the highest standards of care. UK HealthCare is the power of advanced medicine committed to creating a healthier Kentucky, now and for generations to come.