Artist Explores Our Fragmented Society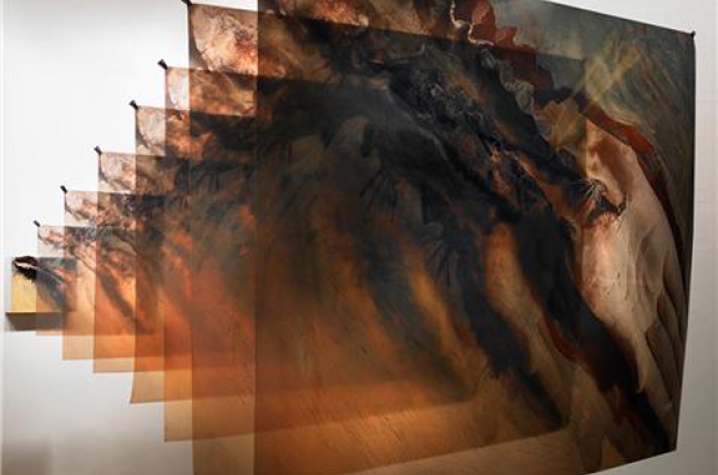 LEXINGTON, Ky. (Feb. 26, 2010) − "Layered Existences: Nature's Depths of Realities" is now open at Tuska Center for Contemporary Art, featuring the artwork of Arizona artist, Moira Marti Geoffrion. The free public exhibition, which explores fragmentation within today's society, is on display through March 11 and will feature several events with the artist the last week of its run.
Art patrons can learn more about Geoffrion's work and her thoughts on this exhibition during a campus residency in March. The artist will be on campus as a visiting artist during the week of March 8-13. Geoffrion will give a short gallery talk during the closing reception to be held from 5 to 7 p.m. Thursday, March 11. The gallery talk portion of the reception will be at 6 p.m. Additionally, Geoffrion will present an arts profession lecture on her life and work as an artist at noon Friday, March 12, in Room 118 of White Hall Classroom Building. All events are free and open to the public. 
Geoffrion describes the art of "Layered Existences" as works that "explore concepts of placement, isolation, interrelatedness, illogical connections, overlays, transparency, and opacity--all suggestive of issues of fragmentation within our society."  Images in the artwork are made from found and altered natural objects (roots, dried and aged plant materials), painted forms and textures, and figurative elements. The images are then printed on a transparent medium in graduated sizes, and suspended from the ceiling, creating a sense of the infinite or cosmic. Movement, transparent illusions, and an inner glow empower the installations. 
Geoffrion grew up on a large farm in southeastern Ohio, where she first developed her interest in the natural environment. She received a bachelor's degree from Boston University School of Fine Arts, and completed a master's degree in sculpture at Southern Illinois University. Currently, Geoffrion is a professor of art at the University of Arizona, where she teaches sculpture. She has exhibited worldwide, had national and international residencies, and has received numerous grants and both public and private commissions. 
The Tuska Center for Contemporary Art is on the first floor of the UK Fine Arts Building, located on Rose Street. Gallery hours for the spring 2010 semester are 11 a.m. to 6 p.m. Monday through Thursday and 10 a.m. to 6 p.m. Friday.
 
For more information on "Layered Existences" and events held in conjunction with the show, contact Kate Sprengnether, director of the Tuska Center for Contemporary Art, at (859) 257-1545 or e-mail to k.sprengnether@uky.edu. Patrons can also find more information online at the gallery's Web site at www.uky.edu/FineArts/Art/TCCA, on Facebook www.facebook.com/pages/Lexington-KY/Tuska-Center-for-Contemporary-Art/95196942735, and on Twitter at http://twitter.com/TuskaCtrforART.