UK Artist's Work Selected for New Orleans' 'Prospect.3'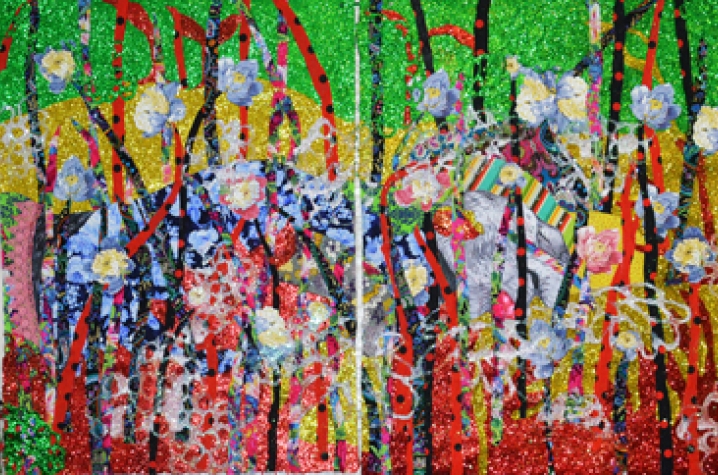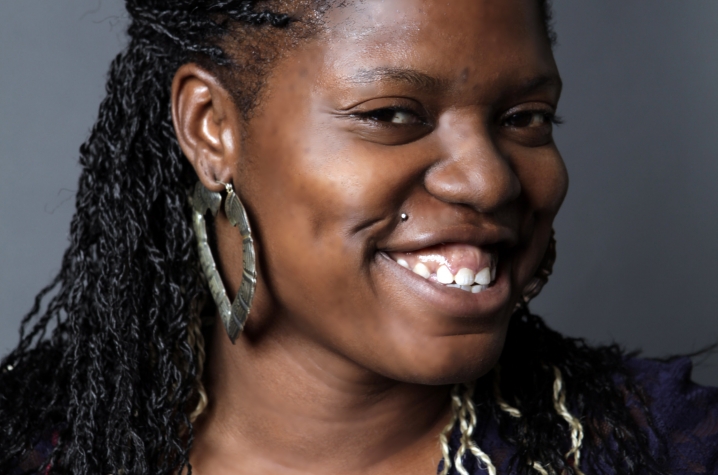 LEXINGTON, Ky. (Oct. 24, 2014) — Artwork by Ebony Patterson, an associate professor of painting at the University of Kentucky School of Art and Visual Studies, will be featured at "Prospect.3" art exhibition in New Orleans. Patterson is among a group of approximately 60 artists selected to display their artwork at the event opening Oct. 25 throughout the city.
Work by legendary artists Jean-Michel Basquiat and the French post-impressionist Paul Gauguin are among the biggest names presented at this series of shows of celebrating current and up-and-coming artists. What is a 19th century art legend such as Gauguin doing in a modern day art exhibit? Artistic Director Franklin Sirmans sees Gauguin as a symbol of a global search for identity. Underlying themes for "P.3" are borderless searching, so Sirmans utilizes a few of Gauguin's pieces as a starting point for the exhibition.  
Sirmans has produced an exhibition that will encompass a globally focused theme that will run throughout all exhibitions and public art installations. Known for creating strong thematic exhibitions that combine the historical and the contemporary, he selected the work of the more than 60 artists in "P.3" for embodying a geographical, generational, and culturally diverse selection of viewpoints about contemporary culture from around the globe.
To channel Gauguin in his search, Sirmans did his best to engage in borderless searching himself. "I tried to be as open as possible," he said. "I tried to say, 'What are artists talking about now?'" The subtitle of the exhibition is "Notes for Now."
The work of Basquiat, a well-known graffiti writer who became an art world hero, is also very dear to Sirmans. He too, was a seeker who seemed to exist outside of ordinary social borders and a historic fit in this contemporary show.
The exhibition will take place in multiple venues throughout New Orleans. Patterson will be displaying her work at the Newcomb Gallery at Tulane University. She will show a new body of work titled "In di Grass - beyond the bladez," including large mixed media works on paper that explore ideas around visibility/invisibility, beauty, violence and access.
"It's an incredible privilege being in the show," Patterson said. "Not just because it boasts such greats like Basquiat and Van Gogh, but because it's 'Prospect,' and Sirmans is a fantastic and incredibly well respected curator. The artists included in this year's lineup are amazing and I am sure it's going to be a really exciting show."
Prior to being selected for "P.3" this fall, Patterson has been included in notable group exhibitions at Brooklyn Museum of Contemporary African Diasporan Arts, Tacoma Contemporary, Kingston's Mutual Gallery, and France's Centre International d' Art Contemporian. Her show credits include "Young Talent V" (Washington D.C.); The "Jamaica Biennial"; "Aruba Biennial"; "Ghetto Biennale 2009" (Haiti); "Black Gossamer" at Glass Curtain Gallery, at Columbia College Chicago; and "Taboo: Identities, Race, Sexuality + The Body" presented at Kingston's Olympia Art Center and the Tuska Center of Contemporary Art at UK, where she also curated.
Patterson's work has also been featured in numerous publications such as The New York Times, Frieze Magazine, Huffington Post, Art Nexus, Art Papers and the International Review of African-American Art. 
A native of Kingston, Jamaica, Patterson earned her bachelor's degree in painting at the Edna Manley College for Visual and Performing Arts and a master's degree in printmaking and drawing from the Sam Fox College of Design and Visual Arts at Washington University in St. Louis. She has been teaching painting and mixed media at UK since 2007.
"Prospect" New Orleans was conceived in the tradition of the great international exhibitions to showcase new artistic practices from around the world and contribute to the cultural economy of New Orleans. The idea to mount a large-scale international art biennial came to Dan Cameron during his first post-Katrina visit to New Orleans. With the potential opportunities, Cameron decided it was the ideal place and time to launch such a venture, and in 2007, with seed money from philanthropists Toby Devan Lewis, Prospect New Orleans came to fruition. 
The UK School of Art and Visual Studies, at the UK College of Fine Arts, is an accredited member of the National Association of Schools of Art and Design and offers undergraduate and graduate degrees in the fields of art studio, art history and visual studies, and art education.
MEDIA CONTACT: Whitney Hale, 859-257-8716; whitney.hale@uky.edu