Little/Gaines Artist Series To Expand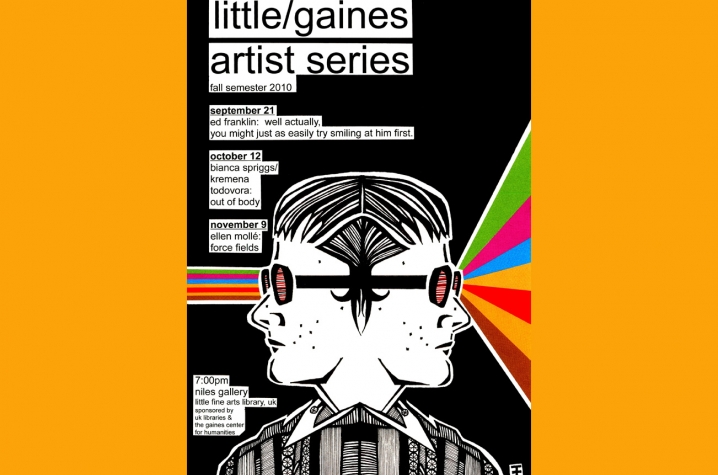 LEXINGTON, Ky. (Sept. 15, 2010)− The Lucille C. Little Fine Arts Library and Learning Center and the Gaines Center for the Humanities launches the second season of the popular collaborative artists series, which showcases the work of Kentucky artists and brings together artists in the same or different genres or mediums. This year six Little/Gaines Artists will team up with one or more collaborators in visual, literary, musical or dramatic arts to stage unique exhibitions as part of this series presented at the Niles Gallery, located in University of Kentucky's Little Fine Arts Library. The Little/Gaines Artist Series will begin with artist Ed Franklin at 7 p.m. Tuesday, Sept. 21.
 
Series sponsors will issue an open call for applications for two additional Little/Gaines Artists to appear in the spring semester bringing the total number of featured artists to six.
The first Little/Gaines Artist this year is Ed Franklin. Franklin works in several visual art mediums creating wooden and cloth toys, screen prints, paintings, drawings, collages and photos. He is influenced by '60s and '70s French, Brazilian and Scandinavian popular culture. Franklin's art projects frequently focus on the community. He loves the idea that people have the power to change their communities. Calling his work "polite graffiti," Franklin says his art "doesn't deface anything, but it's definitely there. It changes the way you see your environment without leaving a permanent mark." 
Franklin's Little/Gaines program is titled "Well actually, you might just as easily try smiling at him first."
Throughout the fall and now spring semesters, the 2010-2011 Little/Gaines Artists Series will feature shows with five more sets of artists. All series programs will be staged on Tuesdays in the Niles Gallery of the Little Fine Arts Library. Each show will last approximately an hour and a half and will include a reception. Other artists to present this fall are: writer Bianca Spriggs, 7 p.m., Oct. 12, and visual artist and UK alumna Ellen Mollé, 7 p.m., Nov. 9. All Little/Gaines Artist events are free and open to the public.
For more information on the Little/Gaines Artist Series or on the Ed Franklin presentation, contact Gail Kennedy, director of Little Fine Arts Library, at (859) 257-4631, or Lisa Broome-Price, associate director of the Gaines Center, at (859) 257-1537, or visit the series on Facebook at www.facebook.com/LittleGainesArtistSeries.