Chris Isaak To Rock Out Singletary Center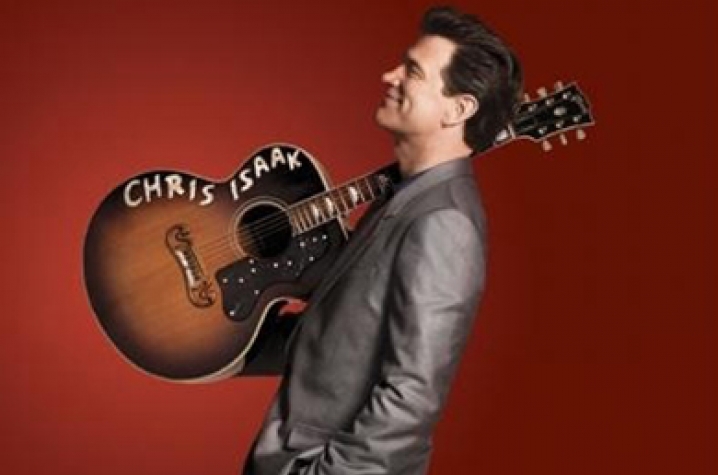 LEXINGTON, Ky. (Dec. 6, 2010) — Pop crooner Chris Isaak will strut into the hearts of women around the Bluegrass this weekend as he takes to the stage at University of Kentucky Singletary Center for the Arts. The concert will open with A. Mason at 7:30 p.m. Saturday, Dec. 11, at Singletary Center's Concert Hall.
Throughout his impressive recording career — from his 1985 debut to his latest effort, 2009's "Mr. Lucky" — Isaak has explored the good, the bad and the ugly of love, as well as other matters of profound human interest. He has done so with an abiding respect for popular music's past, but at the same time with clear passion for here and now.
From the beginning, Isaak earned his good luck the hard way — by consistently delivering outstanding work, both onstage and in the studio on a series of accomplished albums that have included "Silvertone" (1985), "Chris Isaak" (1986), "Heart Shaped World" (1989), "San Francisco Day" (1993), "Forever Blue" (1995), the largely acoustic "Baja Sessions" (1996), "Speak of the Devil" (1998), "Always Got Tonight" (2002), the seasonal-themed "Christmas" (2004) and the "Best of Chris Isaak" compilation (2006).
In between the albums and tours, Isaak has also used his wit and matinee idol looks to enjoy a whole second life onscreen. He has appeared in numerous films including "Married to the Mob," "Twin Peaks: Fire Walk With Me," "Little Buddha," "Silence of the Lambs," "That Thing You Do!" and "A Dirty Shame." In addition, he has done high profile guest roles on a special Super Bowl episode of "Friends" and the Emmy-winning HBO miniseries "From The Earth To The Moon." Isaak starred in his own acclaimed Showtime musical comedy series "The Chris Isaak Show" from 2001-2004, a vehicle that showcased many of his talents as a comedian and musician.
Though Isaak confesses that he can be happy surfing or drawing during his down time (he did all the artwork for his new album), at heart, he is still that same kid from Stockton, Calif., who grew up working class and to this day his work ethic shows it.
To check out videos of Isaak's performing a variety of his songs, visit the Chris Isaak's website at www.chrisisaak.com/media/videos.
Tickets for the Chris Isaak concert range from $40 to $60 depending on seat location and are on sale now. Tickets can be purchased by calling the Singletary Center ticket office at (859) 257-4929, online at www.singletarytickets.com, or in person at the venue.