Concert Transports Audience to Brooklyn Bridge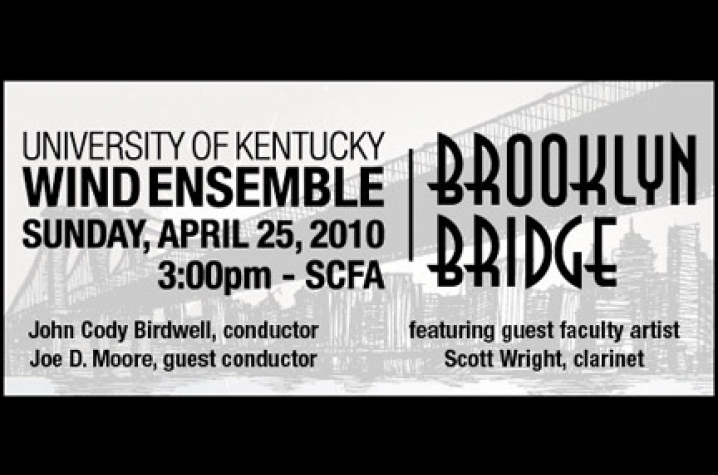 LEXINGTON, Ky. (April 20, 2010) − The University of Kentucky Wind Ensemble will transport audiences to the famous Brooklyn Bridge in their upcoming concert featuring clarinetist Scott Wright and the music of Michael Daugherty. The UK Wind Ensemble Spring Concert will take the stage at 3 p.m. Sunday, April 25, at the Singletary Center for the Arts Concert Hall. The concert is free and open to the public.
The UK Wind Ensemble, conducted by John Cody Birdwell, will present the final spring concert for the UK Bands for the 2009-2010 concert season. Featured soloist for the concert will be Scott Wright, associate professor of clarinet at UK School of Music, who will be performing with the UK Wind Ensemble on Michael Daugherty's "Brooklyn Bridge," a four-movement concerto for solo clarinet and wind ensemble. 
The UK Wind Ensemble will also perform "Four Scottish Dances" by Malcolm Arnold, "J.S. Dances" by Donald Grantham, and "Danse Funambalesque" by Jules Strens. Appearing as guest conductor for this concert will be Joe D. Moore, a doctoral conducting candidate at UK.
Prior to his appointment at UK in 2002, Wright served as the professor of clarinet and assistant director of bands at the University of Wisconsin-Green Bay. He also taught music for the public schools of Longview, Wash., from 1987-97. Wright received music education degrees from the University of Michigan and Arizona State University, and he received a doctoral degree in clarinet performance from Arizona State University.
As a member of Duo Pegasus, Wright performs frequently with pianist Linda Halloin. Since the formation, Duo Pegasus has performed throughout the United States and abroad in many recitals, concerts and educational settings. 
The UK Wind Ensemble is made up of the finest wind and percussion performers in the UK School of Music. As the centerpiece of a band program, which has served the Commonwealth of Kentucky for more than 100 years, the Wind Ensemble continues a tradition of professional-level performances to audiences throughout Kentucky and beyond. In the summer of 2008, the UK Wind Ensemble participated in a 10-day concert tour of the People's Republic of China and performed for thousands of Chinese citizens in the cities of Suzhou, Yangzhou, Changzhou and Beijing in celebration of China's hosting of the 2008 Summer Olympic Games. The Wind Ensemble has also been invited to perform at national and regional conferences for the College Band Directors National Association and for the Kentucky Music Educators Association Conference held annually in Louisville. 
For more information on the UK Wind Ensemble Spring Concert, contact UK Bands at (859) 257-2263 or visit online at www.ukbands.org.