New UK Concert Series Showcases the Guitar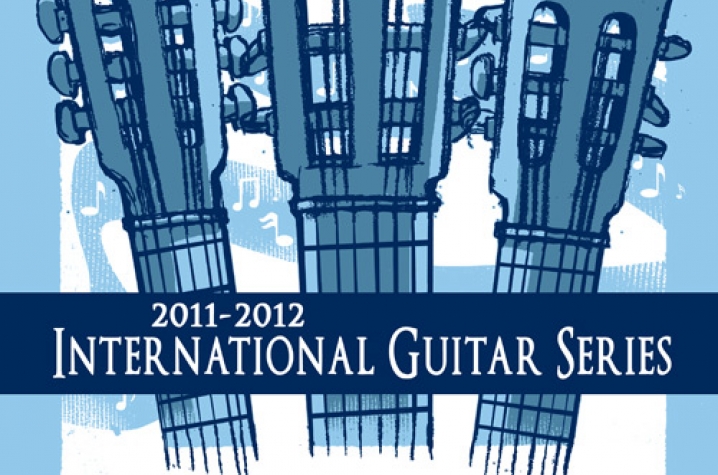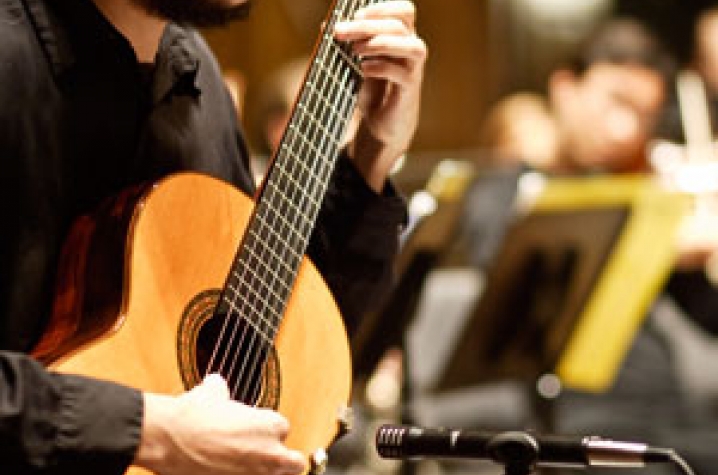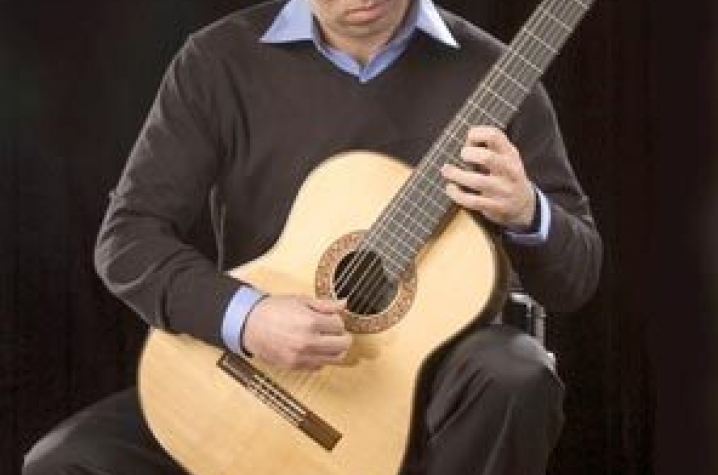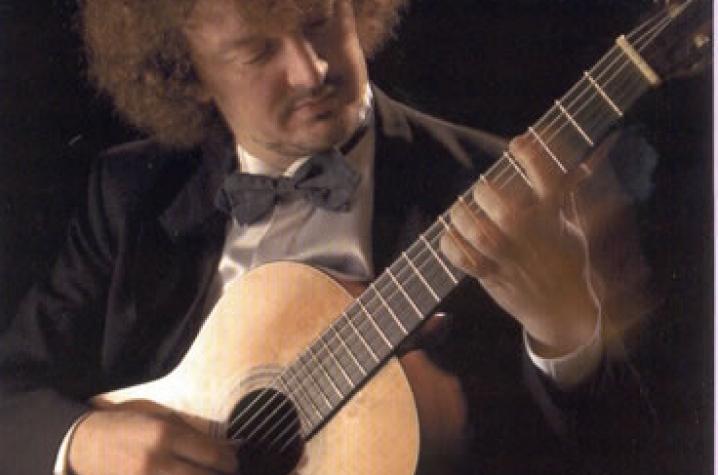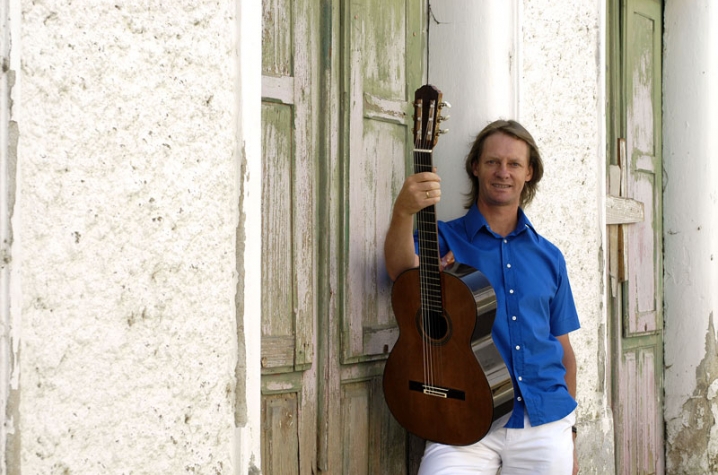 LEXINGTON, Ky. (Oct. 19, 2011) − A new concert series at the University of Kentucky School of Music plays homage to the guitar. UK International Guitar Series 2011-12, featuring international and university musicians, opens with a concert by Dieter Hennings, assistant professor of guitar at UK, at 7:30 p.m. Thursday, Oct. 20, at the Singletary Center for the Arts.
An internationally recognized guitarist, Hennings joined the UK School of Music faculty in 2009. He has won several prestigious competitions including: the 2008 Aaron Brock International Guitar Competition (Canada); the 2005 Eastman Guitar Concerto Competition; the 2002 Villa de Petrer, Alicante International Competition (Spain); and the 2001 Portland Guitar Competition, among many others. He has recorded for a wide variety of record labels from Nonesuch Records for pop singer Natalie Merchant to the new music label powerhouse Bridge Records. One of the only specialists in both new music and early music for plucked instruments, his research leads him to perform on a wide variety of instruments from baroque lute and theorbo to classical guitar. Hennings has collaborated with some of the most recognized composers in the U.S. and Latin America.
The guitar concert featuring Hennings on Oct. 20 and UK Guitar Night, featuring university guitarists, scheduled for 7:30 p.m. Tuesday, Nov. 8, at Singletary Center, are free and open to the public. Donations to UK Guitar Program will be accepted for these concerts.
The youngest musician and the only guitarist to win the prestigious Naumburg International Competition, Jorge Caballero, will present the December concert in the series. Widely regarded as one of the finest guitarists of his generation, Caballero's solo recitals have included performances at New York's Alice Tully Hall, the Library of Congress, the Metropolitan Museum of Art, the Palace of Fine Arts in San Francisco, the Da Camera Society in Los Angeles, New York's Midtown Concert Series, BargeMusic, St. Bartholomew's Church and other venues in the United States and internationally. He has performed as a soloist with the Los Angeles Philharmonic, the Orchestra of St. Luke's, the New York Chamber Symphony, the Naples Philharmonic, the Kansas City Chamber Orchestra and the Presidential Symphony Orchestra of Ankara, Turkey, among others.
Critics have praised Caballero's daring in performing the most difficult pieces in the guitar's repertoire, often together in the same program. He recently recorded Dvorak's New World symphony, transcribed for solo guitar, a piece that he is one of only two guitarists in the world to perform. A native of Lima, Peru, Caballero began his professional training at the National Conservatory in Lima, studying with Oscar Zamora. He later came to the U.S., where he attended the Manhattan School of Music.
Caballero's concert is scheduled for 7:30 p.m. Thursday, Dec. 1, at Singletary Center. Tickets are $15 for general admission, $12 for senior citizens and $10 for students.
Next semester's guitar concerts begin with a performance by award-winning guitarist Zoran Dukić. Born in 1969 in Zagreb, Croatia, Dukić started to play the guitar at the age of 6. He graduated from the Music Academy of Zagreb with Darko Petrinjak and completed his studies with Hubert Käppel at the Hochschule für Music in Cologne, Germany. Dukić has won more international guitar competitions than any other guitarist in the world including: 1994 International Guitar Competition Printemps de la Guitarre (Belgium); 1996 Andrés Segovia International Guitar Competition (Spain); 1996 Manuel Maria Ponce International Guitar Competition (France); and 1997 De Bonis International Guitar Competition (Italy).
He has been a featured soloist in more than 30 countries on five continents and is regularly invited to give master classes in international festivals. Dukić has appeared as a featured soloist with orchestras from: Spain, Germany, Belgium, Holland, Hungary, Switzerland, Taiwan, Columbia, Chile and Croatia.  A very active chamber music performer and a founding member of Trio de Cologne, Dukić has recorded compact discs for labels in Germany, Spain and Belgium. He is currently teaching at the Royal Conservatory of Music in Holland, Hochschule für Musik in Germany, and the Escuela Superior de Musica de Barcelona in Spain.
Dukić will take the stage 7:30 p.m. Saturday, Feb. 4, at the Singletary Center. Tickets are $15 for general admission, $12 for senior citizens and $10 for students.
Grammy award-winner David Russell will close out the UK International Guitar Series.
The classical guitarist is world renowned for his superb musicianship and inspired artistry, having earned the highest praise from audiences and critics alike. In recognition of his great talent and his international career, he was named a Fellow of The Royal Academy of Music in London in 1997 and was given the Medal of Honor of the Conservatory of the Balearics in 2003. Russell won the 2005 Grammy Award for Best Instrumental Soloist in Classical Music for his CD "Aire Latino." During his studies at the Royal Academy, the guitarist won twice the Julian Bream Guitar Prize. Later he won numerous international competitions, including the Andrés Segovia Competition, the José Ramírez Competition and Spain's prestigious Francisco Tárrega Competition.
Russell spends his time touring the world, appearing regularly at prestigious halls in New York, London, Tokyo, Los Angeles, Madrid, Toronto and Rome. In 2009, he was named honorary member of Amigos de la Guitarra, the oldest guitar society in Spain.
Russell will perform at 3 p.m. Sunday, Feb. 19, at the new auditorium in Pavilion A of UK Albert B. Chandler Hospital. Tickets for the Russell concert are $20 for general admission and $15 for senior citizens and students.
The UK School of Music in the UK College of Fine Arts has garnered national recognition for high-caliber education in opera, choral and instrumental music performance, as well as music education, composition, theory and music history.
Tickets for the UK International Guitar Series can be purchased at the Singletary Center ticket office by calling (859) 257-4929, visiting online at www.singletarytickets.com, or in person at the venue. For more information on any concert in this series, visit the UK School of Music online at www.uky.edu/FineArts/Music/guitar/series.php or contact Dieter Hennings at dieterhennings@gmail.com.
MEDIA CONTACT: Whitney Hale, (859) 257-8716 or whitney.hale@uky.edu