UK Presents Tribute Concert to Late Spanish Poet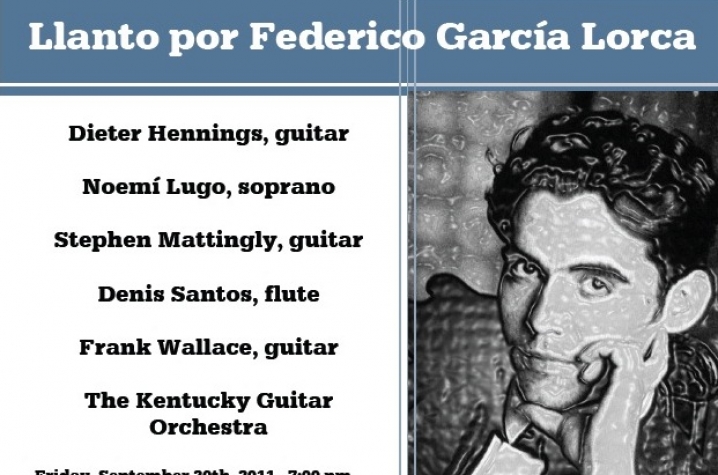 LEXINGTON, Ky. (Sept. 29, 2011) − In honor of Hispanic Heritage Month, University of Kentucky faculty and students, as well as international guest artists, will take center stage in a tribute concert honoring the late Spanish poet and dramatist Federico García Lorca. "Llanto por Federico García Lorca," presented by UK's School of Music and Latin American Studies Program, will begin 7 p.m. Friday, Sept. 30, at the Niles Gallery, in the Lucille C. Little Fine Arts Library and Learning Center. The event is free and open to the public.
The concert "Llanto por Federico García Lorca" will feature performances by:
Dieter Hennings, assistant professor of guitar;
soprano Noemi Lugo, professor of voice;
guitarist Stephen Mattingly, faculty member at the University of Louisville;
UK doctoral candidate and flautist Denis Santos, faculty member at Campbellsville University;
composer and guitarist Frank Wallace, a faculty member of the Concord Community Music School; and
the Kentucky Guitar Orchestra.
The award-winning UK School of Music in the UK College of Fine Arts has garnered national recognition for high-caliber education in opera, choral and instrumental music performance, as well as music education, composition, theory and music history.
Latin American Studies is an interdisciplinary program in the UK College of Arts and Sciences bringing together scholars who wish to understand Latin America as a major world region that continues to contribute unique and original understandings to the global community. Latin American Studies scholars pursue courses in anthropology, geography, history and the Spanish language, among others, in order to gain a cultural and geographic understanding of a specific region.
MEDIA CONTACT: Whitney Hale, (859) 257-8716 or whitney.hale@uky.edu