UK Senior Training for Stardom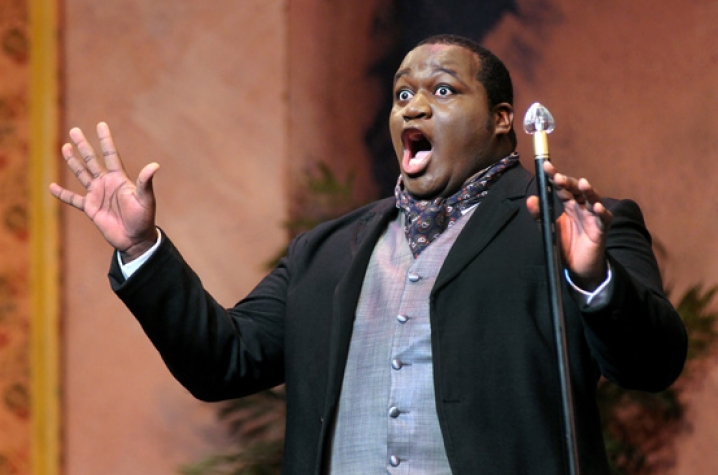 LEXINGTON, Ky. (June 18, 2010) − While most college students are laying out by the pool or working their summer job, one University of Kentucky student will be in upstate New York singing his heart out and performing in professional musical productions. UK music senior Reginald Smith Jr. has been selected to attend the Seagle Music Colony, the oldest summer vocal training program in the U.S.
Smith, a vocal performance and choral music education double major from Atlanta, Ga., is one of 32 collegiate students selected for the elite training program this year. When asked what he was most looking forward to during the eight-week camp he stated, "Learning. I want to learn as much as possible. I'm hoping to get a lot of insight from professionals and other students and make those connections and just learn."
Each year, Seagle Music Colony auditions hundreds of young artists across the country for this prestigious summer program. Ironically, Smith's audition practically came to him as he was able to audition for the colony's artistic director, Darren Woods, on UK's campus when Woods visited in February to teach a master class.
As part of the training program, Smith along with his fellow peers will partake in a rigorous and time-consuming schedule this summer. From acting classes in the morning to rehearsals late at night, the program aims to prepare students for the next step, providing them with private coaching sessions, audition strategies and career planning classes. For Smith that's the ultimate goal, "It's really exciting to know that what I've learned at UK is helping me, it's obviously putting me in the right direction. Hopefully this opportunity will help me too."  
Smith, a 2007 graduate of DeKalb School of the Arts in Georgia, has been singing since he was a child, but his love for opera didn't come until later. It wasn't until he went to his first opera, "Tosca," that he realized he had an interest in the art form. At the age of 15, Smith was selected to attend the American Institute of Musical Studies in Austria. There he met Everett McCorvey, director of UK Opera Theatre; Smith would later call on his new acquaintance for advice on choosing a vocal coach in his home state of Georgia.
Years later when Smith was making his college decision his vocal teacher encouraged him to take a visit to UK. At the time, Smith was set on continuing his musical education in the New England area. However, when he eventually made his journey to Kentucky his decision was swayed, "It was a very welcoming atmosphere, and it still is. All of the faculty is friendly to each other, all the students get along. That's very rare in theatre and it's something I truly love about UK."
And Smith has been a natural fit at UK as well. "Reginald has been a wonderful role model in the opera program. He works hard, he is a leader among his peers and he is a genuine and caring human being," says McCorvey.
During his time at UK, Smith has compiled several performance and competition credits including bass solos in Mozart's Coronation Mass and Fauré Requiem with the UK Chorale, a solo in performance with the Lexington Philharmonic, as well as a first place undergraduate winner finish in the Alltech Vocal Scholarship Competition in 2007.
Smith has also performed every season in the sold out performances of "It's a Grand Night for Singing" with this season being no exception. While the vocalist left for Seagle Music Colony on June 14, local audiences can still catch him performing this summer as he will return today for the final three performances of "Grand Night." To see Smith perform in "It's a Grand Night for Singing," visit the UK Opera Theatre Web site at www.uky.edu/FineArts/Music/opera/grandnight for performance dates and times and ticket information. To read more about "It's a Grand Night for Singing!" visit http://uknow.uky.edu/content/grand-night-18-and-counting. Additionally, Smith is featured as Dr. Falke on UK Opera Theatre's new two-CD recording of "Die Fledermaus" from Albany Records, on sale at the "Grand Night" performances.
To see a performance by Smith of "Old Man River" at the Georgia Music Hall of Fame Awards in 2007, visit YouTube at www.youtube.com/watch?v=QHeSEArgyIg.
Founded in 1915, Seagle Music Colony is the country's oldest summer music program and the premiere opera and musical theatre producing organization in the upstate New York region. The mission of the colony is to identify, train and develop gifted singers and to present quality opera and musical theatre performances to the public.