Student Takes Director's Helm of UK Theatre's 'Peter and the Starcatcher'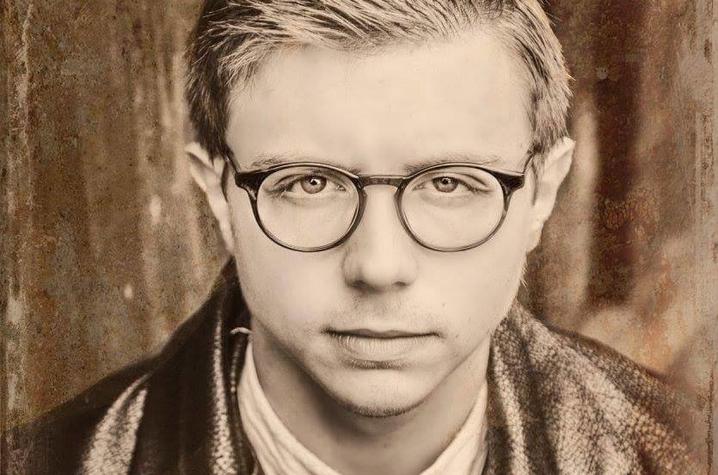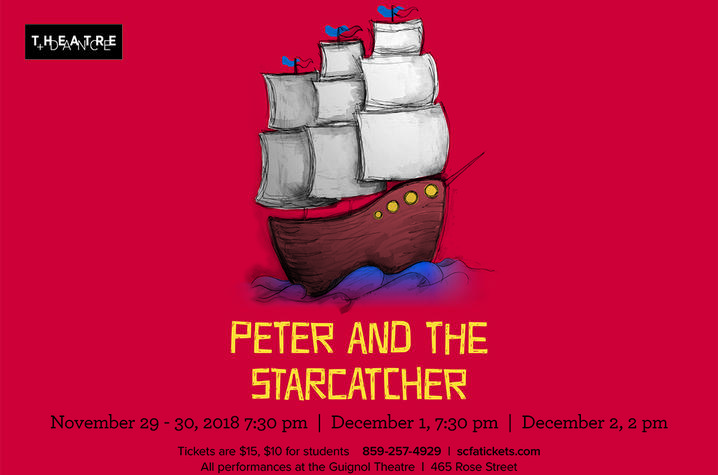 LEXINGTON, Ky. (Nov. 26, 2018) — "Peter and the Starcatcher" will take on two adventures as the University of Kentucky cast and crew bring the production to the stage Nov. 29 through Dec. 2, in the Guignol Theatre. Not only will the show transport audiences to a journey on the high seas, this will be the first student-directed main stage production for the Department of Theatre and Dance.
Part of the 2018-19 season, "Peter and the Starcatcher" centers around the beloved flying childhood character in a fun family-friendly show directed by senior theatre major Treyton Blackburn, under the faculty advisement of senior lecturer Christina Ritter.
Meet "The Boy Who Never Grew Up" as he faces swashbuckling pirates and a fearless young girl, all while discovering who he's meant to be: "the semi to me colon," according to the notorious Black Stache. Cheeky banter and magical starstuff make for a whimsical origin story. Winner of five Tony Awards, "Peter and the Starcatcher" takes audiences on an adventure as unpredictable as the vast blue ocean.
As a college student, director Treyton Blackburn feels as though this play is especially meaningful to him. The story follows "The Boy" who will be Peter Pan along his journey to becoming the character we all know and love.
Within that journey, Blackburn has found an unorthodox coming of age story and a powerful exploration of maintaining the spirit of magic and imagination well into adulthood. He feels as though most college students participating in and watching this show will feel a great relationship with the text and with this Boy, as we too are in this strange world between childhood and adulthood. In his work with the text, he's also discovered that the idea of play is paramount to the show. Blackburn encouraged his ensemble and creative team to think and design and act like children.
"Kids have a funny way of creating magical scenarios out of the most mundane objects, locations and situations," Blackburn said. "This show is about growing up and about keeping some of that childhood magic with you as you grow into adulthood. If I can make parents want to go home and play with their kids or college students want to go home and play with their younger siblings, I will have succeeded as a director and as an artist."
Blackburn was born and raised in Pike County, Kentucky, and is a very proud Appalachian artist. The only child of Gene and Amy Blackburn, he began doing theatre in the summer of 2012 with "Grease" at Artists Collaborative Theatre (ACT). It was there he discovered his love of theatre under the spectacular training of Stephanie Richards. Blackburn worked with ACT all four years of high school as both a performer and technician. He also had small beginnings of directorial ambitions in high school, as he and his peers started the theatre program at East Ridge High School. It was there Blackburn directed his first small production, "A Cricket County Christmas Carol."
Following high school, Blackburn had resigned himself to giving up theatre. He began his artistic career at UK in 2015 during the "New Works Now" 10-minute play festival, under the direction of Maddy Williamson, in a short play titled "The D/S Auditions," where his peers and educators quickly coaxed him into being a theatre major. In his time with the UK Department of Theatre and Dance, Blackburn has acted in five main-stage shows and worked crew on many others, he has also acted in many studio shows and served as both vice-president and president of the Department Studio Season Board, the organization which facilitates and regulates student theatrical productions.
Though he has had great success in acting, Blackburn takes no greater pride than in his artistic work as a director. During his college career he has directed nine productions including "Peter and the Starcatcher," six at UK and three community theatre productions in Pike County during the summers.
"I am so thankful and humbled by all the opportunities I have been given, and all of the people who have believed in me throughout my life and artistic journey," Blackburn said. "I cannot wait to see what comes next."
"Peter and the Starcatcher" will cast off Nov. 29 through Dec. 2, in the Guignol Theatre located in the Fine Arts Building. Performances will begin 7:30 p.m. Thursday through Saturday and 2 p.m. Sunday. Tickets can be purchased at the Singletary Center for the Arts Ticket Office. General admission tickets are $15 and student tickets are $10 with a valid UK student ID. Taxes and processing fees will be added to the transaction.
"Peter and the Starcatcher" is presented through special arrangement with Music Theatre International (MTI). For more information, visit www.MTIShows.com.
UK is the University for Kentucky. At UK, we are educating more students, treating more patients with complex illnesses and conducting more research and service than at any time in our 150-year history. To read more about the UK story and how you can support continued investment in your university and the Commonwealth, go to: uky.edu/uk4ky. #uk4ky #seeblue