'Blues for an Alabama Sky' Descend on UK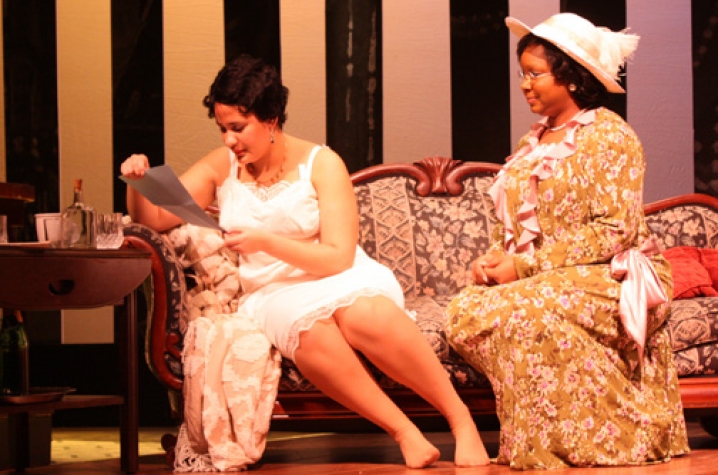 LEXINGTON, Ky. (Nov. 1x, 2010) − Bask in the hope and glory of the Harlem Renaissance for a "red hot minute" with "Blues for an Alabama Sky," a play about love, dreams and memories of southern skies. University of Kentucky Department of Theatre is presenting the noted Pearl Cleage play through Nov. 21, at Briggs Theatre.
"Blues for an Alabama Sky" takes place in 1930 during the Harlem Renaissance. In spite of the struggles in America during the Great Depression, the renaissance was a period of rebirth and renewal after many African-Americans left the South for the Northeast, Midwest and West as part of the Great Migration. Black communities in Harlem and around the nation established their own identities, questioned the status quo and debated ideas about how best to advance the race. During the same period, an explosion of new interpretations of art, music, literature and culture challenged tradition and social boundaries and helped manifest a new vision and rhythm in our nation. 
The characters in Cleage's play, first produced in 1995, struggle to make sense of their new "freedom" and any possibilities beyond the borders of the South.
"The characters in 'Blues for an Alabama Sky' are all dreamers who are trying to manifest new realities for themselves in context of a country that is economically depressed," notes Elizabeth Herron, an artist-in-residence with UK Theatre and director of the UK production. "They are confronted with the same questions that many immigrant communities in America are faced with today. What does it mean to be a citizen? What does freedom mean in the north? How is place relevant to the struggle of freedom?"
Working alongside Herron on "Blues for an Alabama Sky" is theatre graduate student Bill McCann serving as assistant director. The UK cast of the production includes: senior Alys Dickerson, as Angel; junior Isaac Jones, as Guy; freshman Darius Owens, as Leland; senior Genna-Gabrielle Cobb, as Delia; and senior Emannuel Thurman, as Sam. The crew of the play consists of several UK Theatre faculty and students, including: Nelson Fields, on costume design; senior Tanner Fouts, as assistant costumer; Tony Hardin, on scene design; Bob Haven, as costume technologist; senior Allyson Smith, as stage manager; and senior Tom Willis, on lighting.
  "Blues for an Alabama Sky" takes the stage 7:30 p.m. Nov. 18-20, and 2 p.m. Nov. 21. Tickets are $15 for general admission and $10 for UK faculty/staff/students and senior citizens. To reserve tickets, call the Singletary Center for the Arts ticket office at (859) 257-4929 or visit online at www.singletarytickets.com.
For more information on "Blues for an Alabama Sky" or any other UK Theatre production from the 2010-2011 main stage season, contact the UK Department of Theatre at (859) 257-3297.