Student Works Kick Off 100 Years of UK Theatre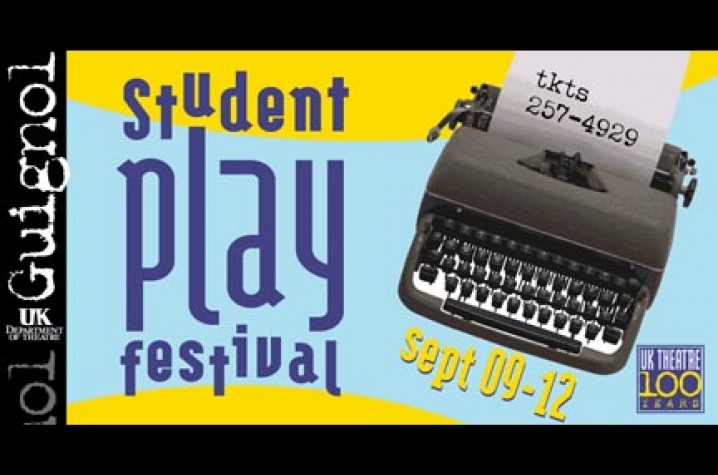 LEXINGTON, Ky. (Sept. 9, 2010) − The University of Kentucky Department of Theatre will open its 2010-11 season with their Student Play Festival. This marks the 100th year of theatre on the university's campus. Seven one act plays by UK students and recent graduates will be featured as part of the festival. The new works will take to the stage 7:30 p.m., Sept. 9-11, and 2 p.m., Sept. 12, at the Guignol Theatre, located in the UK Fine Arts Building. These performances are dedicated in memoriam of theatre major Bryce Hood, of Jessamine County.
The seven plays showcased in the Student Play Festival are:
- "ENG 411" by Maegan Woodlee, a 2010 English education graduate with a theatre minor;
- "The Dance" by Allyson Smith, a senior theatre major;
- "To Be or Not To Be" by Andrew Evan Hensley, a 2010 theatre graduate;
- "2037 A.D." by Tanner Van Fouts, a senior theatre major;
- "My Name is Not Felstrom" by Alex Mankin, a pre-telecommunications junior;
- "Goodbye, Santa" by Courtney Collier, a 2010 theatre graduate; and
- "Funny Car Play" by Ryan Hastings, a senior theatre major.
The seven one act plays will be directed by junior theatre major Michael Baird, senior theatre major Alys Dickerson, senior theatre major Ryan Hastings, and sophomore theatre major Maggie Howell. Lindsay Warnick, a senior theatre major, will serve as stage manager.
"ENG 411" was conceived during Woodlee's American literature class while they were discussing "Absalom, Absalom!" by William Faulkner. The playwright's first 10-minute play is dedicated to a classmate.
Smith, who plans to pursue a career in theatre education, developed the plot for "The Dance" based on personal experiences. The story revolves around love and the choice to save one's self for that special someone.
"To Be or Not To Be" was written by Hensley his last semester at UK. The play looks at how someone from the theatrical world would adapt to a normal "9 to 5" job.
In "2037 A.D.," Fouts shares with the audience his vision for the next 50 years minus the usual science fiction props of laser guns and robots. This play was written as part of a class assignment.
Mankin tries to explain the dynamics, excitement and struggles of an antisocial kid immersed in the online world in "My Name is Not Felstrom."
Collier's "Goodbye, Santa" examines the holiday icon and story behind him. "There can be no future for America if we keep lying to our children about a large fat man in red," says the playwright.
And "Funny Car Play" is yet another work conceived in class. Hastings wrote the piece in 2008 as part of his first playwriting course at with Herman Farrell. The play follows five close friends who get into trouble one night on a deserted road.
Tickets for the Student Play Festival are $15 for general admission and $10 for UK students/faculty/staff and senior citizens. Seating is limited. BOGO (buy one get one) tickets for students and new faculty members are available for this production. Tickets can be purchased through the Singletary Center Ticket Office at (859) 257-4929, online at www.singletarytickets.com, or in person at the ticket office. A processing fee will be added upon completion of transaction.