UK Grad Student Puts Down His Instrument, Grabs His Bike to Take on 4K for Cancer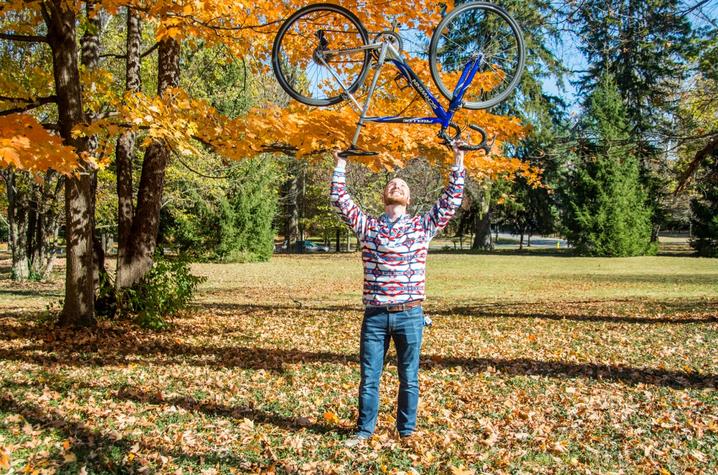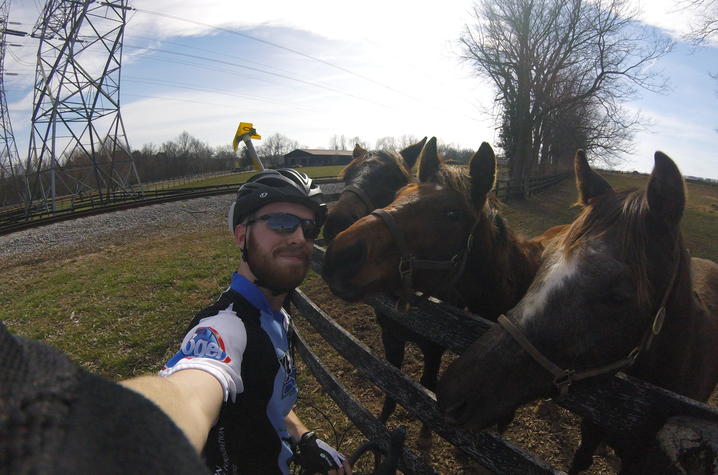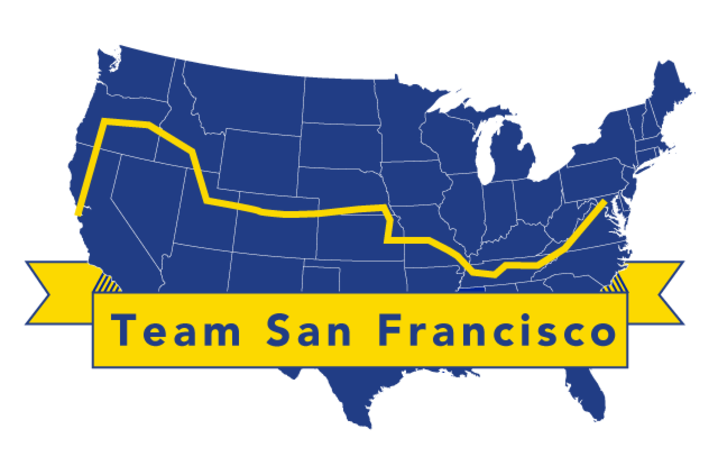 LEXINGTON, Ky. (April 28, 2017) — Every year, more than 70,000 young adults ages 15 to 39 are diagnosed with cancer. Despite advancements in prevention, early detection and treatment, survival rates for this age group have been stagnant for the last 30 years. This summer, University of Kentucky arts administration graduate student Nate Williams will embark on a cross country bike ride not only to raise money, but to raise awareness of the issues and challenges faced by young adults with cancer.
Williams joins 23 other college-aged cyclists as a member of Team San Francisco in this year's 4K for Cancer program. The San Francisco ride will take participants across the nation in a 70-day, 4,000-mile trek that covers 11 states. Team San Francisco will leave Baltimore's Inner Harbor on June 4, and conclude their journey with a ride across the Golden Gate Bridge on Aug. 12.
The 4K for Cancer is an initiative of The Ulman Cancer Fund for Young Adults (UCF), a leader in providing resources, education and aid for young adults, and their loved ones, impacted by the disease. This year, UCF celebrates its 16th year of inspiring hope and uniting communities in support of the fight against cancer.
Each participant in the 4K for Cancer is required to raise a minimum of $4,500. The money raised supports the mission of UCF by funding vital initiatives that address the medical, emotional, financial, educational and physical challenges young adults face during their cancer experience. These include patient navigation programs, scholarship funding, support groups and UCF House, to name a few. Since 2002, 4K for Cancer participants have covered over 100,000 miles of terrain and raised over $5 million.
Although he has never lost a loved one to cancer, Williams' connection to the cause is strong because it's affected several of his friends and their families. "When I see families struggling because of cancer, it makes me very thankful for the opportunities that I have in life. This ride is the beginning of a long journey as my initial connection to the cancer community."
Participating in the 4K for Cancer will be the next addition to a long list of accomplishments for Williams. Local music audiences will likely recognize Williams from his undergraduate years at UK, where he was actively involved in music and the arts in Central Kentucky playing with the UK Wind Symphony, UK Symphony Orchestra (UKSO), Wildcat Marching Band and the Lexington Chamber Orchestra. He also played in UKSO's smaller pit orchestra for UK Opera Theatre's productions of "Les Miserables," "The Phantom of the Opera," "The Tales of Hoffman, "Sweeney Todd, The Demon Barber of Fleet Street" and more at Singletary Center for the Arts and Lexington Opera House. Williams earned his bachelor's degrees in arts administration and music performance in 2015.
To secure a spot in this year's 4K for Cancer, Williams underwent an extensive application process which included an in-depth interview and review of his personal interest in the cause. Once accepted, he began a rigorous training program to prepare for the ride. Since mid-January, Williams has stuck to a weekly schedule that has increased in mileage as time progresses. The first week of his training only required 50 miles, but by the end of May, he will be taking on several 30, 40 and 50 mile trips to end with an average of 130 miles per week. Williams has ridden nearly 800 miles since he began training. 
Throughout their excursion, Team San Francisco will cover anywhere from 50 to 120 miles of terrain each day. The trip includes 10 built-in rest days where participants will have the opportunity to interact with different communities by visiting hospitals and meeting with patients, families and hospital staff along their route. As mission coordinator, Williams will serve as the team's spokesperson in these communities. He will also present the Jamie L. Roberts Memorial Scholarship and the John Hanley Memorial Scholarship to two students who have been affected by cancer through their own diagnoses or the diagnoses of a loved one.
Ultimately, Williams says being on the team is about connecting the individuals who are affected by cancer, and creating a support system for those who need it.
"Everyone has a connection to the cancer community whether or not they realize it. By choosing to be a part of this support system, I will transform many lives, including my own. I can't wait to offer a sense of hope to those who may be struggling as they fight their battle."
To learn more about Nate Williams' 4K for Cancer journey, or donate to the cause, visit his fundraising page here.
The Ulman Cancer Fund for Young Adults has been working since 1997 at both the local and national level to raise awareness of young adult cancer issues and ensure that no young adult faces cancer alone. The mission of UCF is to change lives by creating a community of support for young adults, and their loved ones, impacted by cancer. More information about UCF and its initiatives can be found here.