Campus Facilities Play Crucial Role in Belonging, Student Success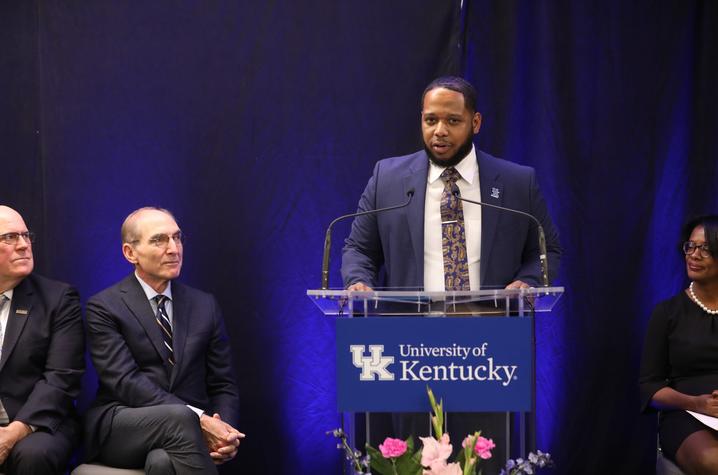 Last Friday was an exciting, meaningful day at the University of Kentucky.
Friday morning, we formally welcomed our new director of the Martin Luther King Center—a center that promotes community and understanding on our campus. That afternoon, we recognized another facility that epitomizes our commitment to—and aspirations for—a sense of belonging at the University of Kentucky: the Dinkle-Mas Suite. This suite is a newly created multi-purpose community room and primary meeting space for student groups in the Office of LGBTQ* Resources. 
It was made possible thanks to the generous gift from Jim Dinkle, a College of Communication and Information alumnus who served as SGA president during his time at UK. 
Both of these spaces are located in the Gatton Student Center.
As such, they underscore the powerful role facilities play in our commitment to put students at the center of everything we do.
When we think about student success, we know that it's not just about nicer buildings; it's about intentionally designing space that facilitates a sense of community and belonging. The promise to provide an environment in which all members of our UK family can be the best, most authentic versions of themselves, is central to who we are.
And we always have more work to do.
That's what it means to be an institution of higher learning. But, celebrations like the ones we had on Friday signal our commitment to keep moving forward. 
And we are incredibly grateful to friends of the institution who share that vision: friends like Jim Dinkle, Bill Gatton, and many others.
At the University of Kentucky, our values are clear.
We cultivate these values by building and sustaining an environment of belonging for everyone.
Our campus facilities are an important part of that commitment. So is every member of the UK family, as we all play a role in student success.
I would like to thank everyone who made Friday possible. We look forward to seeing the impact of these spaces on our campus community. 
Have a great week.
Eric N. Monday
@UKYMonday
#UK4KY