Off-Campus Safety: Listening to and Learning from Our Students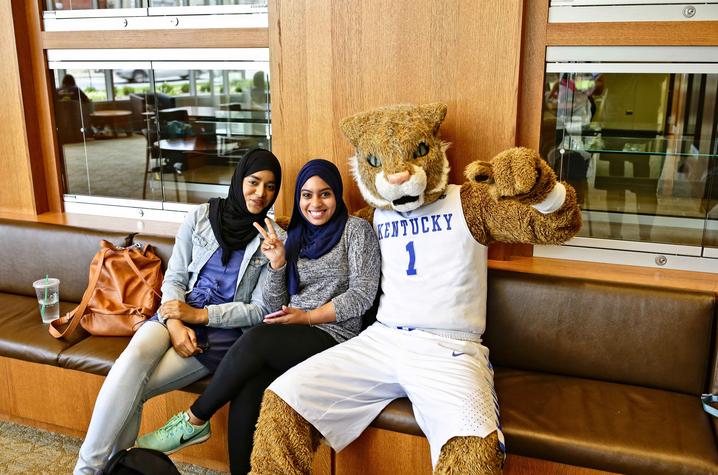 Monday, April 17, 2017
As both our campus and the City of Lexington grow and transform, the University of Kentucky is continually looking for new ways to best serve our students. One of the most crucial elements of this commitment is student safety and security. 
While our students on campus are protected through the jurisdiction of UK Police Department (UKPD), many of our students spend considerable time outside the boundaries of our campus—residing off campus and engaging with the Lexington community. Last fall, our students told us they wanted to be more regularly informed about safety issues and crime occurring outside of the UKPD jurisdiction, particularly in off-campus areas where a great number of students live.
These conversations with our students' frame many of our ultimate goals. Hearing this clear concern from the student body, UKPD began meetings with student groups to discuss their security expectations. UK Police Chief Joe Monroe visited large classes and met with students in small groups to better understand their concerns.  And, at the same time, we spoke about this topic at several of my monthly, open lunches with students.
So, what did our students tell us?
They recognized the purpose of UK Alerts—to share time-sensitive information, in which an action is necessary.  UK Alerts are designed for use only when an incident disrupts normal campus operations or threatens the immediate health and safety of the campus community, such as a tornado warning, active shooter, armed robbery, etc.
However, they also articulated the need for an additional channel to share a different kind of information: important, but not time-sensitive, information impacting areas that are off campus, but that potentially affect a large student population.
Together, we crafted the idea for @ukyoffcampus – a special Twitter account that all students can follow, and from which they can opt-in to receive notifications. The Twitter account can be found at https://twitter.com/ukyoffcampus or @ukyoffcampus. 
These tweets will contain important, off-campus safety updates that would not typically warrant a UK Alert. These tweets will not replace UK Alerts.  However, as UK safety officials become aware of off-campus incidents in high-density student residential areas, notifications will be posted to @ukyoffcampus.
Here's how the new @ukyoffcampus notifications will work:
To determine when tweets are sent from @ukyoffcampus, the UK Police Department developed a heat map of high-density, student populated areas off campus.
When the UK Police Department is notified of information regarding an off-campus safety issue in a densely student populated area, they will tweet about the situation from @ukyoffcampus.
Students are encouraged to set up their Twitter account to receive text or push notifications when @ukyoffcampus tweets. In doing so, the system and process would be similar to UK Alert. Those who set up their notifications in this manner would be notified of the situation as soon as UK Police send the tweet.
Additionally, UKPD will continue to issue crime bulletins which are emails sent to all students, faculty and staff to inform them of a significant incident or ongoing situation that could affect their personal safety or that of their property, but that UK Police were not aware of at the time the incident occurred.  Examples of crime bulletins could be a significant crime that was reported to another law enforcement agency instead of to UK Police, ongoing reports of thefts of specific items like bicycles or mopeds, etc.
Below are step-by-step instructions on how to follow @ukyoffcampus and sign up for notifications:
Signing up for SMS text message notifications
Using a desktop computer, log into your Twitter account
Make sure your mobile number is associated with your account. Directions at https://support.twitter.com/articles/110250
Go to @ukyoffcampus on Twitter https://twitter.com/ukyoffcampus
Click "Follow"
Beside the "Follow" button, click "More user actions" and choose "Turn on mobile notifications"
You should now receive text messages when @ukyoffcampus tweets
Signing up for push notifications
iPhone:
In the Twitter app, go to @ukyoffcampus
Click "Follow"
Tap the notification icon 
Click "All Tweets"
You should now receive push notifications when @ukyoffcampus tweets
Android:
In the Twitter app, go to @ukyoffcampus
Click "Follow"
Tap the notification icon 
Check the box next to "Account notifications"
From the pop-up message, choose "All Tweets"
You should now receive push notifications when @ukyoffcampus tweets 
I am grateful for the productive, collaborative conversations that led to this new initiative. I encourage all students—at all levels—to continue to provide valuable feedback, so that we can make your experience the best it can be.
That is, after all, why we are here—to support student success in everything we do.
Have a great week.
Eric N. Monday
@UKYMonday
#seesafe