Celebrating an Important Doorway into Campus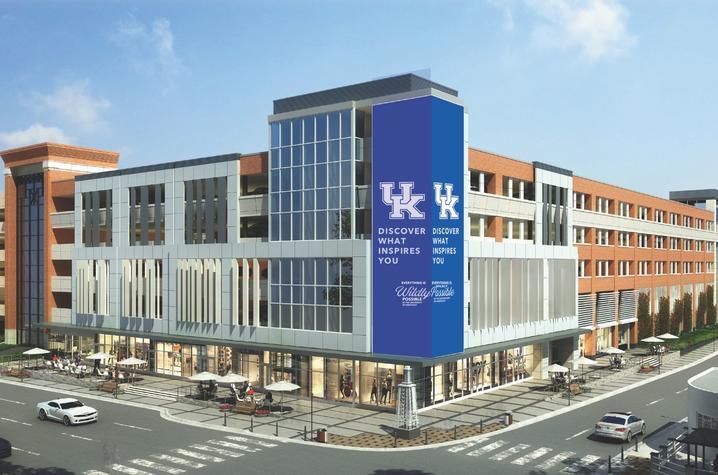 In 2017, we initiated a transformative town-gown real-estate deal with a private developer involving several key parcels of land. That land swap gave the University ownership of the property that formerly housed Kennedy's Bookstore and Fazoli's, on the corner of South Limestone and Winslow Street, along Winslow Street to the South Upper Street intersection. 
Now – in partnership with Signet Real Estate Group, one of the country's leaders in higher education public-private-partnership (P3) real estate developments – we are celebrating quick progress in transforming an important doorway into the campus.
The Winslow Project, which was originally announced and approved by UK's Board of Trustees in February, supports the university's future in technology, entrepreneurship, education, creativity, service, and research, while working hand-in-hand to make strides in the university's Transportation Master Plan.
The property will include over 900 new parking spaces and 23,000 square feet on the ground floor dedicated to:
Retail space, which will include a food hall focused on local eateries and craft beer, and
UK innovation space.
Serving as a multifaceted, multi-purpose space, the project will be another space on campus where ingenuity and creativity unfold. The variety of elements it will cover include serving as a home for UK esports (with a planned esports theater and gamers' lounge) and flexible innovation space.
The idea is to leverage the open-format space and use of technology to maximize student success, enhance a sense of community, bring together the university and community to foster outcome- and solution-driven thinking and design, connect people with different passions and interests, and provide new pathways for career development in the entrepreneurial fields.
The project is expected to open in Fall 2020, furthering the momentum of the university's growing campus. The Winslow property will be a key component in a planned innovation district or corridor.
The Winslow Project is another way we have furthered our commitment to our campus and the city of Lexington and is another step toward creating a campus that will better serve the needs of our students, faculty, staff and Commonwealth. And, in the near future, we'll be announcing our first tenants for this innovative retail destination.
To further involve the community in this new project, the President announced the university is holding a naming contest, allowing the public to vote on their favorite name for the Winslow Project. To do so, faculty, staff, students and community members can visit www.uky.edu/winslow to choose one of six names suggested for the property that best conveys the potential of the structure.
The names — and rationales for each name — include:
A central tenet upon which our university is based and will build on moving forward.
Playing to our strengths as an institution and a community, we press our advantage.
A free-flowing exchange of ideas, action and Kentucky culture.
Connotes advanced higher education; building faces Upper Street.
A way of achieving something significant; something within a larger organization that allows you access to other parts.
The point at which the sum of our parts becomes our best concepts and ideas.
Voting for the name of the new building will take place through Friday, Dec. 6. 
Have a great week.