Indoor Bike Room Supports UK Community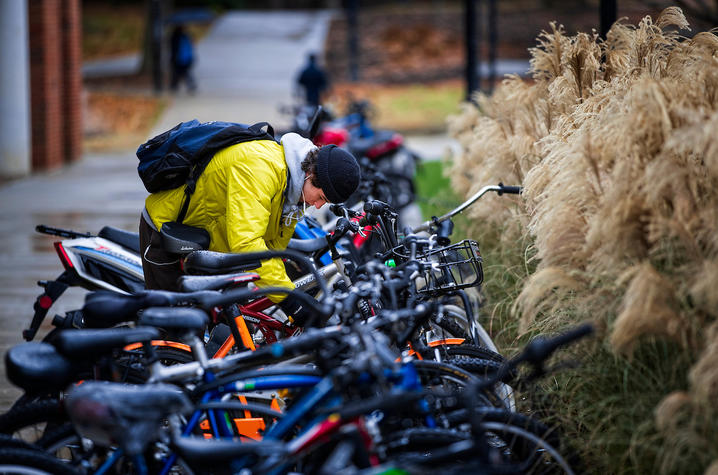 Last semester, the University of Kentucky was named the "most bike friendly University in America," according to Bicycling Magazine. And the League of American Bicyclists awarded UK with a Gold Status designation – the only University in the South Eastern Conference to receive this designation.
But our wheels don't stop there.
We are continuing to ask ourselves—how can do even more to support our community's mobility?
Last Friday, we celebrated the opening of our first indoor bike room, located in Research Building 2. Complete with space available for 60 bicycles, four showers, 30 lockers, a fix-it station, and water bottle filling station, this indoor bike room is another example of our commitment to support alternative transportation.
The new bike room is secure, accessible by key card access. Its use is free for UK students, staff and faculty who have submitted an application. 
I had the opportunity to speak at the event and I told the excited members of the UK family that, when we think about our mission at the University of Kentucky, we think about our people. We think about the fierce determination and compassion that our community applies to everything we do.
So, you may ask—how does a facility like an indoor bike room support those ambitions and that vision?
And the answer, again, is our people.
Every facility we construct is designed to support the success of the UK community. Improvements to campus health, efficiency, and sustainability—through spaces like this one—support the people who make this place the University for Kentucky.
In that spirit, over the past several years, UK has implemented numerous programs to encourage and support alternative transportation and enhanced mobility, as part of our Transportation Master Plan. Additionally, we designed infrastructure to facilitate a safer environment.
Consider a few examples:
The Wildcat Wheels Bicycle Library, founded in 2005, checks out more than 300 bicycles each semester to students and faculty for free. There are nine bicycle fix-it stations, as well as parking that accommodates more than 5,000 bicycles.
Since 2012, UK Transportation Services has hosted annual education and outreach events such as Pedalpalooza and Bike Week.
And in 2016, we hired the first Alternative Transportation Manager who oversees bicycle programs as well as other alternative transportation choices and has a passion for sustainable transportation methods.
Our newest program, UK Commute Club, rewards students and employees who do not have a parking permit with a Guaranteed Ride Home, Zipcar membership, or a Spin bike membership. 
These and other programs like BluPass, Zipcar, the airport shuttle program—to name a few—are more than simply initiatives and programs.
They are physical and symbolic paths to progress for our campus – in actually navigating the physical spaces that comprise our campus, but also in navigating what President Capilouto calls a "community of belonging."
Spaces such as this one are foundations – building blocks – to better support our community.
Our recognition as the "most bike friendly University in America" with a Gold Status designation, emphasizes our long-term commitment to create a safe environment that kick-starts success.
We are committed to offering as many options as possible to encourage sustainable and safe transportation.
We hope that an improved infrastructure, increased bicycle and alternative transportation options, and a heightened awareness of bicycle education will create the best environment for our people.
Have a great week.
Eric N. Monday
@UKYMonday
#KYCan