Serving the UK Community: Holiday Transportation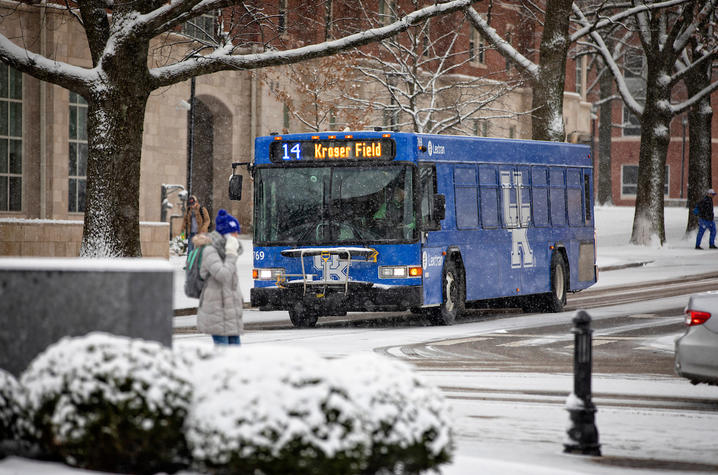 Regardless of whether classes are in session, we put our community first – ensuring everyone has access to safe, convenient, and affordable transportation across campus and around the city of Lexington.
Over Thanksgiving and winter breaks, our students will also have several options provided by UK's Transportation Services, including free regional airport shuttles and our BreakShuttle service. These departure choices are offered for the range of student needs since class schedules end at different times.  We ask students not to depart until classes are finished.
Airport Shuttles
Our airport shuttle service offers students a complimentary ride from campus to Blue Grass Airport (LEX), Louisville International Airport (SDF), and Cincinnati/Northern Kentucky International Airport (CVG). The shuttles also make free return trips from the airports to campus on the Sundays before classes are back in session.
For the upcoming Thanksgiving break, the shuttles will operate from Monday, Nov. 25, through Wednesday, Nov. 27. Campus departures on Monday and Tuesday are at 6 am, 9 am, noon, and 3 pm. Wednesday's departure time is 8 am. Students should plan to leave campus at least two hours prior to their flight time. Return shuttles operate at 10 am, 1 pm, 4 pm, and 7 pm.
The ride is free with a Wildcard ID. Students can reserve a spot for the Thanksgiving shuttle service here.
RideAmigos
If a student is traveling during times or dates when free airport shuttles are not offered, they're welcome to sign up for RideAmigos, a free web-based ridesharing program offered through UK Transportation Services. Learn more about the program here.
BreakShuttle
Additionally, students and employees can take advantage of UK's BreakShuttle service as an alternative to air and bus travel. It offers rides to Atlanta, Chicago, Cleveland, St. Louis, and Paducah with several stops in cities along the way.
The BreakShuttle service will depart campus Tuesday, Nov. 26, and will return Sunday, Dec. 1, for Thanksgiving break. Services are also offered for winter and spring breaks.
More information on BreakShuttle's pricing and availability can be found here.
Zipcar (Car Sharing)
Students who are considering renting a car for travel during the break should investigate Zipcar. Unlike traditional car rental services, the minimum age allowed to use the Zipcar car sharing program is 18 years of age or older and there are several vehicles located on campus. Zipcars can be used for quick trips as well as for longer journeys. Learn more about the Zipcar car sharing program here.
With the safety and wellbeing of our students in mind, we continue to strive to support our students in all aspects, including transportation. These services are just one example of the way we put them first – in and out of the classroom.
If you are interested in utilizing our Transportation Services during an upcoming break, please make your reservations or purchases as soon as possible.
Eric N. Monday @UKYMonday​ #seeblue